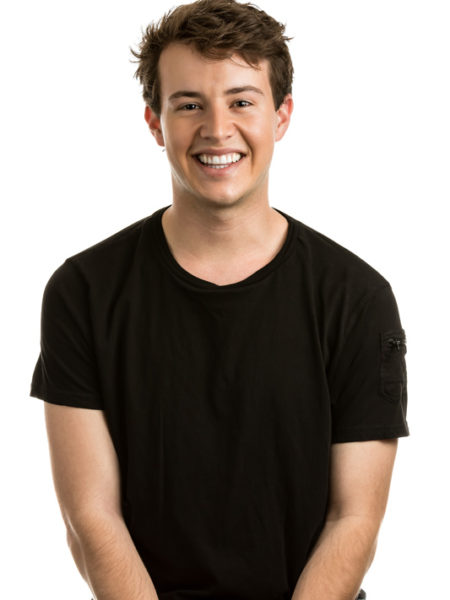 When Sandy Reed BA '16 attended the USC School of Dramatic Arts, he was a standout student in so many ways. Kathleen Dunn-Muzingo, who taught him in her dialects class, said: "He had an innate ability to make us laugh while we were learning; that ability to forgive himself while supporting others' work who may be less brave." He also had a magnetic effect on other students, she recalled. "He would come into the room each day with a big smile, like he had a big secret and excitement to work. As soon as he would enter, others would smile and light up, like a little spark around the room."
Reed, a 25-year-old actor brimming with talent, enthusiasm and curiosity, was tragically killed last June. His heartbreaking death has left his family, wide circle of friends, his SDA classmates and teachers bereft. "I am at a loss how to incapsulate the enormity of Sandy's spirit into a description that does him justice. I miss Sandy every day," said Mary Joan Negro, a professor of theatre practice who exchanged many, many emails about theatre, life and philosophy with Reed during and after his time at USC.
His family described the Palm Desert, Calif., native this way in a beautifully-written, memoir-like obituary published in The Desert Sun: "Sandy danced and sang his way through life bringing joy to the hearts of anyone who was lucky enough to cross his path."
The Reed family, longtime donors to SDA and the School of Gerontology at USC, have decided to honor Reed's life by creating The Sandy Reed Endowed Professional Development Fund with a gift of $250,000 from two family foundations. The donations ($150,000 from the H.N. and Frances C. Berger Foundation and $100,000 from The Auen Foundation, both based in Palm Desert) will endow professional development programming for current students and alumni — such as visiting artist talks, master classes, mentoring programs and alumni week events.
It was Reed who came up with the idea for such a fund after he graduated, said his mother, Catharine Pilato Reed. "He spearheaded this idea," she said. "He wanted to see more entertainment professionals give time back to students, to pay it forward. It's a tough industry, and he knew that students need a little bit more help when they graduate."
Kim Muhlbach, director of development at SDA, said professional development was a passion point for Sandy Reed. "He was so involved with the student-alumni mentorship program, and he came to all of our alumni events," she said. "He was an alumni ambassador and a big supporter of our career center."
At USC, Reed appeared in musicals and plays (Most Happy Fella, Into the Woods, You Can't Take It with You and more), both through the School and independent student productions.
He collected a large, close-knit group of friends of classmates, castmates, fraternity brothers and others. Adrienne Visnic BFA '14, said she met Reed when he was a freshman and she was a junior. He was a dancer and she was one of the leads in Most Happy Fella. "Within the first week of rehearsal we had blocked something and had a break, and he walked right up to me and said, 'You and I are going to be friends.' And that is who Sandy is. He leads with his curiosity. That moment really changed my life for the better because he really has this beautifully curated group of friends. We're all tied together now because of the impact he's had on our lives."
Visnic, who often speaks of Reed in the present tense, said she has never met someone who matched his level of curiosity. "He has an unparalleled level of being able to ask questions unabashedly to people he is meeting," she said. "He also had the ability to really celebrate every moment, whether it was walking back from a rehearsal or sitting with our laptops and not saying anything."
She said that one of Reed's endearing traits was his habit of writing hand-written notes to many, many people he met. "I have over our entire friendship a collection of notes celebrating big moments or celebrating not-so-great moments," she said. "I've saved them all. It's so nice to have something in his handwriting."
She said that the professional development fund is exactly the legacy Reed would want. "He really wanted to know what made artists tick: what worked for them, what didn't work for them. He wanted to know the honest truth and he saw the value in connecting with others.
"He really is an artist. He wanted to cultivate a community where people felt protected and could really thrive and live large."
Reed found professional opportunities quickly upon graduating as a double major with a BA in acting at Dramatic Arts and a BA in critical studies at Cinematic Arts. After traveling extensively in Europe and producing a documentary about the experience, he moved to West Hollywood, was signed by CAA and started booking film and commercial auditions and jobs.
He then moved to Atlanta, was signed by a talent agency there, and appeared in a number of short films, including a starring role in a film currently in post-production.
Reed would check in with his dialect teacher Dunn-Muzingo a few times each year, and they had a deep conversation a few months before he died. He told her how happy he was in Atlanta and the career opportunities he was creating for himself, and of appreciating the people and community there. "That phone call will always resonate with me as I was in the presence of a grown man, a kind and caring artist, who wanted to share his support and personal experiences with students graduating from SDA in their pursuit of their craft and career," she said. "Sandy lived like he acted – fully present while emboldening those around him."
She finds solace in a quote from Nesta Jojoe Erskine: "In the little corners that we live; in the lives that we've played a part in, we should be nothing but unforgettable."
Reed, she said, was truly unforgettable.