The UCLA William Andrews Clark Memorial Library's new Arts on the Ground festival kicks off on June 29-30 as a family affair for the School of Dramatic Arts. The summer-long program will begin with the Golden Tongues reading series, presented by the Playwrights' Arena, which features adaptations and classical works of three SDA faculty. It will be the first of the event's L.A. Escena series, designed to introduce audiences to the treasures of the Hispanic theatre tradition through bilingual staged readings from Spain's Golden Age.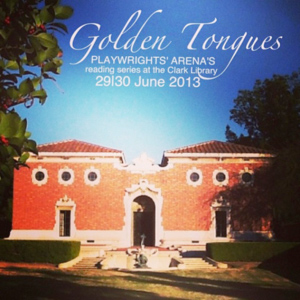 The Golden Tongues playwrights include Assistant Professor Luis Alfaro, Professor Director of Dramatic Writing Velina Hasu Houston and Associate Professor Oliver Mayer. The readings are directed by Playwrights' Arena Artistic Director Jon Lawrence Rivera and SDA alumnus Jonathan Munoz-Proulx; and the company of actors includes several USC alumni: Chastity Dotson, Carolyn Zeller, Eric Schulman, Kyle Gundlach and Anthony Bryce Graham.
The event will take place at the gardens at the UCLA William Andrews Clark Memorial Library, 2520 Cimarron St. in Los Angeles. To purchase tickets to the event, visit goldentongues.brownpapertickets.com or call 800.838.3006.
GOLDEN TONGUES SCHEDULE
Saturday, June 29
4 p.m. – Cervantes Interludes by Oliver Mayer
5 p.m. – Reception
6 p.m. – Cause Célèbre by Velina Hasu Houston
Sunday, June 30
5 p.m. – Reception
6 p.m. – Painting in Red by Luis Alfaro
ABOUT THE PLAYS
Cervantes Interludes by Oliver Mayer
Besides Don Quixote, Cervantes wrote several plays and comic interludes (1615) on urban themes, often flipping the script to challenge social norms of the times. In a decidedly American update, Mayer connects two of the plays to the TV/film industry, from the Tarantino-esque blaxploitation of pimps and whores to a divorce court worthy of Judge Judy.
Cause Célèbre AUSE CÉLÈBRE by Velina Hasu Houston
Cause Célèbre is a contemporary play inspired by Ana Caro's Valor, agravio y mujer (1630s) a tale of a woman who dresses as a man and restores her own honor. In this modern adaptation, a megastar gives herself to an ardent suitor who deserts her. Disguised as a man, she pursues him to seek revenge only to find that love breeds a unique notoriety from which no one is immune.
Painting in Red by Luis Alfaro
Painting in Red is a riff on Calderón's The Painter Of His Own Dishonour (1640s) in which a painter struggles with his own personal desires, including a hasty marriage, only to discover that his wife's former lover has returned and reignited passions in both artist and muse that will end in disaster.