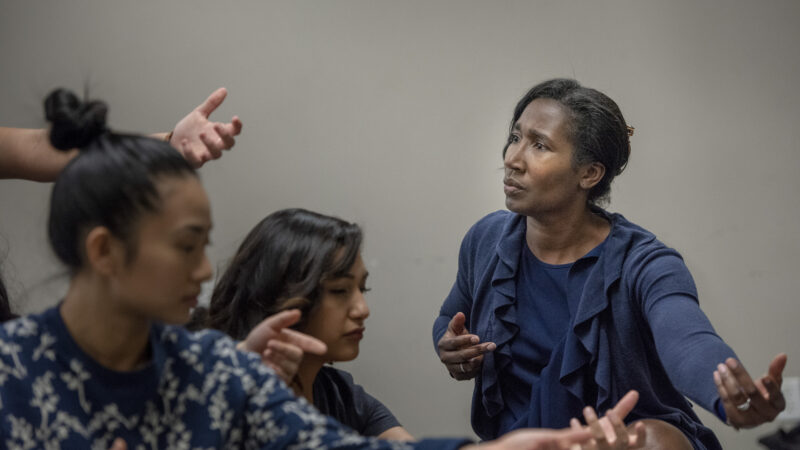 SDA acknowledges that there is much work to be done to dismantle the systems and culture of inequity in order to assure a safe environment of authentic belonging and community for our BIPOC students, faculty and staff. Theatre practitioners have an established history of contributing to, leading, and staging conversations around progressive social movements and are thus well suited to heed the call of action in offering a vital and creative space through the fusion of performance, dramatic literature, and critical thought to address complex issues of diversity and inclusion.
As we continue with the incredibly important work, certain action items and goals for the School have been established as we endeavor to stand for the principles of inclusivity and equity in our classrooms, on our stages and in the university at large. These actions items include: mandatory DEI training for all faculty and staff; a thorough analysis and re-imagining of the current curriculum; revise recruitment efforts to increase BIPOC students, and BIPOC members of faculty and directors hired for the School's season of productions; and further develop the School's mentorship opportunities with a focus on fostering BIPOC connections with our alumni, faculty and staff. 
In support of these efforts, The USC School of Dramatic Arts takes pride in establishing a Diversity, Equity and Inclusion (DEI) Fund. The goal of the fund is to support initiatives that promote equal opportunity of programs and resources, understanding, inclusion, and acceptance within the SDA community. Examples of such support include but are not limited to:
Scholarship funds used to attract and recruit talented and deserving students of color
Special events, performances, productions, workshops and/or conferences
New key Faculty hires
Visiting scholars, artists and lecturers
With a donation in support of SDA's Diversity, Equity and Inclusion fund, you will help us to foster a truly inclusive academic and artistic training experience that embraces, understands, and supports every student who arrives at SDA. During these historic times, your support will allow us to implement strategies in creating an inclusive and equitable school climate that will fully prepare all students for the professional artistic world.