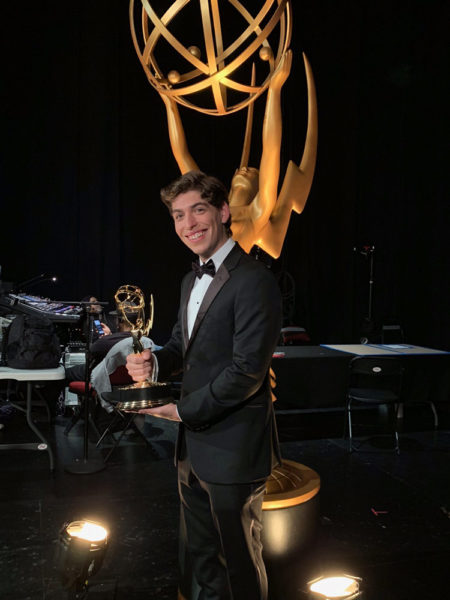 Student Evan Macedo has always heard you shouldn't meet your idols, but he was lucky enough to meet his this past weekend. He was one of the trophy presenters at the 71st Primetime Emmy Awards, which was an unique opportunity introduced to him through a summer agency internship with the Television Academy Foundation.
His internship began with a desire to explore life as an agent. Macedo met with SDA Director of Internships and Special Programs Meghan Laughlin, who guided him with an application to the Television Academy Foundation. "I remember getting the call during my stand-up class in the spring and was super excited to have this opportunity," he said.
He was placed at Allegory Creative Management and described his internship as ""a dream come true."
Macedo, who had always shown interest in being an agent, remembered some of his strides toward this profession: "One of my best friends was talking to me about how he wanted to build his comedy reel, so that semester I got him three film shoots and introduced him to people that he is still working with [today]," he said. Macedo would also answer questions on reels and SAG for his friends.
Through his internship with Allegory, his day-to-day schedule consisted of him working with three other agents. He was given tasks such as filling out commercial breakdowns, drafting emails to clients and casting directors and becoming familiar with their roster of actors.
The BA student soon realized that the dream was not over yet.
Two weeks after completing his internship, he received a phone call with an offer to be a trophy presenter at the Emmys. "My television academy supervisor called me and I was shocked and ecstatic," said Macedo. "Honestly, I still don't really believe it."
Behind the scenes, Macedo described the Emmys as being quite busy. "There were always people running around with a walkie talkie," said Macedo. "The craziest thing…was that all the Emmys backstage are not marked, and we brought out the same statue every time. So the audience only saw one statue."
In regard to celebrities, "I got to meet or be around many," he said, but recalled one interaction in particular. "The coolest moment was when I gave my seat to Amy Poehler for a minute and she introduced herself to me."
Looking back, Macedo took pleasure in being able to see how many jobs are in the industry. "I got to talk to many of the costume people and stage managers for a long period of time," the student said. "It was awesome seeing the variety of opportunities available to work in entertainment."
For now, he still aspires for a career like Mel Brooks or Donald Glover in which they write and star in their own content. However, after this summer, "I could see myself being happy working as an agent," he said.
Reflecting on his experience, Macedo "was lucky enough to receive representation from Allegory and they have been sending me on auditions. … [I] am so grateful for everything they have and will do for me. I hope I can help return the favor at some point."