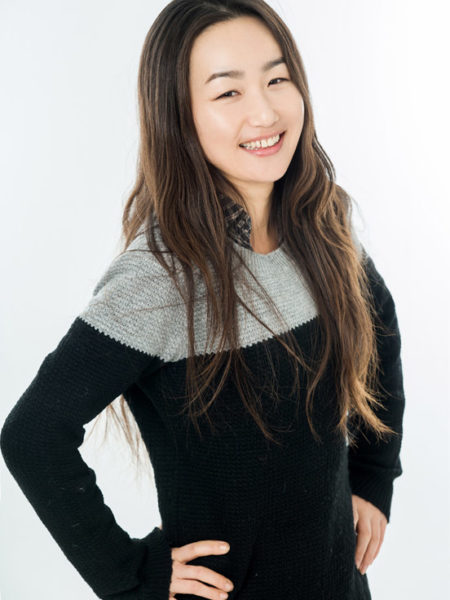 When Chloe Ji Yoon MA '05 was in elementary school in rural South Korea, paper dolls were in fashion. Yoon, in fifth grade, drew 50 different costumes for her paper doll, and sold them to friends — at a price seven times more expensive than store-bought versions. They sold because, even as an elementary student, Yoon had extraordinary skill as a designer and illustrator.
This precocious marketing effort was a hint at Yoon's determination to do whatever it took to become a costume designer. Her path has taken zigs and zags to fashion design and teaching, but her career of choice got a huge boost when she was an assistant costume designer on Black Panther, working for Ruth Carter. Carter won the 2018 Academy Award for the film's innovative and scrupulously-researched costumes.
Yoon had worked for Carter on several earlier, smaller projects before Yoon married and moved back to Korea in 2015. On the day Carter posted on Facebook that she had gotten the Black Panther job, she messaged Yoon and told her "I need you. I got this huge job."
Yoon was teaching a full load at Sungshin University in Seoul (fashion design, illustration, fabrics, sustainable fashion and fashion history), but she was determined to take the assignment no matter what.
"During my winter break, I did all the concept work," Yoon remembers, conferring with Carter via Skype. A key scene in the film takes place in a Korean casino. "I knew all the authentic styles, and I got good response from the director and producers."
In all, Yoon spent two months working on Black Panther, including filming in Korea for three weeks. Carter spent about seven months, Yoon says, which seems like a fraction of the time that would be required to create more than 700 detailed costumes that drew so heavily on multiple cultural influences.
"But that's costume design," says Yoon. "It is a lot of work and research."
It was Yoon's superlative portfolio that caught the attention of the late Ritchie M. Spencer, the USC School of Dramatic Art's longtime director of production and head of costume design. Yoon had graduated from the private Kookmin University in Seoul with a degree in fashion design, had applied at USC for graduate school, but then thought she wanted to be in New York City and spent a year studying at The Fashion Institute of Technology. Realizing the advantage of being in Los Angeles, the heart of the film industry, and at a university with both a strong costume design program and hundreds of film students, she emailed the School to see if it was still interested in her. Spencer asked to see her portfolio, and the deal was sealed.
Yoon especially remembers learning from stage designer Don Llewellyn (now an emeriti faculty member) and Howard Schmitt, who manages the costume shop.
She designed costumes for Euripides' Women of Troy, and built the elaborate costumes for the main characters for Les Liaisons Dangereuses in one month. Her thesis project was the costumes for the Irish play, The Playboy of the Western World.
"I love historic costume," says Yoon. "But I also like fantasy and sci-fi."
Although Yoon hopes to work again in Los Angeles soon, she has been busy in Korea. She produced a nine-week massive open online course on film costume design, has developed a new in-person course for her university in film fashion design, organized a fashion show in Beijing for 40 students and worked as a costume artist on a Korean film set in 1920 that won the film's costumer the equivalent of a Korean Oscar.
She credits USC for providing her industry start. "USC gave a small girl from the East a chance to study something she's always dreamed about and made her strong enough to fight in the jungle of the film industry," she observes. "Even if I always wanted to work in film, my theatre training made me a stronger designer. So grateful for that! I'm really hoping I can make the USC name proud someday."
Note to Yoon: That day is already here.
This story appeared in the 2019-20 Callboard magazine.