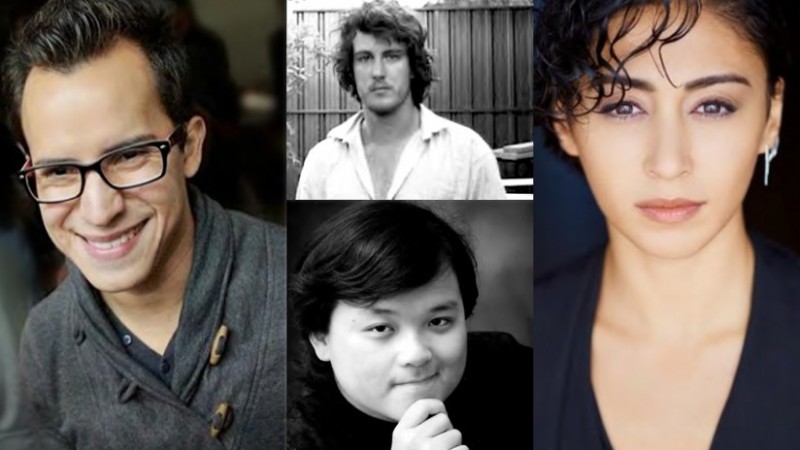 Provost Elizabeth Garrett has welcomed the second class of USC International Artist Fellows — four students from the Pacific Rim, South Asia and Latin America whose work will shape the arts at USC and beyond.
The fellowship program was created to form a global arts community that celebrates diverse perspectives, artistic exchange and academic values. Fellows are George Egerton-Warburton of Australia, Hui Jin of China, Diego Alberto Najera Martinez of Mexico and Mehrnaz Mohammadi of Canada.
George Egerton-Warburton
Egerton-Warburton has been featured in solo exhibitions at the Perth Institute of Contemporary Arts and Artspace in Auckland, and in group exhibitions at the National Gallery of Victoria and the Perth International Arts Festival. He will pursue his Master of Fine Arts at the USC Roski School of Art and Design.
His creative strategies are varied, with some works employing irrational methodologies to understand issues of ethics and morality, while other works focus on the sense of scent to explore subjectivity. He has lived in Australia his entire life, with the exception of two extended artist's residencies in Italy.
Hui Jin
Jin is a celebrated tenor from Beijing who has appeared in numerous opera productions in the United States and Germany, including "L'Ormindo" by Cavalli, and "Cosi fan Tutte," "Die Zauberflöte" and "La clemenza di Tito" by Mozart. He begins his doctoral program in vocal arts at the USC Thornton School of Music.
Upon graduating with a master's degree in music performance from Texas Christian University, he embarked on a two-year postgraduate training program at University Mozarteum in Salzburg. One of his primary goals is to further develop his knowledge and performance of the German Lieder repertoire.
Diego Alberto Najera Martinez
Najera Martinez has served as a producer in charge of programming for the Guadalajara International Film Festival, striving to increase diversity in the film industry. He's pursuing his MFA at the USC School of Cinematic Arts' Peter Stark Producing Program.
Born and raised in Guadalajara, he was ranked first in his class at the Tecnológico de Monterrey, where he earned a bachelor's in communication sciences in 2008. While getting his education in Mexico, he came to Los Angeles for a year to study at UCLA's School of Theater, Film & Television. More recently, he has begun traveling throughout Latin America to learn more about Latin American cultures.
Mehrnaz Mohammadi
Mohammadi is an actress, performance artist and storyteller. She was part of the Black Theatre Workshop Mentorship Program and has worked with Imago Theatre and Teesri Duniya Theatre. She begins her MFA at the School of Dramatic Arts.
Mohammadi was born and raised in Tehran, where she studied graphic design at the University of Tehran. She moved to Canada in 2007 to pursue her education in theater performance. She is interested in physical theater has trained in Chinese opera and biomechanics. In her spare time, Mehrnaz enjoys drawing, playing traditional Iranian drum and violin.
The second class of fellows joins members of the 2013 International Artist Fellowship program: Jacinto Astiazaran (Mexico, visual arts), Frederico Fernandez (Brazil, animation & digital arts), Vladimir Gorbach (Russia, guitar) and Fei Kayser (China, dramatic writing).