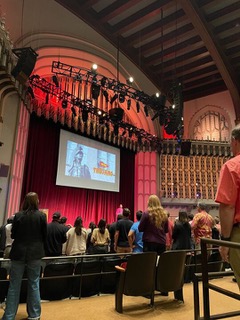 For thousands of new students each year, the Welcome Trojans Experience is the start of their USC journey. This year these orientation programs, designed to connect students and their families to the values of the university, were enriched through the USC School of Dramatic Arts' Liberation Arts Company.
Consisting of 10 students from the School's MFA in Acting and Dramatic Writing programs, and led by faculty members Brent Blair and Anita Dashiell-Sparks, the troupe practices a style of interactive theatre that performs scenes based on real-world scenarios that incoming students or their families might encounter. Audience members are then invited onstage to participate in the scenario and make their own choices. The ability to experience difficult events firsthand, and to be able to make choices and see how they play out, can be a profoundly healing experience.
Professor Dashiell-Sparks points out that the ability to dramatize and physically act out scenarios makes a much deeper impression than simply observing as an audience member. "The memory is in the muscle. Everything that's happened to us, whether it was 10 months ago or 10 years ago, lives in the muscle memory of the body," Professor Dashiell-Sparks said. "Through this visceral work, from the experiential standpoint, we're activating the body, the mind, and the spirit—in terms of the internal and emotional parts of ourselves."
USC's orientation events are a massive undertaking, with more than 5,000 first year and transfer students attending over the span of nine online or in-person sessions. The Liberation Arts Company performed at each of this year's events at Bovard Auditorium, demonstrating scenarios ranging from how to handle conflict over shared property with a roommate to dealing with difficult topics like race in a group project.
With its foundations in Augusto Boal's practice of Theatre of the Oppressed, members of the troupe underwent a rigorous training session in the Spring semester to prepare to meaningfully connect and interact with the audience.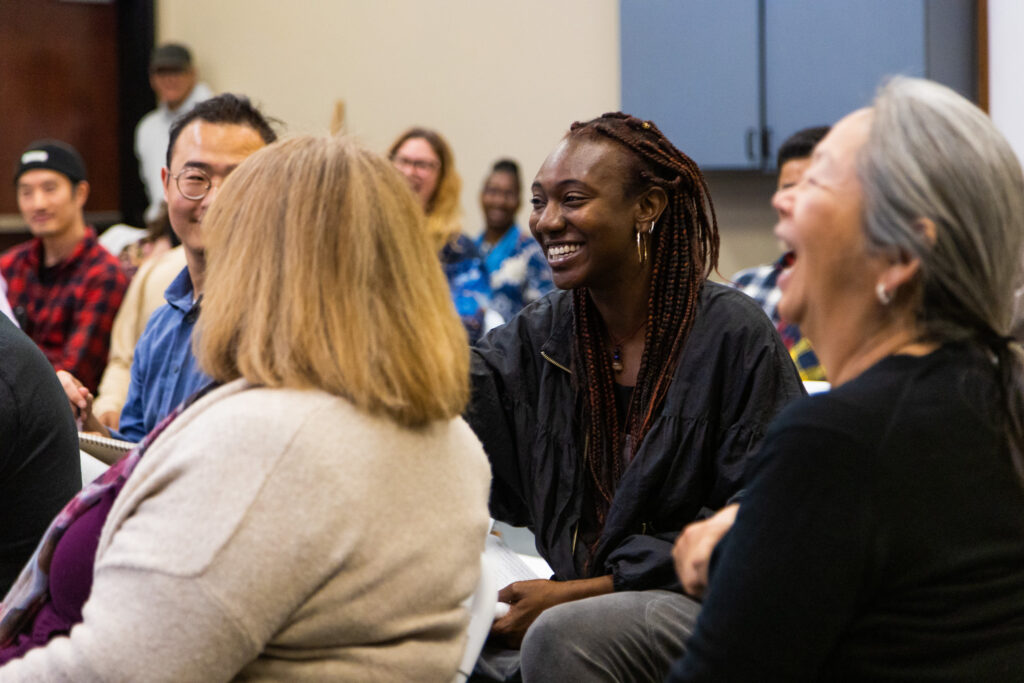 Unapologetically centering art and theatre
Rama Orleans-Lindsay, an MFA Acting Second Year student and one of the troupe's artists, noted that this work opened up new possibilities as a performer. Orleans-Lindsay has long been interested in the interaction between theatre and social justice, having worked with the Billie Holiday Theatre in Brooklyn before coming to USC. However, she sees even greater possibilities in the liberation arts.
"With the Theatre of the Oppressed work, especially what we did this past summer, I can see how you can change someone's mind or perspective with this."
Orleans-Lindsay recalled the training involved not only learning about techniques of Theatre of the Oppressed, but also a process of deep introspection, self-reflection and empathy building.
"The training over the summer was intense," Orleans-Lindsay said. "It was really looking at ourselves first. How we identify, the labels we put on ourselves, the labels we feel the world puts on us, the labels that we put on other people. The next step was: based off how we identify, what challenges do we encounter day to day?"
She was pleased to see the level of engagement from new students and their families at the orientation sessions and felt that the liberation artists and the new students mutually learned from one another.
"Being able to just see a reflection of our stories—a lot of these are our personal stories," she said. "If you can see something you can identify with, you're immediately going to be more present."
The Liberation Arts Company's engagement with the community in Los Angeles and beyond is only growing. Outside of work with the USC Office of Orientation Programs and USC Athletics, they have been engaged for performances with the USC Suzanne Dworak-Peck School of Social Work, USC Dornsife College of Letters, Arts and Sciences, and LA General Medical Center. This Fall, they are also partnering with the Los Angeles County Office of Education and the Human Relations Commission for LA vs. Hate, a community-centered system that supports residents in Los Angeles targeted by hate crimes and acts of hate. The Liberation Arts Company will make appearances at Los Angeles schools, using their brand of liberation arts to help students cope with microaggressions, macroaggressions, Intergroup conflict and support anti-hate and anti-bullying initiatives.
Lisa Starr (BFA Acting '83), Director of the Office of Orientation Programs at USC, says that the Liberation Arts Company's involvement in orientations will continue to evolve moving forward.
"What I love about this is incorporating and using teamwork across the campus: utilizing departments for onboarding students and understanding that any major can participate," Starr said. "It helps students understand how theatre plays a role in a variety of areas."
Using theatre as a tool for empathy has been a growing mission for Blair, Dashiell-Sparks and the rest of the Liberation Artists.
"It unapologetically centers art and theatre and storytelling and the experiential," Professor Dashiell-Sparks said. "We are all collectively embodying and experiencing through these tools and techniques, and the participants are invited to explore and discover."
Professor Blair agrees. He sees the work the Liberation Arts Company is doing as an essential tool to promote both healing and justice in a world full of conflict.
"There's nothing more important in terms of dialogue in our culture and our world than employing interactive arts—popular art—to engage people who have vastly different opinions about things," Professor Blair said. "We live in a fractured society. But art makes revolution irresistible. Art can bring people together."