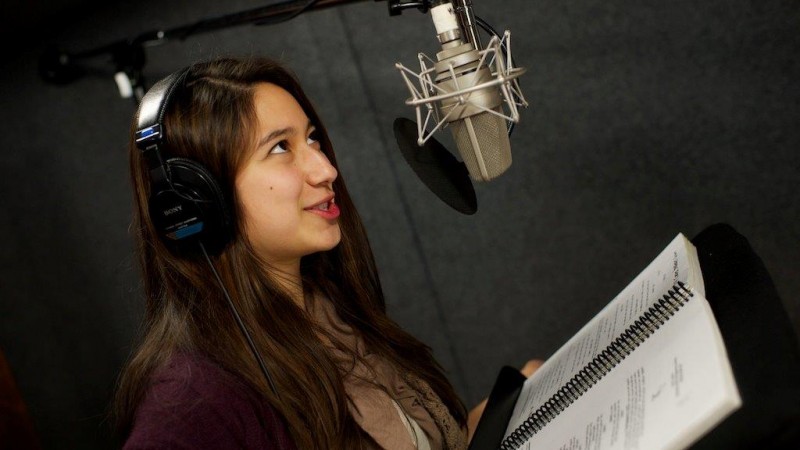 Think of Vicki Lewis and Phil Allen as voice detectives. With a state-of-the-art sound studio and their years of professional experience, they help USC School of Dramatic Arts students find voices and characters they didn't know they possessed.
They make startling discoveries. Lewis, an actor with a long list of top industry credits, uncovers hidden talents by giving rapid-fire directions to students standing in the booth.
"Pitch him a little more nasally and nerdy."
"Put a really big lisp on it."
"Give her a British accent."
"Speed the line so it's absolutely crazy-making."
"Take the choice that's big for you and make it 1,000 times bigger."
Lewis deliberately doesn't give the students time to mull over her directions.
"Go!" she commands, getting students to take the risk before they censor themselves.
At her urging, shy students will try a falsetto, a Southern accent, speak like an entitled Valley girl or growl like a creepy convict. More often than not, the rest of the class — listening on headphones at their desks — erupts in delighted laughter at the vocal transformations.
Listen to Lewis working with students Alex Diehl and Grace Dewson in these short audio clips:
Allen, who's been teaching the "Voice-over Acting" class with Lewis for five years in a well-equipped studio in the McClintock Building, has witnessed new characters bubbling up hundreds of times.
"They almost never see it coming," he said of the students asked to stretch themselves. "They say it, get the reaction and then look three feet taller in the booth."
Demo reels and digital auditions
Lewis, who has voiced animated characters in Finding Nemo, Wonder Woman, Alpha and Omega, Scooby Doo, King of the Hill, Rugrats and other films and television shows (as well as having a slew of live theater, film and TV credits), said she tries to get students to "make the biggest choice possible and go with it, even if they aren't sure."
The duo, who are married, teach voice classes to MFA, BFA and B.A. students, focusing on characters for radio and television commercials, children's and prime-time animation, video games and films. It's an increasingly important market for actors, but few other universities offer the instruction.
Dean Madeline Puzo suggested the course, and when Allen researched other schools for curriculum ideas, he came up empty. Most prospective voice-over actors pay a commercial studio to create a demo reel, he said.
Students in these classes learn how to record and edit their voices, how to assemble a professional demo reel and how to submit themselves digitally for an audition. Their assignments are actual commercials and script "sides," which they perform one by one in the booth, with instant feedback from Lewis. Allen records their efforts and posts them digitally for students to edit into their reels.
Allen, an experienced sound designer for Broadway, national tours, top regional theaters and venues such as the Hollywood Bowl and Universal Studios Hollywood, also created the sound design BFA degree at the School of Dramatic Arts, a unique program offered at only a few other universities. The school's first majors graduated in 2013.
The voice-over class has been key to numerous students getting agents. One MFA student booked an assignment on the Disney film Planes during her last week of class.
Tim Heidorn, a senior dramatic arts major, was thrilled after trying dialogue as a cartoon owl playing Sherlock Holmes. His vocal choices cracked both teachers up.
"It's something I never had any experience doing before," Heidorn said after leaving the booth. "It's fun, but practical. The fact that by the end of the class we'll have a reel that could get us representation is tremendous."
There are waiting lists for the classes, which also accommodate nonmajors. In one of their first classes, a business major with an engineering minor signed up because he wanted to be more comfortable talking to people.
"While still at USC, he got this fantastic job and was told it was on the strength of his skill talking to people," Allen recalled. "That made us feel really good. Whether they're going to be voice-over actors or not, they find a voice."
"Nothing gives me more pleasure than helping the underdog grab the gold ring," Lewis said. "I root for people to win. I came out of my shell late in life, blooming very late, so I understand being shy."
"She's a remarkable acting teacher," Allen said. "Because she finds what's unique in actors and makes them more so, we've never had an actor who wasn't good at something. When you hear the progress they're making, it is sort of dazzling."