Last November, acclaimed theatrical leaders and entertainment executives shared their wisdom and life experiences with the students of the USC School of Dramatic Arts for the latest in the School's groundbreaking Multihyphenate Masterclass series – this one on artistic entrepreneurship.
To start the afternoon, esteemed actress, director, and SDA faculty member Kate Burton moderated a discussion with Lori Furie, vice president of VFX at Sony Pictures, and acclaimed producer Gigi Pritzker. Furie discussed her nearly 30-year career at Sony Pictures, and the opportunities that led her from serving as an assistant in the music industry to the executive suite of a major international film studio. Pritzker likewise told of her journey from studying anthropology to becoming an acclaimed documentary filmmaker, which later launched her career as a renowned producer.
Both Furie and Pritzker spoke about taking every opportunity in addition to learning things on the fly.
Pritzker spoke of her start, receiving permission to film a documentary in Bhutan—permission that had been denied to major documentary-producing companies like the BBC and National Geographic.
"I knew I had something of value," Pritzker said of the experience. She approached the BBC, who agreed to work with her on the film. "That was all I had, but I was going to make this thing. And then I had a credit. Now I'm going to say I'm a producer."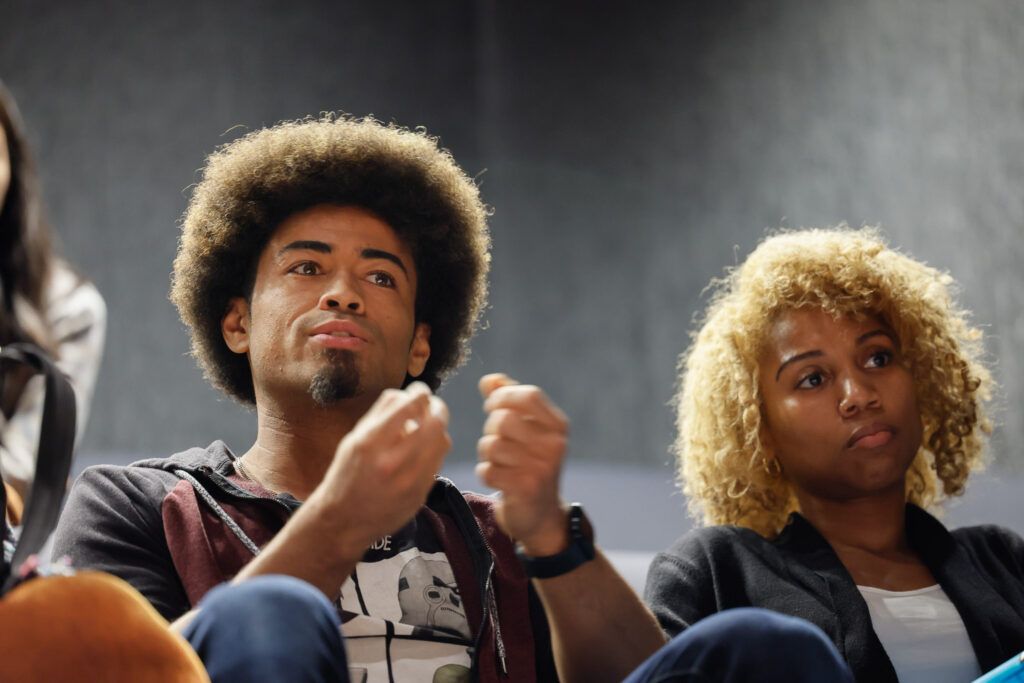 Furie spoke of her rise from working on music projects for a film to being approached to oversee brand new visual effects for the film Stuart Little. It was a major risk at the time because the technology was brand new, but it paid off handsomely and resulted in a whole new division of Sony Pictures.
"It was one of those things," Furie laughed. "The House that Stuart Built ended up being my career."
Furie, Pritzker, and Burton all emphasized taking risks and learning things on the job, and gave practical advice about how to learn things quickly, including learning the nuts and bolts of your medium and not being afraid to ask questions.
"You're making it up as you go along," Burton said, "which I think is the secret to a lot of what we do in our lives."
"There are no stupid questions unless you ask them twice," Furie added.
"I think it's about curiosity," Pritzker added, accounting for the many different media and genres she's worked in over the course of her storied career. "It doesn't matter how old you are or how many years you've been doing the thing. You have to have curiosity to do it, and you have to figure it out. That keeps you interested and interesting."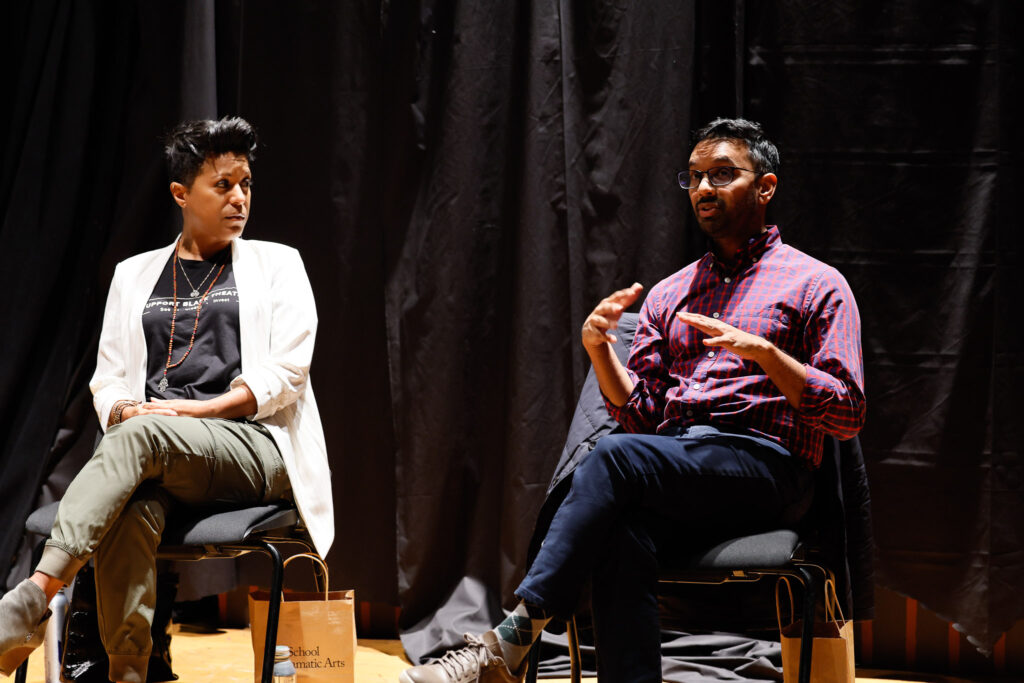 You've got to walk the walk
The afternoon continued with acclaimed director and former Artistic Director of the Berkeley Repertory Theatre Tony Taccone leading a conversation with SDA faculty member Gregg T. Daniel of the Lower Depth Theatre Ensemble, Susan Dalian of PlayPenn, and Snehal Desai of the East West Players. All three are accomplished multihyphenates who arrived at their leadership roles via different paths, and they spoke eloquently about the opportunities and challenges that characterized their journeys.
A shared theme, though, was the assurance that everyone is figuring it out as they go and that you never know where an opportunity might lead. Susan Dalian told a story of how moving away from Los Angeles for seven years opened up new opportunities to expand upon an already successful career in acting.
"You can run but you can't hide, as an artist," she said, describing how the time away let her consider making a transition to directing. "I've been doing this for a really long time and I know a lot of stuff. Once I accepted that, I couldn't deny it. It made me see the bigger picture of how I could be involved in theatre."
Institutional security and the ability to make a broader impact was also a shared theme between the panelists. Desai spoke of his desire to create social change through storytelling, and how that led him to pursue an artistic home with the East West Players.
"I didn't know who I was creating this work for. I didn't know who the community was that I was speaking to," he said of moving from New York to take the position in Los Angeles. "That feels very hard to do in New York City, because you have a rarified theatre audience. I wanted to create work with a social justice bent, and here there's also a very defined community that I could work in service of."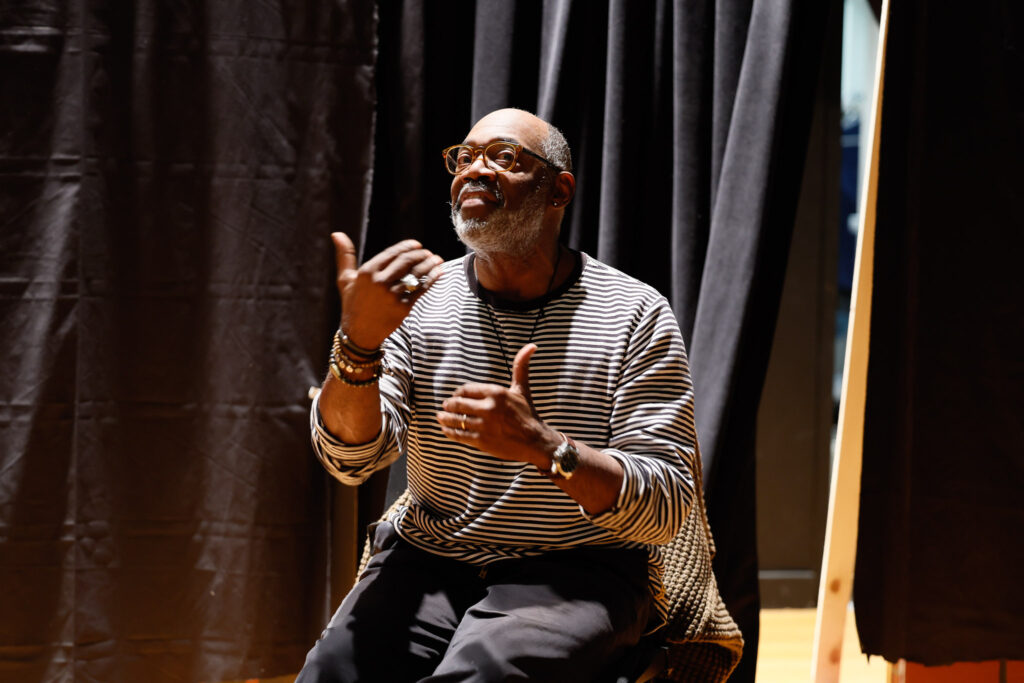 Gregg T. Daniel spoke of needing to step up to be the change that he wanted to see, and how becoming a founding member of a theatre company that prioritized stories told by artists of color helped him do that.
"Where can you create the kind of work you want to produce, the kind of work you want to shape, if you don't have a company?" Daniel said. "Waiting for phone calls to come in, it seems too passive. That helped me segue into being an artistic director."
Each of the directors spoke about how their experiences as actors and artists informed their work as artistic directors, and discussed how being on different sides of the creative process had given them a broader perspective.
"The first thing I want to do as an arts leader is to pay everybody, and to pay them well. That's my personal feeling," Dalian said. "Doing that is a whole other ball of wax. When we are actors, this is our instrument, we are hyper-focused on the self, finding jobs. But changing from acting to this leadership role, I got a crash course."