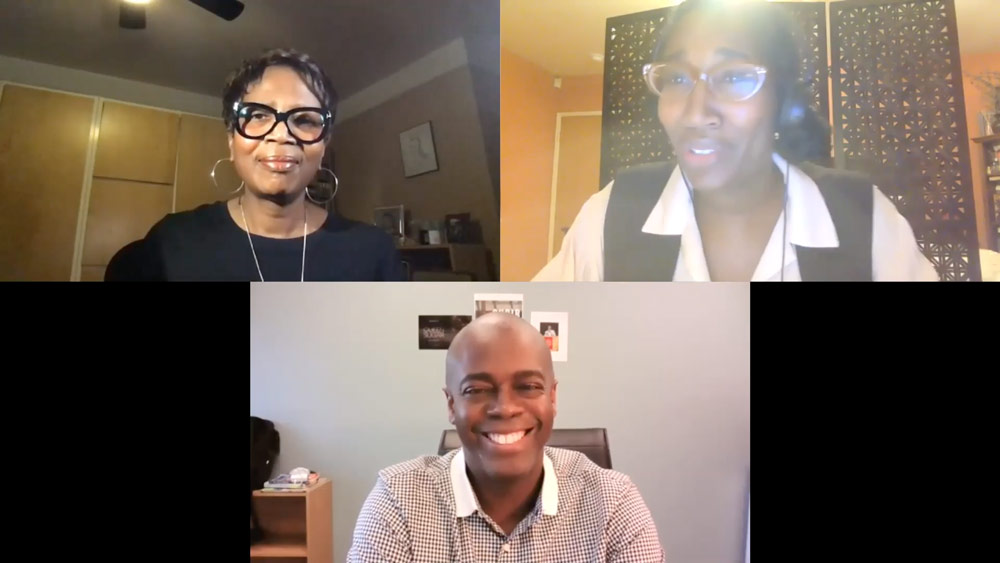 As television writers, producers and showrunners, Anthony Sparks and Sara Finney-Johnson have made it their mission to address the gap in Black representation across major networks.
"The television lens is a very, very powerful one," said Sparks, who also graduated from SDA's BFA program in 1994. As a head writer, executive producer and showrunner for Queen Sugar, Sparks explained that television's intimate nature and ability to regularly reach audiences in their home is what sets the medium apart.
During the first event hosted by the new School of Dramatic Arts Office of Equity, Diversity and Inclusion (EDI), Sparks and Finney-Johnson discussed representation of Black family in drama and comedy. The conversation centered on how the Black family has been constructed, defined and identified over time, and how these different representations of Blackness and Black life have been brought to life through television. It was moderated by Associate Dean of EDI, Anita Dashiell-Sparks.
The power of representation
Finney-Johnson — who co-created, executive produced and was the showrunner for UPN's Moesha — shared that she created the series with a couple goals in mind. "I wanted to do a show about a Black teenage girl and at that time there was not one. I felt that voice was missing," the USC alum said. In addition, she wanted the show to come through Moesha's lens, but cover issues that everybody could relate to and understand.
Sparks saw the show as a huge turning point in Hollywood, "That show was very smart about sort of coming in as a Trojan horse as a sitcom, but actually giving us very meaty things to talk about it."
Sparks would later cover heavy topics in his own work for Queen Sugar. Sparks describes the series as "…pulling on civic history and economic geography to explain forces that have broken up the Black family."
The importance and recognition of stories like these, told by people who have experienced them have a tremendous effect on the viewer. Professor Dashiell-Sparks mentioned how her daughter binged the entire series of Moesha in a week, "Representation, it matters," shared Sparks.
Creating the opportunities
 Although there are these opportunities for youth to see themselves and their stories reflected on screen, there is still lots of work that needs to be done. Sparks sees it in two different ways: "What it said to me, both fortunately and unfortunately, is that we're still parched in that area — in terms of images and representation."
Sparks shared with the audience his goal to have Hollywood take Black drama and Black life seriously. As a young actor, he was told there was no space for him in the industry unless he played comedic stereotypical roles. Although he had a successful acting career, Sparks soon realized, "I had to enter the creative conversation much sooner."
By becoming a writer, Sparks was able to advocate for the stories of people who looked like himself to be taken more seriously.
Similarly, for Finney-Johnson, she used her role in casting to give more access to Black actors. She explained, "When I'm involved in casting, I think it's important to show beauty in all the colors of Black folk. Not just one color, but we come in all shades that are beautiful."
Noticing a lack of representation of this in the majority of television shows, Finney-Johnson made sure Moesha would be the exception. "We had young Black girls on this show from all shades and I think it meshed and it worked well," she said.
Advice to students
As artists who have had vital roles in providing representation of the Black family on television, both Finney-Johnson and Sparks encouraged students to create their own opportunities to tell their stories.
Finney-Johnson encouraged students to "…put your work out there." Noticing how the number of outlets to share your work has tremendously increased from when she started working in the industry, she encouraged students to submit to festivals, upload to YouTube or film on their phones. "Just keep your work out there and alive," she said.
Sparks encouraged students to "Take advantage of your youth…" When he was acting in Stomp on Broadway, the one night he had off every week, he would use to stage his one-man play on off-off-Broadway.
Furthermore, Sparks stressed how although you cannot control the response that your original work will get, "what you can control is putting your work out there." Sparks added, "nobody can respond to the work if they don't know it's there.
On a final note, Finney-Johnson proclaimed that above all else: have passion for what you do. "There are going to be downtimes. There are going to be times where nobody cares about your writing, nobody's gonna pay you, but you got to keep writing," emboldened Finney-Johnson. "It's gotta be something you just really love."