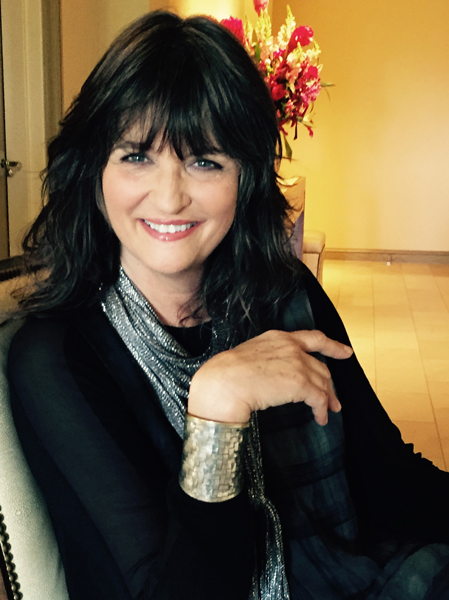 As part of a Q&A series with our faculty, the USC School of Dramatic Arts asked Terry Gordon about her extensive sitcom costume design experience, how her teaching has adapted throughout the years, the most rewarding aspect of being a faculty member and more.
---
How long have you been teaching at SDA?
Gordon: I've enjoyed teaching as an adjunct lecturer in the USC SDA since Spring 2013. My courses for costume design in TV/film are incorporated into the Dramatic Arts program to supplement knowledge of the working costume department in L.A.'s prolific and dominant TV-film industry.
What are you teaching this semester?
My fall semester schedule includes mentoring one of our costume design students through their production as well as teaching Costume Design II, which focuses on costume design and the working costume department for the TV-film industry. Students are introduced to the process, information technology (IT) and demands of a career in the industry. The projects are created to introduce the students to every aspect of a professional costume department. They learn to breakdown a script according to industry standards, research and present full character studies, understand the various jobs and crew positions on a production. They are introduced to budgeting standards, forms and procedures, and learn the value of unions. Design and character studies are focused on throughout the semester projects. Research is assigned to acquaint the students with current design techniques, working professionals and production expectations.
Tell us a little about your professional career.
As a professional working costume designer/key supervisor since 1980, the focus of my career has been working on sitcoms. Beginning on commercials and Equity waiver theatre, I segued into TV with the hit show The Nanny, starring Fran Drescher, and was the men's costume supervisor for all six seasons. We enjoyed three Emmy nominations and one win. Following the end of The Nanny, I continued on sitcoms: two seasons Two Guys and a Girl, five seasons on REBA, The Winner, Working Class, Romantically Challenged, The Winner, back with Fran Drescher for Happily Divorced, then back with Reba for Malibu Country, One Day at a Time with Rita Moreno for three seasons, back with Fran Drescher for Indebted. I was also temporary costume supervisor for Nickelodeon: Raven's Home and Warped. Over 20 years, I toured and designed for Reba McEntire: music videos, concert tours, personal appearances, guest spots, commercials, Vegas residency and awards shows.
I am a proud 42-year IATSE [International Alliance of Theatrical Stage Employees, Moving Picture Technicians, Artists and Allied Crafts of the United States, Its Territories and Canada] Union Member in Local 705: the Costumers Union, and have served on the Executive Board for the Costume Design Guild IATSE 892 for the past nine years. I have been a Television Academy member for 40 years and completed my tenure as Governor for the Costume Design Peer Group 2015-2019. I currently continue on the PGEC [Peer Group Executive Committee] and have served as the mentor for The Television Academy Education Foundation Internship program for the past six summers, mentoring and introducing student costume design interns to our industry. This past year, following the pandemic shutdown, I enjoyed being an assistant costume designer for American Horror Stories and earned an Emmy Commendation for my work on The Queen's Gambit.
What are you currently working on, outside of USC?
I recently completed a costume design job for An Evening With Whitney: The Whitney Houston Hologram Concert at Harrah's showroom in Las Vegas. The original production was completed in 2019 just as everything was shut down. The show has been revamped and designed and has opened successfully for a year's run in Vegas. I've completed five hologram productions for Base Entertainment and this is the most complete production by far.
What is the most rewarding part of teaching?
Teaching is an art and a skill. Leading, sharing and encouraging the students to their ultimate goal is the balancing act. Seeing them successfully achieve their goal is beyond rewarding. I've had a number of students now working successfully in our industry and, though these are their successes, it is immensely gratifying and a proud honor to have worked and mentored them during their student life.
How has your craft and what you teach your students changed over the years?
The changes in our industry have been immense. Many of the processes and procedures have become very IT-oriented and keeping up with that to share with the students is essential. Design Illustration has transformed from hand to IT-generated images. 3D printing is commonplace in costume manufacturing. Projection mapping has been incorporated into costume design, not to mention new special effects products and prosthetics. Fabric printing techniques have exploded, making any and everything possible. Pattern drafting has also succumbed to IT invasion and will be more prominent in years to come.
What is your favorite advice you give to students?
My best advice to students is to be adaptable! Never say "NO" to anything. This is a creative thinking profession, and being successful and sought after involves your willingness and ability to tackle the problem and resolve it with grace and aplomb.
In celebration of the School's 75th anniversary, what is your favorite SDA memory?
My spring course is Seminar in Theatre, where I bring working professionals together on panels to meet the graduating senior design students. This is one of my favorite courses as many of the students meet their future employers following graduation. This class opens the students' eyes to other possibilities. Prior to pandemic, we enjoyed "field trips" visiting studios, facilities, backstages and venues to meet the pros and see the work first hand. However, our Zoom sessions actually allowed more professionals to be involved. My favorite memory was knowing several of my students acquired excellent jobs following this class.
Any fun facts we should know about Terry Gordon?
As a high school student, I was one of five founding members of my hometown's "Community Theatre." The theatre company still exists, produces a season of plays and is 50 years old. I continue to support it from afar.