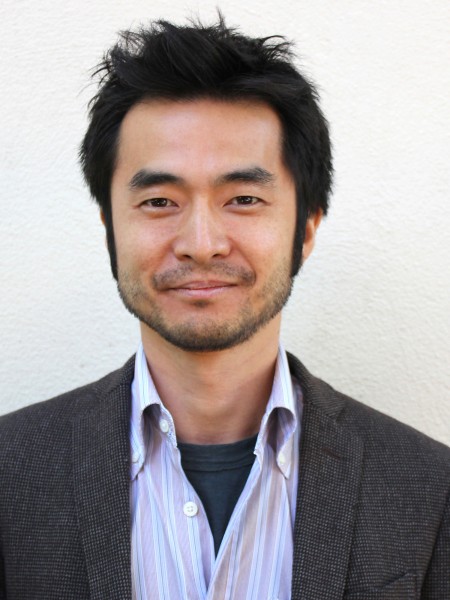 As part of a Q&A series with our faculty, the USC School of Dramatic Arts asked Associate Professor Takeshi Kata about his recent work on Broadway, what makes the SDA design faculty a powerhouse, his teaching style and more.
---
How long have you been teaching at SDA?
Kata: I started in 2009 as an adjunct professor, so just over 12 years.
What are you teaching this semester?
As of Fall of 2021, I serve as the head of design, and I teach scenic design-related classes.
Tell us a little about your professional career.
I have been a scenic designer for the theatre for 20+ years and have designed over 200 productions including plays, musicals and opera. I enjoy working with other artists, hearing their ideas and crafting the work together.  I particularly enjoy being in tech — observing how the director and actors craft the story, and contributing my ideas.
What are you currently working on, outside of USC?
I am currently working on a world premiere production of a play called Prayer for the French Republic by Josh Harmon, directed by David Cromer at Manhattan Theatre Club. I'm also working on a tour of Lauren Yee's musical, Cambodian Rock Band, directed by Chay Yew; and a remount of Dael Orlandersmith's Until the Flood, which will be mounted in Berlin.
Could you tell us about your recent work on Broadway (Clyde's) and what the process was like?
The design of Clyde's happened mostly while we were shut down, and because most of my other work were canceled during that time, we were able to take our time designing. Director Kate Whoriskey and the design team met for a few hours every week for many months. We talked about the play, what the relationships of the characters are, and what the needs of action and staging were for each scene, as well as all the design ideas (we all freely shared ideas and thoughts about each other's design). I looked through many images of rundown commercial kitchens (which is where the play takes place) and created many versions of ground plans to explore traffic patterns and the stage picture of the show, took everyone's input and kept revising the design. Since I had no experience working in a commercial kitchen, I researched what makes a good workflow in a commercial kitchen and then figured out how it worked with our staging ideas. I shared different versions of the design through sketches, ground plans and models. The set was built in Canada and shipped to N.Y., and once it was loaded into the Helen Hayes, the props team, my associate and I worked closely to dress the space to make it come alive.
Could you share about the design faculty and what makes the group such a powerhouse?
We are all passionate working professionals who care deeply about our students. The caliber and quality of the professional work that my colleagues do, as well as their compassionate dedication to teaching is what makes them a powerhouse (to use your term). My colleagues generously dedicate their time to students; in classes, in mentoring, and in the time we spend together improving both the curriculum and production experience. Over the last decade, working through many challenges together, our relationship as a group has deepened and we have come to trust each other, and I can't imagine navigating the challenges that the pandemic has brought with another group of people.
What is the most rewarding part of teaching?
When students have an Ah-ha! moment. Particularly if the student has been struggling. That's when I feel the most connected to a student.
Sometime around their third year, when the students mature and grow into/find themselves. It never gets old. All of a sudden you see them change from being a child into an adult ready for the world.
Hearing from our graduates. Seeing and hearing where their continued path has taken them and being able to offer whatever support I can. And when our teacher/student relationship evolves into a lasting friendship.
How has your teaching style changed over the years?
I am less strict and more flexible with students. I've only taught these classes 10-plus times, so am still learning about how better to teach. I used to emphasize hard work and striving for perfection, but now I find the idea of perfection is not helpful. Instead, now I try to emphasize hard work and growth, still finding a way to teach excellence, but more defined by the student, and less by me as a teacher.  I also try to bring ideas of mindfulness into the classroom, as a practical skill for life for the students, which I did not have the knowledge to do before.
In celebration of the School's 75th anniversary, what is your favorite SDA memory?
Not sure if I have a specific one, but as I look back, it's all the coffee/lunch hang outs that I've shared with my colleagues on campus that I think about most. I love spending time with people, especially my colleagues in production and design. Perhaps, I feel nostalgic about these moments because we're in a time when sharing a space with another is more limited…
Any fun facts we should know about Takeshi Kata?
I took yoga teacher training two years ago and I have been practicing guitar for the last seven years.  I'm married with two amazing kids, Emma and Mina, and have two cats and a dog.