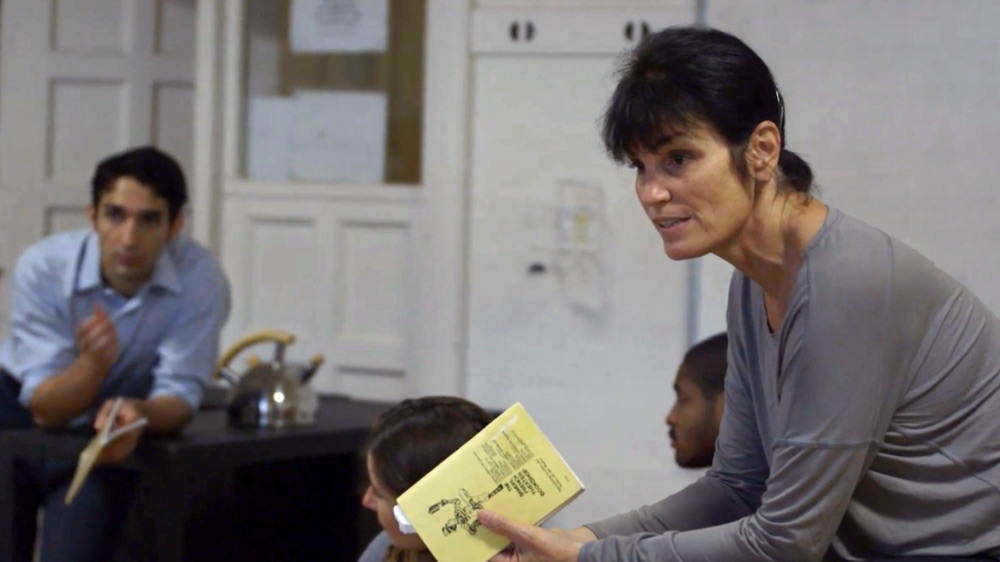 As part of a Q&A series with our faculty, the USC School of Dramatic Arts asked Stephanie Shroyer about this season — particularly her role as the SDA artistic director and the director for Body of Faith — as well as the most rewarding aspects of teaching and more.
---
How long have you been teaching at SDA?
Shroyer: I began teaching at SDA in 1997, so this is my 24th year.
What are you teaching this semester?
This semester, I teach movement, directing and theatre practicum.
Tell us about your role as the artistic director and the literary committee's role in selecting the season.
The artistic director's role in a university's theatrical art training program serves the student and their pedagogical trajectory as its primary constituency. The learning of the student — whether a maker of the art, a viewer of the performances or engaged in critical studies analysis of the texts — is always at the center of the learning objectives.
Our season planning begins in January with the Undergraduate Literary Committee (UGLC) — a wonderful group of students and faculty colleagues from across the school, who work throughout the spring semester to curate a season of diverse plays and performances that include classic and contemporary works from world theatre, as well as devised projects. Our commitment is to challenge student artists to exercise craft and technique across a breadth and depth of exploration and experimentation. The particular 2021-22 season is designed to serve as a laboratory setting for collaboration, analysis, creation, process and practice that centers the skills needed to enter the profession. It is the committee's aspiration to foster and cultivate the empathy and compassion that make the arts of utmost value to our culture with the plays that are selected.
What is exciting about this particular season?
Number one is that we are able to be back in the theatre! After a year of online theatre practicum experiences, it is wonderful to reintroduce aspects of learning that happen when bodies are together in an on-ground physical, rather than virtual, space. While there continues to be a concerted effort to remain vigilant about COVID precautions, we are finding the opportunity to be face to face (even masked faces!) is well worth any inconvenience of the protocols.
Artistically, the UGLC was very excited to put forward a season that has many plays in conversation with one another. Thematic groupings, historical to contemporary relevance, original texts, and adaptations that followed and devised work all made their way onto this year's selections.
Finally, we welcome some extraordinary professionals as practicum leaders, designers, and mentors to work with and beside our students in bringing these plays to life.
Could you share with us about the production you're directing, Body of Faith?
Body of Faith is an original venture in many ways. It and The Normal Heart center the LGBTQ experience historically and into today, which was very important to us as we curated this season. Body of Faith is the first time SDA has included our tenured faculty member Luis Alfaro's plays in our season. When we sought Luis' permission to present Body of Faith, he agreed and also expressed his desire to bring his play — originally produced in the early 2000s as part of an exploration of faith-based plays at Cornerstone Theatre Company — into a contemporary relevance to the experiences of the LGTBQ community two decades later.
Natsuko Ohama, head of voice in SDA's MFA Acting program, is associate directing and the undergraduate students involved are enjoying an exceptional opportunity to work with and be taught by her. The three of us — Luis, Natsuko and I — are working closely in all aspects of bringing this play to life. We, as a collaborative leadership/artistic team, have prioritized building this Body of Faith with the stories of this cast in conversation with the history of those who populated the original. As the cast says, "we are making history in response to history."
Finally, this a first-time venture of having all performance, production and design programs involved — BA, BFA and MFA students with the leadership team being faculty from those programs — to build community across programs within SDA.
What is the most rewarding part of teaching?
Being alongside my students as they discover and grow. That "aha" moment of seeing something click is wonderfully rewarding and is only paralleled by the "I don't get it, but I'm gonna keep trying" when they don't. The tenacity of a person committed to developing craft is something I find beyond moving as a teacher. Who can ever stop the unstoppable?
What is something your students are surprised to learn when they take your classes?
My hope is that a few of them would recognize during our time in class together is that I don't know everything about anything, but I have a ferocious curiosity to find out everything I can about what I may not know. I call it the curiosity mantra. Be curious about everything, but be most curious about what you think is not worthy of it!
As a longtime SDA professor, how has your teaching style and outlook evolved over the years?
This is a question that should inspire me to write a book filled with theories, hypotheses and conclusions. The simple truth is that I've learned more from my students than I could ever have taught them from my individual knowledge base. I eagerly share with them what, to me, in my experience, has taken the magic out of making magic. Once we know the methods behind making magic, we will always be able to make it!
As we are celebrating more than 75 years at SDA, what is your favorite memory at the School?
Having the honor of mentorship by, and collaboration with, seminal theatre artists who shared their gifts so generously with this school during their time as faculty…John Blankenchip, Jim Wilson, Don Llewellyn, Raye Birk, Charlotte Cornwell, Andrew Robinson, Paul Backer, Jack Rowe and Michael Keenan.
Any fun facts we should know about Stephanie Shroyer?
I love the science in art and the art in science! I'm a right brain/left brain being through and through!