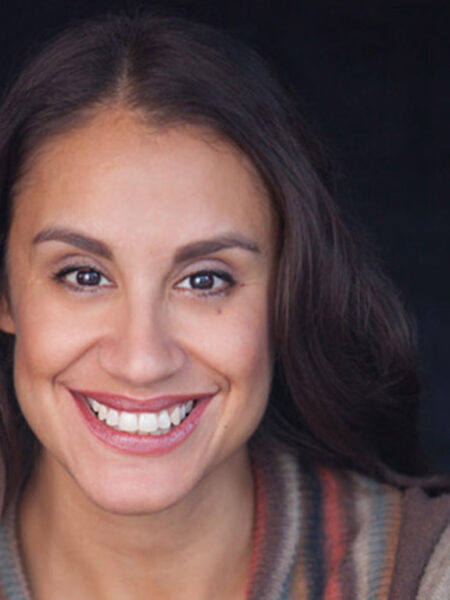 As part of a Q&A series with our faculty, the USC School of Dramatic Arts asked faculty member and SDA alumna Sabina Zúñiga Varela (MFA '11) about advice she shares with students, her work outside of USC and more.
---
How long have you been teaching at SDA?
Zúñiga Varela: The 2022/2023 school year marks my second year teaching at USC.
What are you teaching this semester?
I am teaching THTR 216 which is Movement for Actors – an undergraduate class.
Tell us a little about your professional career.
I have had the wonderful opportunity to travel the country with regional theatre projects. I've worked in Dallas, TX; Cincinnati, OH; San Francisco, CA, Ashland, OR, Los Angeles, CA and New York City. I've also had the chance to appear on a few television shows in NYC and L.A., most recently on Snowfall (FX) Season 4 and the final season of Madam Secretary. Between theatre contracts and television, I act in, direct and produce new work around the Los Angeles Theatre community.
What is the most rewarding part of teaching?
What I love about teaching BA classes is that the students come from many different backgrounds, academic interests and grade levels. Watching them get to know each other, support each other's creativity, and sharing their diverse interests and histories is inspiring. No matter how hard a day may be, or how disappointing the news is, once I walk into the classroom it all disappears and becomes about the journey through the work.
What are you currently working on, outside of USC?
Some of my fellow USC alumni colleagues and I formed a theatre collective called By The Souls of Our Feet in 2012. We recently premiered a feature film called Serpentine Pink, based on our inaugural theatrical production, and it is making the film festival rounds. Next up, we are presenting an original opera based on the Myth of Hecuba for USC's Visions & Voices Program on April 12, 2023.
What is your favorite advice to give to students?
My advice comes from the late great Michal Keenan, who was my professor at USC. He shared that every day an artist should do three things: one thing for their career (send an email, update a website, write a new scene for a play, learn a new monologue, etc); one thing for their environment (make the bed, wash the dishes, organize a desk, dust the shelves, etc.), and one thing for yourself (watch that latest episode of your favorite tv show, read a book, go for a walk, call a long distance friend).
As an SDA alum, what has it been like coming back to teach?
My first experience with USC was when I auditioned for the MFA in Acting program. The auditions and callbacks were held in the PED building. My first class as a professor last year was in the same building and I had so many wonderful memories come flooding back – classes and rehearsals within the walls of those classrooms. It feels as if all of the creatives that have worked in those rooms left an energetic footprint that supports the current students. Ten years after graduating from USC I am able to see the impact our artists have made in the industry and now I get to interact with the next generation of SDA students that will continue the legacy of our USC work ethic and accomplishments.
Is there a piece of theatre, or a film or television show that has recently resonated with you?
I think one of the most fantastic shows out right now is Reservation Dogs on Hulu. The doors being opened, and the new tables being built for indigenous creatives is so inspiring! The creators and showrunners of this work of art are proving how to be the change they want to see in the world.
Any fun facts we should know about Sabina Zúñiga Varela?
My original plan for a career was to play basketball in college and study athletic training. Due to multiple injuries, I wasn't able to follow that dream and was introduced to the theatre world in my sophomore year of undergraduate school. Before moving to Los Angeles to attend USC, I taught Middle School for five years in New Mexico, while at the same time I was completing a graduate degree in special education, bartending and running two Latin@ theatre companies!