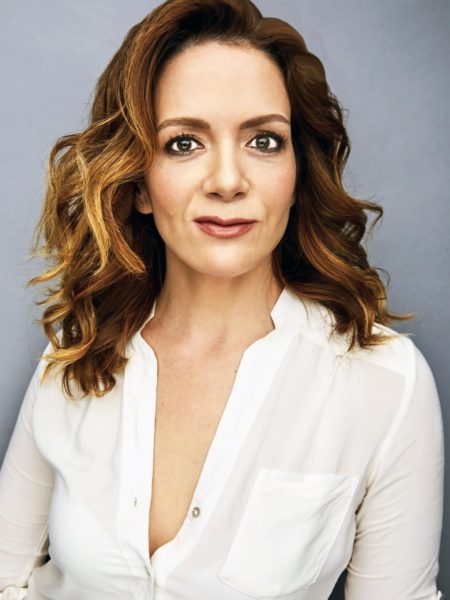 As part of a Q&A series with our adjunct faculty, the USC School of Dramatic Arts asked Kirstin Eggers about her favorite class to teach, what she's bingeing at home, advice for current students and more.
---
How long have you been teaching at SDA?
Almost 8 years – I started with one class, and now I teach 8 or 9 courses each academic year.
What are you teaching this semester?
This semester, I am teaching Intro to Acting, two sections of Improv & Theatre Games, and Sketch Comedy.
Do you have a favorite class you teach? Why?
All my classes are really so different, and I love them all in different ways. But I did some quick soul-searching when I read this question, and I maybe will say I love teaching Acting 101 the most. I teach a lot of comedy-focused classes, but I'd consider myself an actor before I'd consider myself a comedian. I love really diving in with my students to cover every aspect of acting that we can possibly get to in one little semester.
Tell us a little about the "SNL" Class. How will it be different this semester?
The "SNL Class" is what brought me back to USC as faculty – our SDA class includes a cast of amazing comedic actors who collaborate with School of Cinematic Arts classes that cover the writing, directing and production of three live filmed sketch comedy shows, à la Saturday Night Live.
We've done seven seasons, and I've been there since the beginning! When we went into emergency online classes last semester, we had done one show on ground, and there was talk that it was over – no point in continuing on if we can't be together in the studio. But instead, we did two more live sketch shows on Zoom from our own homes, even before SNL itself showed us a template for doing it. And honestly, they were brilliant – I'm so proud of our students for persevering and collaborating to make some incredible entertainment in that very stressful time.
What is the most rewarding part of teaching?
Seeing people establish creative bonds with people they wouldn't normally. Seeing people create really great art because they pushed themselves. Seeing people become more of who they are.
Is there a show you are bingeing during COVID? Or a movie that is on repeat at your house?
I have a five-year-old son so I'm going to be honest, the most important show of the summer was Floor is Lava on Netflix. And I've watched the Hamilton film on Disney+ many times to cry about live theatre.
In addition to being a member of the faculty, you are also an alumna of the School. Was there a production, a class, a professor or a student group that was particularly meaningful or influential?
So many. I remember having 4 or 5 different performances in one day – started the morning performing in a 9 a.m. Theatre for Youth show in Brent Blair's class (I took that class twice, I loved it so much), performing improv with Commedus Interruptus on the lawn at 1pm (the only USC comedy troupe at the time), doing a mainstage show directed by Jack Rowe with the BFAs in the evening, then an ISP at 10 p.m. or midnight, or both; plus, throw in a solo performance show with Eric Trules (I took that class twice also, I loved it so much).
I also taught Shia LaBeouf as part of JEP for a GE Geology class because he went to the middle school across the street, and that is a hilarious USC/L.A. mini-story, if you ask me.
What is your advice to current USC students?
Do everything! Make all the things! I still collaborate with my friends from USC — finding your people and making genuine relationships now will serve you for life. Also, make space in your creative life to say something and elevate those who need it, and maybe change the world a little when you can.
Any fun facts we should know about Kirstin Eggers?
Weird things that come to mind: I am an off-puttingly passionate California native plant nerd, I was certified in Olympic weightlifting once, I own about 40 wigs, I grew up in the desert of Southern Arizona and my bedroom had a real javelina head mounted on the wall. Is that fun??