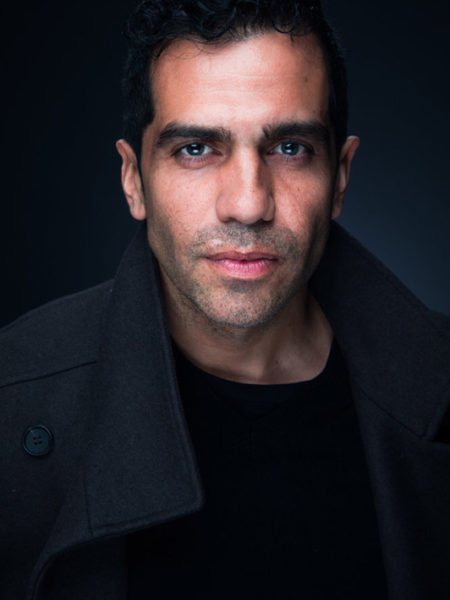 As part of a Q&A series with our adjunct faculty, the USC School of Dramatic Arts asked Julián Juaquín Conde about his recent film and television projects, staying curious, returning to SDA as a lecturer and more.
---
How long have you been teaching at SDA?
Conde: I have been teaching at USC for one year and three months.
What are you teaching this semester?
This semester, I have been teaching the senior BFA's 457, which is their film practicum class. We focus on learning storytelling through the cinematic lens. I also teach two sections of the BA 250 where we improvise in front and behind the camera using whichever tools are available to tell visual stories.
Tell us a little about your professional career.
With the pandemic going on, I have still been able to produce and act in a film, which released on digital platforms in January of 2021, named Respite. Currently, I am producing another project named Echo with the production company Happy Medium. In 2020, I worked on the NBC show Stumptown and worked on the film PMC with South Korean actor Ha Jung Woo and American actor Malik Yoba.
What is the most rewarding part of teaching?
The most rewarding part of teaching is sharing ideas with students and watching their creativity unleash into reality. When a student's imagination unlocks, there is no stopping their growth.
So much of our field has been put on hold during the COVID pandemic. Was there a project you were working on that was postponed that you are most hoping will come back? Or that has already come back in some capacity?
Before the pandemic, I was working on a show named Mama, Mama with the theater company Coin & Ghost, [a story of] an investigation about the war in Iraq. As soon as California opens up, I can't wait to get back on stage and work with them.
What is your advice to current USC students – especially during this remote learning time?
Stay healthy and stay curious. In these times of unknown we must practice self-care. Also, we must be aware of those around us and ask, " How are they doing as well?" Stay curious, even though it's difficult to practice our craft, we must stay curious as to how we can continue to investigate the avenues of our artistry. Write a one sentence poem, take a well thought out picture or cook something up you've never made before. These actions will eventually translate into our art.
As a SDA alum, what has it been like coming back to teach?
As a SDA alum, returning to teach has been quite a rollercoaster. The excitement to be in the educational environment, where students are constantly inspiring me is exhilarating. Being around those mentors that have influenced me to be a better person and a better artist has made me feel so fortunate. I feel so lucky and blessed to be apart of this artistic community.
Any fun facts we should know about Julián Juaquín Conde?
Since being in Los Angeles, I have been studying Muay Thai kickboxing. At the end of May, completes seven years of training. I love taking pictures. And I'm in my third year of salsa dancing. I'm proud to mention I'm a part of a grass roots NGO named Nuestro Ideal. We are dedicated to providing economic support and educational services to countries in Latin America when natural disasters have hit. It has been such a humbling and educational experience working with them. Also, I can never say no to a New York slice of pizza.