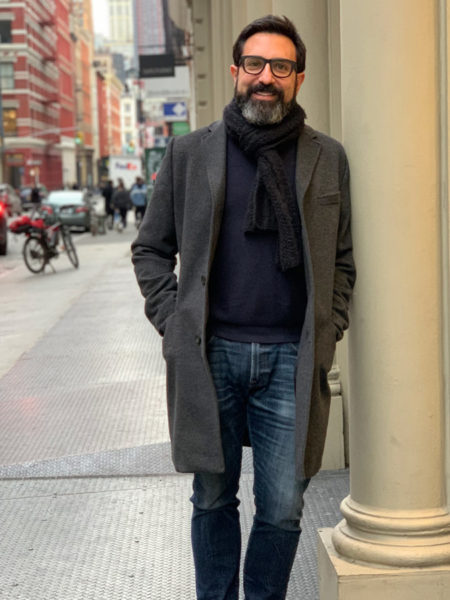 As part of a Q&A series with our adjunct faculty, the USC School of Dramatic Arts asked Josh Epstein about what skills lighting designers need today, working with production students on the virtual experience P.O.P.'s "The White Plague," television shows for designers to watch and more.
---
SDA: How long have you been teaching at SDA, and what are you teaching this semester?
Epstein: I've been teaching at SDA for two years. This semester, I am teaching Advanced Drafting: Vectorworks; Introduction to Theatrical Production; and Stage Lighting, which is a class where non-designers get to learn the basics of lighting design and how to talk about light in a less technical way.
In addition to your classes, this semester, you were the practicum leader for "The White Plague." Can you tell us a little about the project?
Working on "The White Plague" has been one of the most exciting and invigorating things I have done this year. I helped to lead an amazing group of student designers and stage managers as we took a play from 1937 about a devastating plague and re-conceived it as a theoretical immersive experience set on the modern USC campus. We made a commitment as a team to work collaboratively without a director, so we started by exploring the themes and concepts we found most interesting. It was so inspiring to see students with all different sorts of design and production backgrounds come together as we reached consensus about how we wanted to tell this story. After our point-of-view was established, we completed detailed research and then jumped into the design phase where students broke into groups based on their interests and started to build soundscapes, 3D computer models and hand-drawn costume renderings of our environments to show the design ideas. Now, we are working to put all these ideas together on a website that we can share with the community.
Professionally, you are a lighting designer not only for theatre, but for dance, opera, and environmental and event spaces. What skills do today's lighting designer need that they maybe didn't 10 years ago?
The technology has changed so much in the last few years that some of the skills designers need to know now didn't even exist 10 years ago. Large projects are often being pre-visualized in 3D environments before the designer even gets a chance to set foot in an actual physical space and understanding how to program ever-more-complex lighting consoles that control incredibly advanced lights is expected in a way it never was before. BUT… at the heart of what we do as lighting designers is thinking about how to best tell stories in a visual way, and that doesn't change no matter how advanced the technology gets. We are still using some of the same techniques and ideas that you probably would have seen hundreds of years ago. And some of the most poignant moments in the theatre are still the equivalent of telling a spooky ghost story in front of a flickering campfire.
What is the most rewarding part of teaching?
Lighting design is such an ephemeral art form that often you are never sure if you are making a lasting impact. So, when I teach and can see the concepts resonate with the students in a way that I know they will carry with them, I feel particularly gratified.
So much of our field has been put on hold during the COVID pandemic. Was there a project you were working on that was postponed that you are most hoping will come back?
I was working on two world-premiere projects that I really hope will come back. One was a new play called I Get Restless at South Coast Repertory Theater, directed by the amazing Tony Taccone. It was a really cool, modern story about a woman who loses her memory and tries to understand why she has made the life choices she has. The other project that I was really excited about was a show by Matt Schatz called A Wicked Soul on Cherry Hill, which was supposed to premiere at the Geffen Playhouse this fall. It would have been the first true-crime musical I ever had the opportunity to light.
Are there any television shows or movies that are bingeing during COVID? Any that you would recommend for prospective designers (and why)?
It used to be that you didn't watch TV to appreciate the lighting, but that just isn't true anymore. There is a ton of great design in that medium right now. The miniseries Chernobyl on HBO had particularly brilliant use of lighting as a story-telling element and I love the way the series Fargo on FX is shot and lit. I also just watched David Byrne's American Utopia on HBO which is a taping of a live Broadway show. I walked away with such an ache to get back into the theatre. I recommend it for everyone who needs their live theatre fix.
What is your advice to current USC students – especially during this remote learning time?
I think the most important thing to know is that we are all in this together. Students and faculty, as well as the professional performing arts world, are discovering the way forward one step at a time, but nobody needs to feel they have to do it alone. There are always opportunities to explore new creative outlets and to continue to challenge yourself even when the path isn't quite what you originally expected, just find your people and keep working.
Any fun facts we should know about Josh Epstein?
The little known secret about me is that I grew up in a very small town in North Dakota, where the farm to theatre ratio was at least 50:1. I also earned my private pilot's license at the age of 16 and flew a lot of airplanes as a kid. Sadly, I haven't had that opportunity in a long time.