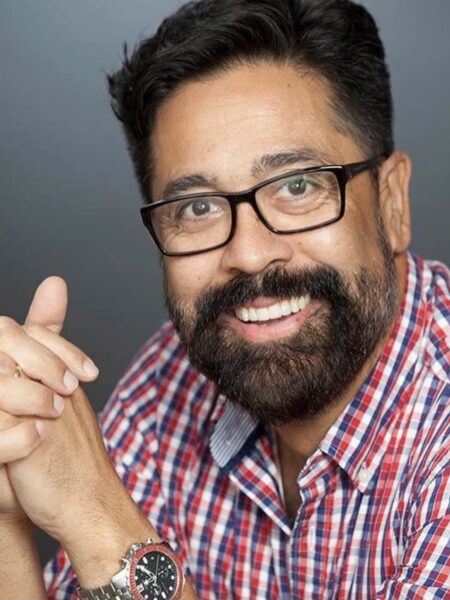 As part of a Q&A series with our faculty, the USC School of Dramatic Arts asked faculty member Gary Domasin about advice he shares with students, his work outside of USC and, in this special spooky season edition of Faculty Q&A, his top tips for nailing your costume makeup this Halloween.
---
How long have you been teaching at SDA?
Gary Domasin: I have been teaching at SDA since the Spring of 2016.
What are you teaching this semester?
I'm teaching Dramatic Arts 222, "Stage Makeup."
Tell us a little about your professional career.
I have been a hair and makeup supervisor on such national tours as Happy Days: The Musical, Dreamgirls, and Camelot to name a few. I've done hair and make for Christopher Lloyd, John Goodman, Michael York, Lou Diamond Phillips, Carol Channing, and Joan Rivers, to name a few.
What is the most rewarding part of teaching?
Seeing a student grow into a competent makeup artist.
What are you currently working on, outside of USC?
I am always doing hair at Salon Aguayo in Pasadena, CA.
What is your favorite advice to give to students?
Always have a back story to your hair and makeup. Do your makeup with a strong understanding of your character.
Is there a piece of theatre, or a film or television show that has recently resonated with you?
Tár, starring Cate Blanchett as Lydia Tár, directed by Todd Field, and Bros with Billy Eichner and Luke Macfarlane, directed by Nicholas Stoller. Very different films, but both are great films about relationships and feature perfect hair and makeup design.
What is the greatest Halloween costume you've ever seen or worked on, from a make-up perspective?
In 2008 I had the pleasure of working on a horror film called Splinter. It came out in theaters around Halloween. Great experience!
What is the key to a convincing Halloween costume?
If you're doing horror makeup, cuts, lacerations, and bruises. Always have a clear reason for the cuts, lacerations, and bruises. The back story must be concise. Otherwise, it looks fake.
Any insider tips for last-minute Halloween makeup ideas?
TinsleyTransfers.com. The best makeup transfers for quick last-minute monster makeup.
Any fun facts we should know about Gary Domasin?
I've been in A.E.A. and S.A.G. since 1983, and in I.A.T.S.E. since 2005. I performed on Broadway in The King & I with Yul Brynner. I also taught at Broadway Dance Center for eight years.