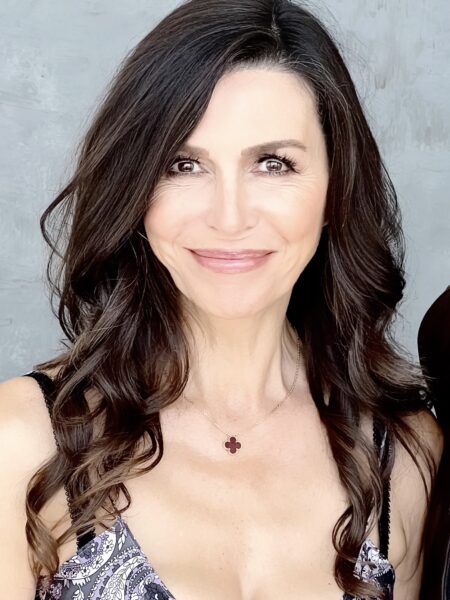 As part of a Q&A series with our faculty, the USC School of Dramatic Arts asked faculty member Finola Hughes about teaching, General Hospital's 60th anniversary, and working across different performance mediums as a multihyphenate.
---
What are you teaching this semester?
Finola Hughes: I am teaching "Performance for Camera." With the graduating MFAs we work on camera acting and my goal has been to help demystify the entire experience of being on a film or TV set, what to expect, and how to be self-sufficient.
What made you want to join the faculty of the USC School of Dramatic Arts?
I was at a dinner for Ron Howard and Brian Grazer at USC and I met Dean Roxworthy. We started a conversation, and I just mentioned to her that if she was ever interested in me teaching a class at SDA, that I would be interested. I met with David Warshofsky and he is amazing; I loved his sensibilities about acting and working with young students. I can't tell you how excited I am to be part of this world. There is so much talent in this department, and I find it incredibly rewarding to meet with these young, talented students and faculty. To learn from David [Warshofsky] and Natsuko [Ohama], to work with Tessa [Hope Slovis] and Ahmed [Best] with the film initiative—I love acting, and actors, and the process of filmmaking, so it's been a real turning point for me, coming here these last two semesters.
Tell us a little about your professional career.
I started acting and dancing professionally at a young age. Probably ten. I was at a theatrical school and college for most of my education, so it feels like I've really lived and breathed theatre forever. Basically, I began as a dancer in the West End, London, and then moved here in the eighties to pursue film and TV. I've been very fortunate to consistently work on the soap opera General Hospital for the last few decades, with forays into film and nighttime here and there. I feel very lucky to be still working, doing what I love. I never take it for granted.
What is the most rewarding part of teaching?
The most rewarding part of teaching is when you see the penny drop for an actor, when something clicks. It might be an emotional breakthrough in their work, an enlightening "aha" moment or a subtlety. I get a real kick out of that, witnessing a student having a realization for themselves.
What is your favorite advice to give to students?
"Take a deep breath." I don't know why I say this constantly, but obviously performance is highly linked to one's own emotional and physical state, and sometimes you just need to relax and check in with yourself before starting a scene or monologue and breathe. Preparation is everything, and you must take the time for yourself.
General Hospital's 60th anniversary episode was last month. What has that show meant for you and your career?
It's been a place I have called home for a good while. I get to play in my imagination, among people I love and respect and call family. I've grown there.
You have played the same character since 1985. What does it take to keep a long-running performance like that fresh?
An actor acts. I'm just happy I get to do that fairly consistently. The writers keep coming up with new twists and turns for my character, and honestly I always find it fun, figuring out new things to try.
You've worked in television, film, and musical theatre. What adjustments do you make to be successful in multiple mediums?
I keep telling my students, acting is acting. Whatever the medium. There are merely technical adjustments to be aware of, and you don't have to make a big song and dance about it. Just know what they are and prepare yourself. If you need to do a vocal warm up for stage, do it. If you need to ask what size the lens is for a camera, ask. Adjust your performance accordingly. Have the tools in your arsenal.
Is there a piece of theatre, or a film or television show that has recently resonated with you?
The Korean movie Decision to Leave really ticked some boxes for me. I think the UK movie Aftersun is a masterpiece. I saw Leopoldstaht in New York and it was remarkable. Also American Ballet Theatre's Like Water for Chocolate was incredibly beautiful.
Any fun facts we should know about Finola Hughes?
My kids tell me I stare at people, anyone and everyone, when we are out. I'm not sure it's a fun fact, or mildly concerning, but it's a fact and it apparently annoys my kids!