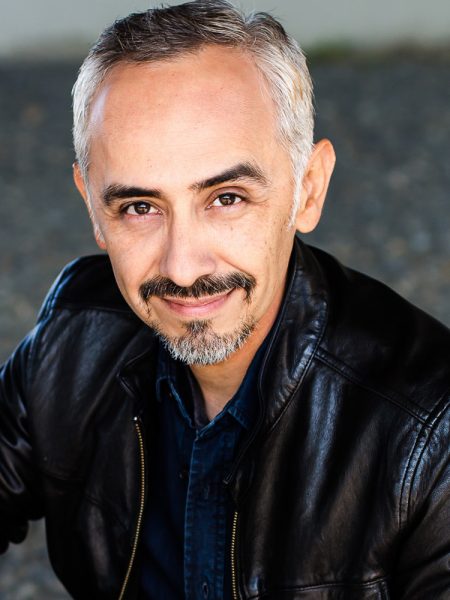 As part of a Q&A series with our faculty, the USC School of Dramatic Arts asked Edgar Landa about what he's been up to this summer, his favorite SDA memory as a graduate of the School's BA program, what students are surprised to learn in his classes and more.
How long have you been teaching at SDA?
Landa: I've been at SDA since 2004 when I taught the first MFA class in the then-new MFA Acting Program.
What are you teaching this semester?
I am teaching Fight and Violence (aka Stage Combat) to the MFA first-year class. Stage combat teaches the actor how to safely create the illusion of violence on stage or in front of the camera. I am also directing Oliver Mayer's Blade to the Heat for the MFA third-year rep.
Tell us a little about your professional career. We'd especially love to know what you've been up to this summer.
This summer, I directed an outdoor production of Much Ado About Nothing for Off Square Theatre in Jackson Hole, Wyo. This was my sixth summer directing there and my first time also performing in the show (I played Benedick and had a co-director to keep me honest). We didn't know if the show was going to happen until about a week before rehearsals began because we were waiting for final approval from Actors Equity Association. It was so exciting to be back in front of a live audience in a beautiful location.
What is the most rewarding part of teaching?
I think it is the small things that impact a student that I may not even be aware of, but that are important to their growth and experience. It can be as simple as having a conversation with them or attending their student-produced play. Approaching professors for advice, guidance or to establish a student-teacher relationship can be scary and I try to make that process as unintimidating as possible. Seeing a student succeed is rewarding.
What is something your students are surprised to learn when they take your classes?
I think they are surprised by how simple many of the stage combat techniques are in theory, but how difficult they are to master…there is a lot of repetition! And sometimes students are surprised by how much power and strength they discover in performing the "illusion of violence."
How has safer at home/COVID-19 changed the way you teach?
I had to get creative in designing exercises that students could do by themselves at home…a challenge since stage combat is a partnered discipline. I already include a film component in my lesson plans in which students learn simple camera techniques and fight skills for creating fights for the camera. Remote teaching forced me to come up with fight projects that students could shoot on their own without any partners and still have a practical experience. Students really rose to the occasion and got creative with their film projects (beyond my expectations in many cases) and that was really rewarding. And I had to be incredibly specific with language because I could not rely on what students were seeing on their screen regardless of our webcam settings. On a side note, I had to have three cameras set up for my classes:  a whole-body camera, a close-up so students could better see hand positions, and a foot camera so students could see foot positions and techniques.
How has being an SDA alum impacted you as an educator?
I remember the professors I had that made an impact because they took the time to really listen and/or see me. I try to emulate their generosity, kindness and attention with my students as best as I can on a daily basis. The success of a student goes beyond the skills they learn in the classroom. It includes their experience with us in the classroom, the rehearsal room and the hallway.
As we are celebrating more than 75 years of dramatic arts education at USC, could you share with us your favorite SDA memory?
As an undergraduate in the BA program, I was cast in a small role in the BFA senior show that semester. My voice instructor was also the director and he simply cast me knowing how hungry I was to perform. This small kindness and vote of confidence was hugely impactful on my experience as a student.
Any fun facts we should know about Edgar Landa?
In my other life, I am an endurance athlete. I participate in grueling 24-60+ hour non-stop events that include mileage, carrying heavy loads, completing tasks (e.g. carrying a 50-lb sack of plantains to the top of a dead volcano). I've travelled to Iceland, Nicaragua, Chile and Mexico for events, as well as many states in the U.S. I am planning on doing the Marathon des Sables (a six-day, 251 km ultramarathon in the Sahara Desert) next year or in 2023.
---
Share your memories with us!

To help celebrate our 75th anniversary, the School of Dramatic Arts is collecting memories from our community to share during our year-long celebration. Submit your stories from your time at SDA through words, images or videos. #SDA75