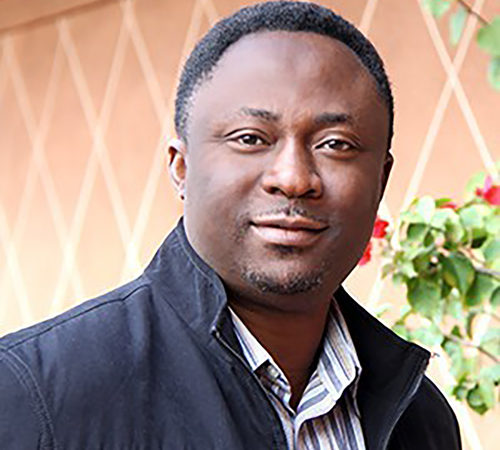 As part of a Q&A series with our adjunct faculty, the USC School of Dramatic Arts asked Bayo Akinfemi about directing Twilight: Los Angeles, 1992, what he finds rewarding about teaching and more.
---
How long have you been teaching at SDA?
I'm in my second semester at SDA and sixth year at USC, I also teach at the School of Cinematic Arts. This semester, I'm teaching Camera and Improvisation (THTR 250), and I am also directing the production Twilight: Los Angeles, 1992.
Tell us a little bit about Twilight: Los Angeles, 1992.
The play was written by Anna Deveare Smith, based upon interviews she conducted in the aftermath of the 1992 Los Angeles riots that were triggered by the acquittal of the police officers whose beating of Rodney King was caught on tape. It's such a relevant and poignant play in light of the Black Lives Matter movement against racism, inequality and socio-economic injustice in America. Almost two decades after the Rodney King beating, nothing has really changed. If anything, it's gotten worse.
Since Twilight: Los Angeles, 1992 will be presented virtually, how has the rehearsal process been similar or different to a more typical production?
It's been different because all the actors are performing in various spaces within their own homes. We are co-opting these numerous settings as scenic designs from scene to scene. It offers a different form of challenge, but it's also liberating for the actors who are performing in their natural environment. Our goal is to block the play and rehearse as we would on stage, but we must also account for "the camera." The online modality presents the added bonus of indirectly teaching students how to perform for the camera.
Tell us a little about your professional career.
A little, huh? After obtaining a BA in Performing Arts, my career started in Nigeria on stage as an actor and director before I went to film school in Toronto. Upon graduation, I started as a production assistant on commercials and music videos before moving up to assistant directing on movies and television shows. I juggled this with acting and directing for several years and was fortunate enough to be twice nominated for the GEMINI awards (Canadian Emmy) as best actor. I moved to Los Angeles several years ago, grabbed a master's degree at USC SCA, began teaching there in spring of 2017 while I've continued to work as an actor and a director.
Right now, I am particularly excited about Bob Hearts Abishola, the Chuck Lorre sitcom on CBS. I'm a series regular and we did a table read of episode 1 of season 2 … after six months of COVID hiatus. Rehearsals [have commenced] and we start shooting next week.
What is the most rewarding part of teaching?
When there's a breakthrough, when they get it, when students make a connection to knowledge or find a solution to a problem. When students reach out to tell me something I taught them has been specifically instrumental to their success one way or another. It's deeply satisfying to know that the knowledge I impart is making a difference in someone's life or career.
Is there a show you are bingeing during COVID? Or a movie that is on repeat at your home?
Lots: Dead To Me, Narcos, El Chapo, The Last Dance, Boston Legal, The Wire, Breaking Bad – again.
Movies on repeat: Goodfellas, Casino, The Godfather, Pulp Fiction, Inglorious Basterds, Zero Dark Thirty, Guarding Tess, Malcolm X, Driving Miss Daisy, Shawshank Redemption.
What is your advice to current USC students, especially during this remote learning time?
This will pass. In the meantime, we've got lemons, make the best lemonade you can. Embrace the challenge and find the opportunities therein to learn new things.
Any fun facts we should know about Bayo Akinfemi?
I love politics and when I become governor of California, my first act will be to outlaw all annoyingly loud motorcycles and souped up cars. I love the Canadian winter — surprising, for someone who grew up in a tropical climate. I don't like heat and I loathe the smell of raw onions.