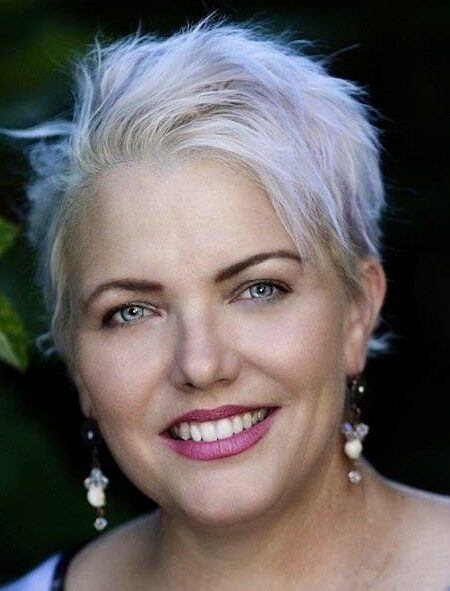 As part of a Q&A series with our faculty, the USC School of Dramatic Arts asked faculty member Ann Closs-Farley about the role of fashion in shaping identity, USC's new fashion minor and her best tips for creating a killer Halloween costume.
---
Tell us a little about your professional career.
Ann Closs-Farley: I've been designing across the country and around the world for film, theatre, television, opera and print for over 30 years. Some of my favorite credits include: The Pee-wee Herman Show (Broadway), Toy Story The Musical (Disney), What About Dick? (Netflix), The Bourne Stuntacular (Universal Studios), Because Of Charley (Renaissance Entertainment), St. Valentine Massacre (National Geographic), Pirates of the Caribbean: Eye of The Storm (Disneyland Shanghai), Sail Away shows (Carnival Cruise Lines), TWA @JFK (Connie Cocktail Bar original '60s uniform remakes), Twelfth Night (Guthrie Theater), Zoot Suit (Mark Taper Forum), Hopscotch: A Mobile Opera (The Industry), Cunning Little Vixens Opera (The Industry with the Cleveland Orchestra) and many more.
I am currently designing for a Lagoon Water Show called Rise of The Ocean Princess for a theme park in Vietnam, a project for Royal Caribbean Cruise lines, and two movies in pre-production. I have been a longtime member of The Actors' Gang and Evidence Room theatre companies here in L.A. In addition to winning the Sherwood Award for Emerging Artists in 2010, I have received Ovation Awards, L.A. Weekly Awards, Backstage Garlands, L.A. Drama Critics Circle Awards and more. I also produce the Live From The Lounge Podcast with Keythe Farley and have an ongoing photography passion project called Crockpot Photography.
How is the design and construction of fashion items and theatrical costumes a tool for shaping and defining identities?
These are borrowed words and ideas from so many sources that I have fashioned together to answer this best.
Fashion and the art of costume design are much more than just clothes and trends. They play a fundamental role in expressing people's cultural identity around the world. Through different styles, traditional costumes, ethnic patterns, artisanal techniques and symbolic elements present in garments, fashion and costumes reflect cultural diversity and provide a unique way for individuals and communities to express their identities. It is important to value and preserve cultural diversity in the presentation of a costume or fashion and to think about how the industries of fashion and cinema can promote inclusion and representation through collaboration with local artisans and communities.
Can you tell us a little about the multihyphenate masterclass you will be leading next month?
I will lead guest panelists in a thought-provoking discussion about the central role that historical and current fashion, costume, hair, makeup and SFX designers play in the creation of unforgettable characters for theatrical and cinematic storytelling. The conversation is an invaluable masterclass featuring some of the most creative minds in Hollywood. Our guests include costume designer/fashion stylist Fernando A. Rodriguez, costume designer Audrey Fisher, makeup and special effects designer Cristina Waltz, costume designer Sara Fox and concept designer and digital artist Adam Milan Milicevic. This is an afternoon that you will not want to miss. Google my panel and you will faint from the anticipation.
USC recently announced an interdisciplinary minor in fashion. Can you tell us about the foundational courses the School of Dramatic Arts is offering as part of this minor?
We will offer a couple of fantastic courses for the minor. Advanced Fashion Construction: Focus on Tailoring presents practical working directions for the advanced construction of clothing. This is a perfect course for those who want to continue their study on style and fit. We will explore the process of garment construction, including a section on measurement, material requirements, information on working with patterns and construction details with illustration and cost calculations.
We'll also offer History of Fashion and the Costume, which will begin to investigate the role of clothing in trade and commerce, empire, gender, sexuality, class, race, industry, revolution, nation-building, identity politics and globalization. Fashion is rarely fixed, but rather evolves with the upheavals from one generation to the next.
It's officially spooky season. As a costume designer, do you have a favorite piece of advice to give about designing a convincing Halloween costume?
I do not think a Halloween costume needs to be convincing. I do "convincing" for a living with costumes so I think the Halloween costume should be for your own enjoyment and expression no matter how full or simple it arrives. I always tell people that this holiday focuses on transformation, as that is its historical theme. That is always a great place to start.
Your costume should transform your everyday life into another persona. For one night, you can become your favorite hero, person, animal, animated character and so on. The best-known costumes that touch on transformation are always a good choice: the vampire, werewolf and a simple or elaborate ghost are always spooky.
I urge folks to go make their own DIY costume or purchase your costume from a local thrift store or Mom and Pop joint. Make a day of it. That way no one will show up in what you are wearing. You can convince me your costume is great if it's an original idea, it freaks me out or makes me laugh until my sides split. My ultimate reaction would be a handful of extra candy for a costume that goes beyond or within the veil of the living and the dead.
What are you teaching this semester?
I'm teaching THTR – 498 (Special Topics Instructor: Multiple Instructors) with Michele Shay and Stephanie Shroyer, a class that serves as an introduction to concepts, expectations, language and practices that you will encounter in your four years at the School of Dramatic Arts. Each week consists of a lecture given by one of our faculty with a discussion immediately following to allow for reflection and conversation.
I'm also teaching THTR 130 (Introduction to Theatrical Production) with Els Collins, Elizabeth Harper, Tak Kata, Noel Nichols and Jennifer C. Sarvas. This class serves as an introduction to the non-performance areas of theatrical production (the administrative, design and technical fields) through a mixture of hands-on and virtual participation in USC School of Dramatic Arts productions.
Finally, I'm teaching THTR 433A (Costume Design II). This course acquaints students with the requirements, processes and expectations for theatre, film, TV and commercial print costume designers.
What is the most rewarding part of teaching?
I am inspired by my students' individual gifts and perspectives. Watching their passion for the art form grow and the progress of their own developing voices and practices is everything to me.
What is your favorite advice to give to students?
"If you must fail, fail spectacularly."
A quote I have heard often and is said by many. I live by it. I believe failure eventually turns into success. Determination and focus will most often develop and grow after experiencing mishaps, especially when you are so close to attaining your goal. You might accomplish your task on the second try, or it might even take several attempts to get yourself going in the right direction. So try something new, different or scary – and make it a point to dive right in and try everything that you can in life. That is where you find your voice, magic and creative flow. Also, getting mental distance from a problem and relaxing works wonders. When you get out of your head, out of your normal thought patterns, it begins to unlock more creativity and your juices will start to flow.
Is there a piece of theatre, or a film or television show that has recently resonated with you?
This is too difficult for me to choose one. I have so many new favorites. However, I am currently enjoying Wes Anderson's Roald Dahl short story adaptations on Netflix, The Wonderful Story of Henry Sugar, The Swan, The Rat Catcher, and Poison are beyond amazing. Much like his 2023 summer offering of Asteroid City, Anderson gives us this theater-cinema experience like no other. This series is by far my favorite (and I adore all his movies) as he brings us these masterfully staged stories that honor the best of the live theater experience cinematically. Every single story is majestically crafted and beautifully presented.
Any fun facts we should know about Ann Closs-Farley?
I was on the boys wrestling team in my junior year of high school. I have five brothers, so it did not seem unusual to me to try this sport.
I won my Catholic middle school talent show performing "Like A Virgin." My poor mother was horrified when I arrived on a stage fashioned in all her blessed rosaries, a stolen sheer nightie, and, not much more than the ruffle socks with high heels (made popular by ZZ Top's "Legs" video circa 1984). It was the catalyst for my long career of mischievous risk-taking.