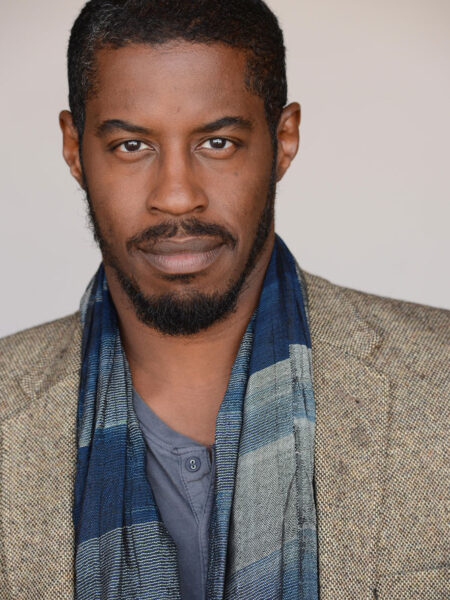 As part of a Q&A series with our faculty, the USC School of Dramatic Arts asked faculty member Ahmed Best about directing Hooded or Being Black for Dummies, advice he shares with students entering the professional world, work outside of USC and more.
---
How long have you been teaching at SDA?
Best: This is my third year with SDA.
What are your roles at SDA and what do you teach?
I teach filmmaking for actors and actor entrepreneurship to third year MFAs and onscreen acting to undergrads.
Tell us a little about your professional career.
I started in theatre in NYC. I was the lead in STOMP in NYC and internationally. My movie career started with Star Wars: Episode 1 – The Phantom Menace. I made film history as the first CGI main character in motion pictures as Jar Jar Binks.
What are you currently working on, outside of USC?
I write, produce, direct and act in theatre, film and TV. I produced my first game show for Disney, called Jedi Temple Challenge. I have a future forecasting company called AFRORITHM FUTURES GROUP, where we collaborate and consult for Google, Microsoft and Mcann World Group with their diversity, equity, inclusion and future design teams. We've also created a game called Afrorithms from the Future, which teaches design thinking and world building through Afrofuturism.
Could you tell us about the show you're directing, Hooded or Being Black for Dummies?
Terrance Chisholm wrote an incredibly funny and moving piece that tackles the topic of Black men being murdered by racially motivated violence and brutality. It uses satire to disarm the audience and bring them into the world of a young man named Marquis and the reality of what it means to BE while Black.
As an SDA educator, what is it like working with so many USC alums on this production?
I love working with USC alums. I really get to know them as a professor. I feel so proud to be able to employ and work alongside them.
What is the most rewarding part of teaching?
Honestly, I learn as much from my students as they do from me. I love when the light bulb moment happens for all of us in the room.
As someone who has worn many hats as an artist, what advice can you share with students who will be entering into the professional world?
You are the only you there is and that's special. Your training gives you the tools to be more yourself. Be more yourself every day.
In celebration of the School's 75th anniversary, what is your favorite SDA memory?
Watching the premiere of the film my [third-year actors] made last year. We started having no idea what would happen and ended with an impactful movie. I loved watching them realize their ideas and see it on screen. I couldn't stop smiling.
Any fun facts we should know about Ahmed Best?
Sure, I was born on the opening day at a screening of Bruce Lee's Enter the Dragon. It's been a family movie ever since.