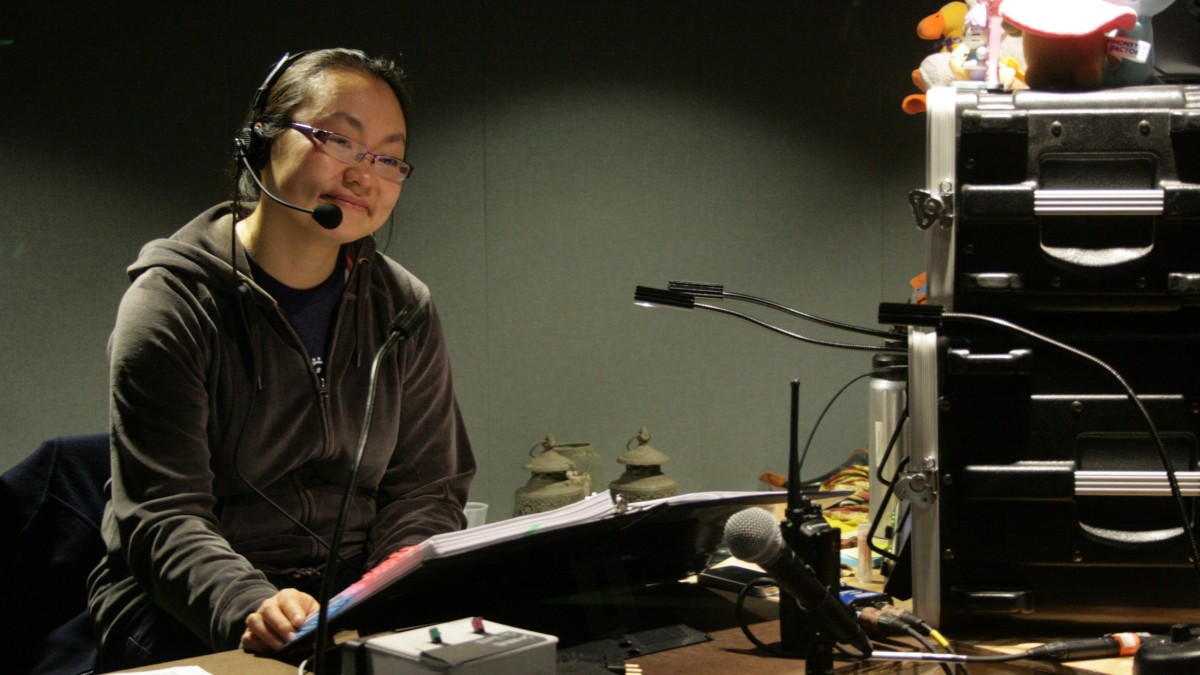 Graduating college can often be a scary time for students as they transition from classroom studies to the real world. But for alumna Winnie Lok, being a professional stage manager wasn't a stretch from what she encountered as a student at the USC School of Dramatic Arts.
"I feel like I came out of school not being too surprised," the BFA Stage Management graduate says. "Even though it is a conservatory program, the School treats you like a professional. It prepared me for what stage managing is like in real life."
Since she graduated in 2001, Lok's work has been both continuous and fulfilling. She is currently production stage manager for the Manhattan Theatre Club's world premiere of The World of Extreme Happiness by Frances Ya-Chu Cowhig, and recently stage managed Olivier Award-winning playwright Katori Hall's new play, Our Lady of Kibeho, which closed at the Signature Theatre in December.
Lok's credits have spanned Broadway (Outside Mullingar, The Big Knife, An Enemy of the People, Venus in Fur) and dozens of off-Broadway productions — including her favorite playwright August Wilson's How I Learned What I Learned and the Pultizer Prize-winning The Piano Lesson — as well as at regional theatres like Center Theatre Group and The Theatre @ Boston Court.
"I'm very lucky to keep working with great people and great theatre companies," she says. "When you freelance, sometimes you don't know when the job is coming so it's good to go from show to show."
Lok is also co-producer of Facing Page Productions, which creates new theatrical experiences from classical works and themes, and serves as a creative outlet for her outside of stage managing.
The New York-based production company most notably hosts the annual Company's Marathon, a non-stop, 85-hour reading of Shakespeare's canon that was first created by director-playwright Gordy Hoffman in 1996. Facing Page revived the beloved marathon in 2013 in New York, and received an overwhelming response with hundreds of writers, actors, theatre lovers and Shakespeare fans participating.
At the inaugural event held two years ago, Lok read for 11 plays — doing midnight to 8 a.m. shifts after stage managing, then slept for three hours before heading back to work for a matinee or understudy rehearsal.
"It's really rekindled a love of Shakespeare," she says. "Anyone can sign up and perform. If you've never read Shakespeare or anything out loud, it's okay. We don't correct you. It's just about having fun and listening to the bard out loud."
Lok's passion for performance began as a child, from ballet to violin lessons to drama classes. Though her parents were instrumental in exposing her to the arts, it was the applause that drove her to keep with it.
"I knew the applause was something I was not going to get away from and I didn't want to get away from. … In high school, I did acting and in college I thought to get a bachelor of arts in theatre," Lok says.
While at USC, after working as an assistant stage manager her first show, she realized stage management was a perfect fit.
"Winnie was a terrific student. Her paperwork was top-notch. Her interest level was high and she contributed to some very interesting discussions. I was impressed with her," faculty member Mary K Klinger says.
As a student, Lok experienced theatre outside of the academic realm, shadowing Klinger and former professor Jonathan Barlow Lee, production manager at the Mark Taper Forum, as they stage managed shows for Center Theatre Group.
"Winnie and all my students shadowed me at one time or another," Klinger says. "I bring them to whatever show I am doing that semester to watch techs or to watch me call a show (I am usually able to put the students on headset with me), and some students have been invited to sit in on rehearsal. We then discuss in class what was witnessed."
"A lot of the USC faculty are working. They're working in the city, they know people and it's really great that they can ease the transition into the professional world," Lok says. "The paperwork, tech, calling a show — we had exposure to that instead of it being all on the page."
After graduating, Lok was hired by Klinger as a production assistant for Topdog/Underdog, directed by George C. Wolfe, at the Mark Taper Forum. Klinger remembers having to leave the show during intermission due to a family emergency, and assistant stage manager Michelle Blair (BFA '99) and Lok stepped up to the task.
"Michelle went to the booth to call the second act and Winnie took over on the deck. It was such a gift. I was able to leave knowing my show was in really good hands," Klinger says.
Since Lok's days studying at USC, the former student-teacher pair have not only become professional colleagues, but friends. And although they work on opposite coasts, Klinger proudly says: "I would work with her again in a minute."