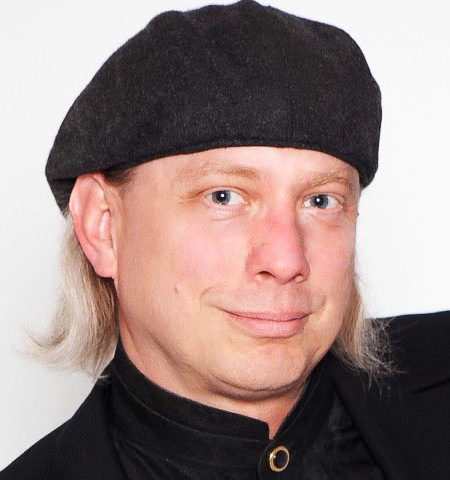 When Greg Holford BA '80, MFA '82 first set foot on the USC campus, he was actually an English major. But with insatiable interests in music, art and technology, it wasn't long before he ended up as the musical director for an on-campus production of The Rocky Horror Picture Show. It was during this stint that School of Dramatic Arts professor John Blankenchip noticed Holford's artistic spark, especially his talent for storytelling, and crafted a plan to expedite the student's theatre education so he could direct on a larger scale.
Now, after a 35-year career of creating and directing themed experiences and spectaculars globally, Holford has seen it all.
His projects hold world records in media projection, aerial technology and more, and he has led pioneering research in pyro drone innovation and execution. His internationally renowned indoor spectacular, Fantasea of a Kingdom at Phuket Fantasea in Thailand, has run for 22 years, and is still celebrated for its use of technology and narrative.
Most recently, Holford served as creative director of the Diriyah Gate Project in Riyadh, Saudi Arabia, inaugurating the new UNESCO World Heritage Site; and as creative director of a series of shows at the Burj Al Arab in Dubai for Amway China. He received the Production Innovation Award from the School in the fall for his artistry in the field.
"The School of Dramatic Arts embraced me and ingrained two big things: never stop dreaming of what you can create, and never stop learning," he says. "I started off knowing nothing. Now, I look at what's going on worldwide."
Watch the honoree's tribute and acceptance speech videos from the 75th anniversary benefit event, The Odyssey.
As an undergraduate in the theatre program, Holford directed several shows. One of his favorites was Working, a musical based on the book by Studs Terkel, where he met alumnus Forest Whitaker '82. He also recalls directing Elizabeth Swados' Runaways, which toured that summer to the Edinburgh Fringe Festival.
Holford remembers his time at Edinburgh fondly — the responsibility of switching quickly from sound design to props management and beyond widened his director's perspective. One year, he even performed in the festival production of You're a Good Man, Charlie Brown.
An early innovator, Holford started a variety show at USC called Rock Theatre, which blended musical theatre and rock genres and lived beyond his tenure as a student. He even directed an early stage adaptation of Fame in his senior year, and went on to earn an MFA in directing at the School before moving on to the big leagues. For Holford, SDA was a safe place to experiment, to build expertise and confidence that prepared him for the scale of his career after graduation.
"When you do your first multi-million dollar show on the outside, you have to get it right. That's one of the luxuries of USC. You didn't have to get it all right; you could make mistakes, and learn from them," he says.
Whether the alumnus is working with 20 students on campus or thousands of performers, lights, drones and projections broadcast worldwide, Holford keeps the story at the center. His dramatic training taught him the value of storytelling, even at the most expansive scale.
"No matter how technically complex it is, it's about telling a story and telling it well, in a creative way," he says.
Almost 40 years after graduating, Holford looks back fondly at his SDA education. He recalls inspiring meetings with alumni and professors who were active in the entertainment industry. Their paths, he says, showed him the possibility of succeeding in a career he loved, telling stories for audiences around the world.
"You have to have the foundation; the foundation allows you to reach out into the future," he says. "I never forget where I came from."
---
This article appeared in the 2021-22 issue of Callboard magazine. Read more stories from the issue online.