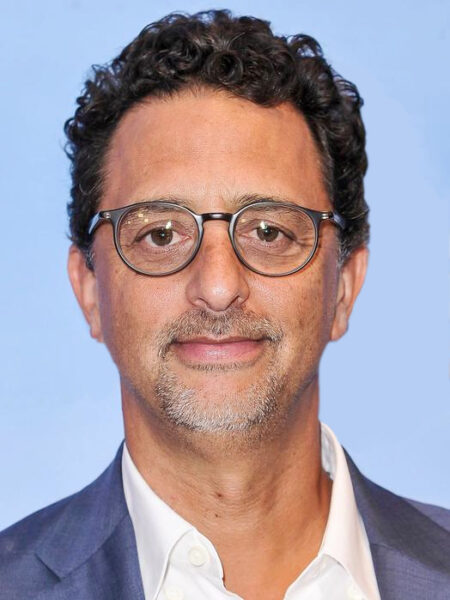 Grant Heslov BFA '86 is an actor, director, writer and producer who has earned Academy, Producers Guild, Golden Globe, Screen Actors Guild, British Academy of Film and Television Arts awards, among others.
And he can pinpoint where the momentum for his career began: on USC's campus.
"The fall of 1982, I still remember meeting my classmates for the first time at the fountain outside Bing Theatre," Heslov recounts. "There was just an excitement and sense of possibility we all felt. It was the freedom that comes with being on your own for the first time. And the newfound access we had to all these brilliant minds and amazing resources that we'd never studied before."
Heslov is still great friends with several classmates he met that first day. That includes fellow SDA alumnus Tate Donovan BFA '86, who was featured in a video tribute to Heslov that was shown at the School of Dramatic Arts' 75th anniversary benefit last September. Another actor featured in that tribute video was George Clooney, who also met Heslov in 1982 — fortuitously, as Clooney recalls. Back then, Clooney bummed $100 off Heslov to pay for some head shots. It was a sound investment on Heslov's part, and the beginning of a lifelong friendship.
"He is a consummate friend," Clooney says of Heslov. "And what you should all know about your former student is that he makes the world better. … He is a really good man."
In 2006, Heslov and Clooney founded Smokehouse Pictures. It's in recognition of how their company has supported emerging talent that Heslov and Smokehouse Pictures earned SDA's 2021 Corporate Leadership Award — an award that honors a company or producer who consistently puts the quality of the actor "front and center." Since teaming up, Heslov and Clooney have written, directed and produced films — including Good Night and Good Luck (nominated for six Academy Awards), Leatherheads, The Men Who Stare at Goats, The Ides of March, The Monuments Men, Argo (winner of the 2013 Academy Award for Best Picture), Money Monster, Our Brand is Crisis, Suburbicon and The Midnight Sky.
Watch the honoree's tribute and acceptance speech videos from the 75th anniversary benefit event, The Odyssey.
"When it comes to developing trust and relationships with actors, it starts with the material," Heslov says. "Developing material that attracts good actors. Working with good directors who attract good actors.
"But it's also about creating a good set. We keep working with people if we love their work and their working style. Nobody wants to work with a pain in the ass. Do great work and be nice. That's it."
As Heslov's career expanded into directing and producing, what he learned during his acting studies at USC remained as relevant as ever.
"It was in college where I first learned how to analyze plays and scripts," he says. "That's something I still apply every single day. Plus, being an actor myself gives me greater insight on how to talk to actors, treat actors, and know what good acting looks like, in my own opinion, at least."
Heslov also credits his BFA for helping him understand, early, all that goes into making a play or film.
"We didn't just act," he says, "we were building sets, doing lighting, costumes, voice. You learn all of it. And it all turns into real-world application. In fact, as soon as we graduated, some of us started a theatre company of our own in L.A. We built our own sets, we raised our own money, we recruited the casts. I was learning how to be a producer right away."
So, what would Heslov's USC-student-self think of the industry heights he's achieved since that first day at the fountain outside of Bing Theatre?
"He'd be proud, I think," Heslov says. "Probably a little surprised. I mean, my goal was just to be a working actor. Just make a living as an actor. I couldn't imagine anything beyond that back then. That would have been enough. I just wanted to be doing plays, TV, movies, anything. Having someone, anyone, want to pay to watch you act, to watch you perform your craft, that's all you really care about as an artist. Everything beyond that is a bonus."
---
This article appeared in the 2021-22 issue of Callboard magazine. Read more stories from the issue online.