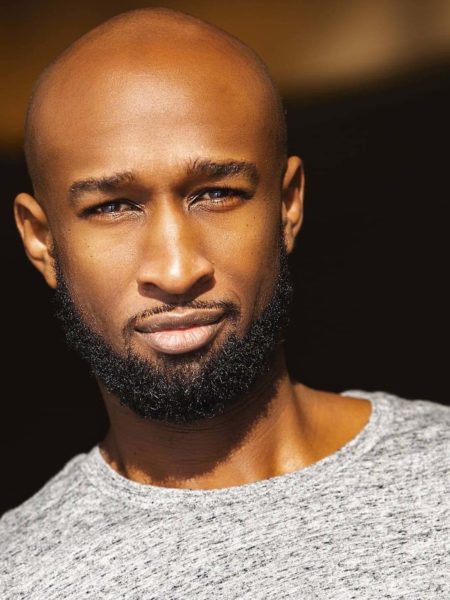 Donald Webber Jr. BFA '08 recalls walking into his audition for the School of Dramatic Arts' Bachelor of Fine Arts program and wondering how the experience could feel so familiar.
"I walked out of that room and I felt so good. I was like, 'I really hope it's me,' " he says. "It felt like home, you know? And then it was so easy once I got my acceptance letters; it was a no-brainer."
All the other schools he had considered, he says, melted away. He was eager to work with Vice Dean Lori Ray Fisher and professor Jack Rowe, who had left a warm impression in the audition room.
"He understood how to make you feel good as an actor, no matter what you were doing. Jack was a great coach; he would root for you," Webber remembers. "He helped me understand that this acting thing, it's serious business, but it's really fun."
Webber is one of only a few actors to play both Alexander Hamilton and Aaron Burr in Hamilton, and has also performed with the show on Broadway and in the Puerto Rico engagement opposite Lin-Manuel Miranda. He has also appeared on Broadway in Motown the Musical and Holler if Ya Hear Me, and off-Broadway in Whorl Inside a Loop. In the fall, he was recognized by the School with the Broadway Spotlight Award for his consistent and outstanding stage career. But the transition to having a stellar theatrical resume was not as simple as it may seem, especially for a performer as effusively charming as Webber.
"I thought I was going to graduate and get on a plane to New York City and go be on Broadway immediately. I think we all do," he says.
Watch the honoree's tribute and acceptance speech videos from the 75th anniversary benefit event, The Odyssey.
Instead, he spent a few years after graduation auditioning while he taught drama at his high school, St. Bernard in Playa del Rey, where his beloved acting teacher had retired. Just out of college, he was excited to share the lessons he had learned from Rowe and so many other mentors at the School and beyond. A few years into teaching, as he cued the curtain to fall on his students' last performance of the semester, Broadway called (he remembers seeing the 212 area code display on his phone). He flew to New York the next day for a Jersey Boys callback and ended up spending two years on tour with the show.
Now, as Burr and sometimes Hamilton, Webber has big shoes to fill. But he doesn't aim to imitate other actors' performances. In fact, his close friendship with the production's original Burr — Leslie Odom Jr., who he met at USC — has taken some of the pressure off. Webber remembers a faculty member bringing in Odom, who was one of her clients, as a panelist when he and his class were preparing for their senior acting showcase. The pair immediately hit it off.
"We stayed connected. And so it was a lot easier to go see him play this role when they were off-Broadway," he recalls. "That night, I told him, 'This is it. This is your Tony.' He was like, 'Thank you, man. I'm working hard. I feel like I'm acting through the tips of my fingers.' "
Webber thinks more about 'acting through the tips of his fingers' than he does impersonating Odom's Burr onstage.
Webber has carried this philosophy with him to the screen as well, from Marvel/Netflix's Punisher to NBC's The Wiz Live. Up next on his call sheet is Apple TV+ series Severance, directed by Ben Stiller, where he will act alongside Adam Scott, John Turturro and Patricia Arquette.
In the meantime, Hamilton is back on tour and performances are in full swing. Webber keeps his role fresh by remembering a bit of wisdom he picked up at SDA.
"I learned at USC that we are artists examining what it's like to be human. We, literally, are just being human beings," he says. "We happen to be on a stage and the lights are dimmed over there, and the spotlights are on us, but we're just humans and at the end of the day, we're showing the audience what it's like."
---
This article appeared in the 2021-22 issue of Callboard magazine. Read more stories from the issue online.