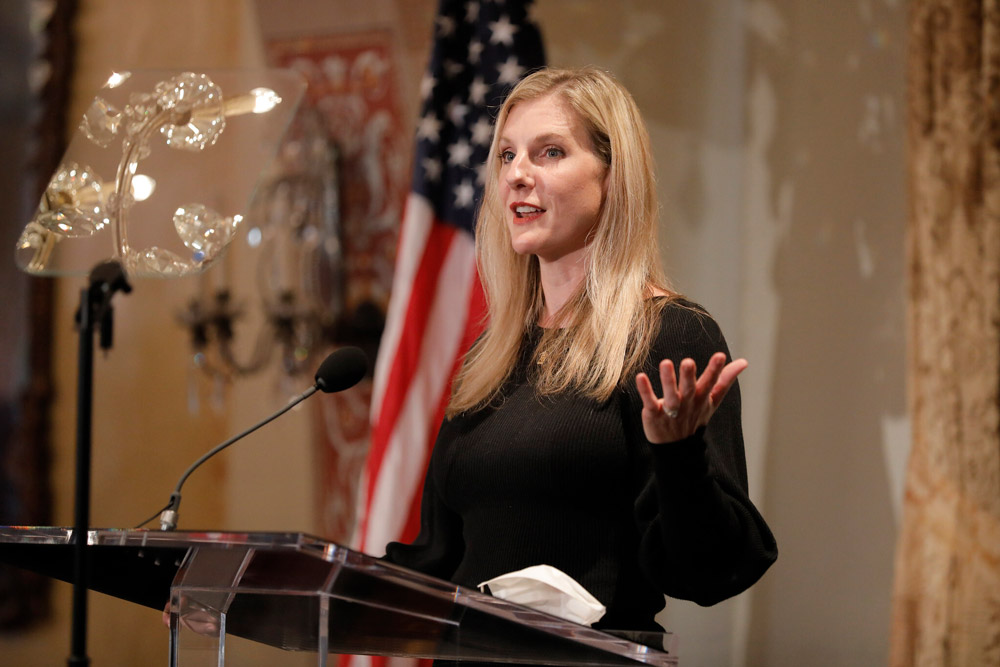 With much anticipation and excitement, Emily Roxworthy was installed as the dean of the USC School of Dramatic Arts on Oct. 6. A scholar-artist who has championed social justice within her work in the arts, Dean Roxworthy ushers in a "new era of innovation and inclusion," USC President Carol L. Folt shared.
"Today, we welcome a scholar committed to positive social change; one who always puts students first, and one who understands the power of diversity and inclusion to bring about that change," the president said at the event.
In her speech, Dean Roxworthy discussed the dramatic artists' superpower to distill humanity's most complex issues and most difficult dynamics down to the human scale. "Theatre celebrates conflict as the very engine of drama and elicits empathy as a way of strengthening our ability to understand ourselves and understand others and thus move through conflict to solve our most intractable problems," she said.
She also emphasized the School's commitment to equity, diversity and inclusion, and the School's position to broaden its efforts — reaching beyond the stories and who tells them, but also who "gets a seat at the family table" and who is included in the audiences, she said. "SDA's depth of experience recruiting and mentoring diverse artists enables us to use the tools of theatre to collaborate with our colleagues across campus and beyond USC as we all do our part to create a more just and equitable future."
The new SDA dean arrives to USC with research experience and cultural interest in roleplay training, intercultural theatre, digital media and performance in higher education. Among her accolades, she is founder and artistic director of Workplace Interactive Theatre — a theatre company that was commissioned at all 10 University of California campuses to create diversity training through theatre skills.
"It is an enormous honor to serve as the new dean of the School of Dramatic Arts and I am moved by the trust you've placed in me to move this great theatre school into its next 75 years of excellence and impact," Dean Roxworthy said.
Watch the full speech
View the photo gallery