EDI@SDA: Theatrical Intimacy & Building Cultures of Consent Workshop

September 15, 2021 (12:00 p.m. – 2:00 p.m.)
As an actor, director, writer, designer, stage manager, producer, how do you handle or address working on plays that have intimacy (physical, sexual, social, emotional, violence, etc.)? We have a workshop opportunity for you that will help you find answers to this question.
We are partnering with Carly Weckstein, Intimacy Director and Theater Director, to facilitate a dynamic and engaging Intimacy in Theater and Building Culture of Consent workshops for SDA. Students will learn how to establish safe boundaries and create agreements during acting scene work, directing work, design work/fittings, applicable in both the classroom and in rehearsal/production. Participants will also learn about creating cultures and environments of affirmative consent to honor and respect everyone's sense of gender identity, gender expression, safety, and well-being within our artistic and educational community of SDA.
To RSVP, click here.
USC School of Dramatic Arts CommUNITY Day: "The Value of Belonging"
Friday, September 15, 2021 | 9:00 a.m. – 5:00 p.m.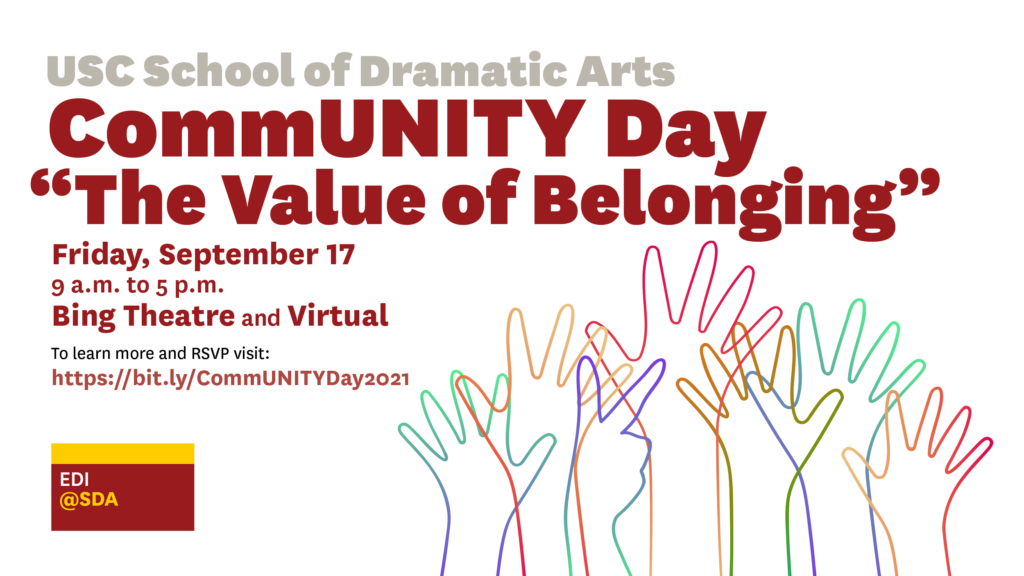 All students, faculty, staff and alumni are welcome and invited to join this year's schedule of interactive workshops and discussions curated to foster unity through exploring connection, deepening togetherness, and engaging change.
SDA's CommUNITY Day is an annual event that fosters and builds community through creating a democratized learning environment that explores and celebrates different modalities of seeing, thinking, feeling, listening, communicating, and doing.
To learn more and RSVP, visit: https://bit.ly/CommUNITYDay2021.