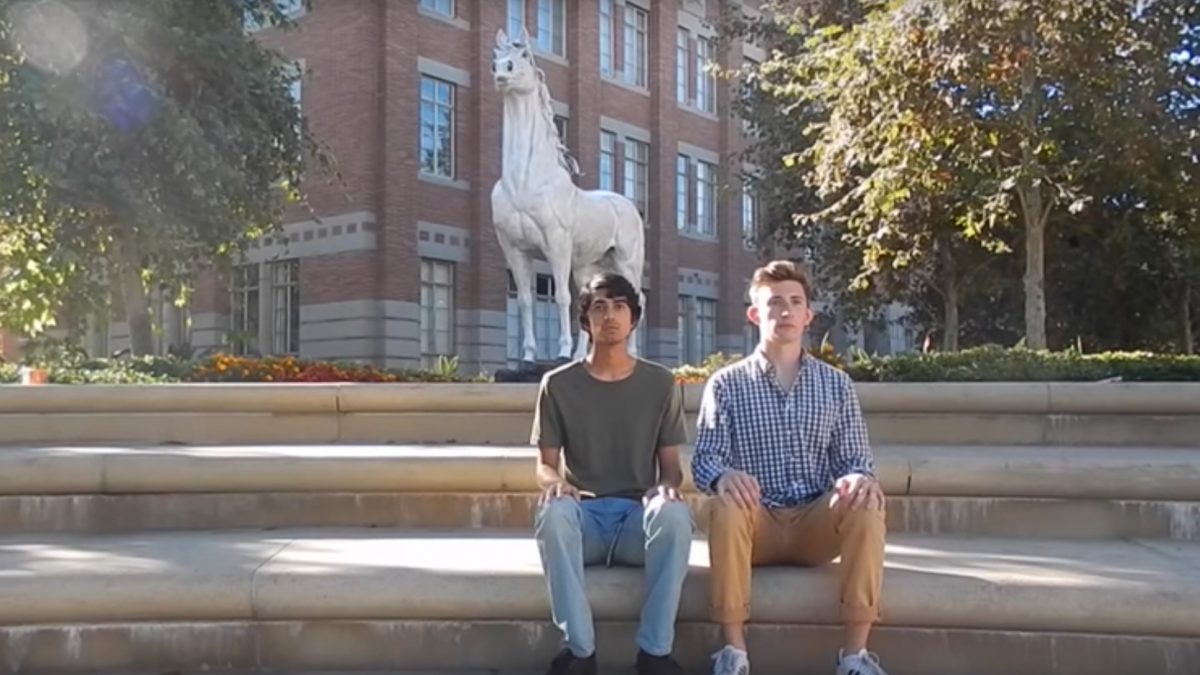 Two by two, USC Dramatic Arts students scouted campus locations late last fall, sat down and started performing. As classmates filmed them planted in front of a Moreton fig tree, on a bench outside Mudd Hall, on the steps leading to the Tutor Center ballroom and elsewhere, duos from the Introduction to Movement for Actors class staged carefully choreographed, seated movements. Their one-minute performances, wordless and with expressionless faces, were examples of a relatively new dramatic genre known as chair duets.
If monologues hone actors' skills in expression and verbal command, chair duets are all about "full body listening," said course instructor Anastasia Coon. "One actor receives a physical offer and responds with a gesture," she said. Together, the actors use improvisation to discover their characters' point of view beat by beat, and then memorize their original, sometimes synchronized movements.
"It's highly physical work, and demands that actors be very present in the moment," Coon said. "They can't anticipate a physical offer, because that would be a false reaction. The actor can know the movement, but the character the actor plays can't."
The 19 undergraduates in her class spent four sessions studying the concept of chair duets, and creating and filming their own original pieces. They were inspired by the Chair Duets Challenge set forth by Frantic Assembly, an innovative drama troupe based in the United Kingdom. Coon had discovered Frantic Assembly's chair duets online last spring, and incorporated them in her classroom that semester. When she saw that Frantic Assembly created a worldwide challenge for others to submit duet videos, Coon expanded the idea in her fall curriculum, adding exterior locations, video and post-production work to the project.
Students found the challenge challenging. "The chair duets were different for me from other acting challenges in the way that we had to let our motions speak for themselves," said Nirvan Patnaik, who performed with Michael Kaczkowski on the curved seating near the Hahn Plaza fountain. "Instead of communicating with our faces, we were mostly using gestures and position shifts. For me, the struggle was keeping my face neutral."
Patnaik said he became more aware of tension in his hands and the lack of fluidity in his movements, which caused him to work on relaxing himself and focusing on the steps in the sequence.
For their duet, Rahjul Young and Victoria Ross chose the outside steps at the Tutor Center leading from the courtyard to the second floor. Ross said the experience relied on action and reaction, like other acting exercises, but was useful for improving awareness. "You can't move without being in conjunction with your partner. Every little thing he or she does has an effect on you," said Ross. "And that really helps in scene work. We rehearse a scene over and over until we get a desired result, but sometimes that can cause an actor to stop listening and just fall into autopilot. That's not really possible in a chair duet without the piece looking off."
Ross said that creating the choreography was the hardest and most time consuming part. "We had set of movements choreographed, but every day we tweaked it until it became something almost unrecognizable from the beginning.
"We tried to choose a location on campus that reflected not only the push and pull that Rahjul and I had developed in the chair duet, but also the increasing tensions between us."

Coon, who has been at USC for five years, teaching classes in movement, physical theatre and mask work, as well as working as a movement coach for productions, said she plans to continue using chair duets in her classes.
"The goal is not to execute a set piece," she said. "It's about cause and effect and creating relationships without saying a word.