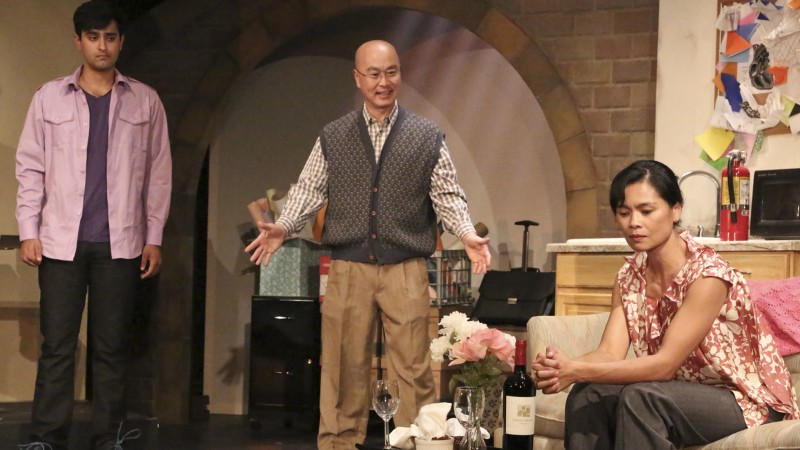 Any actor still in college would be thrilled to land a leading role in a big-city Equity production, sharing the stage with only two other actors, both of whom have lengthy stage and screen credits. And then to have the Los Angeles Times call you "an absolute find," "a revelation" and declare that you have "an energy and spontaneity that recalls the emerging Bobby Cannavale," well, it's a rush.
The USC senior feeling that rush is Kapil Talwalkar, who is making his professional debut as a hip-hop loving origami prodigy in Animals Out of Paper, the show opening East West Players' 50th season. (The wry and affecting play, by Rajiv Joseph, whose Bengal Tiger made a splash on Broadway, runs through Oct. 5.)
Talwalkar is majoring in international relations and minoring in dramatic arts. He's appeared in several USC School of Dramatic Arts productions and non-campus efforts during his college years, displaying a range that encompasses the Prince in the musical Cinderella to Hamlet in Fortinbras.
Jennifer Chang, the director of Fortinbras, is the director of Animals Out of Paper, and in early summer, she sent a text to Talwalkar, saying the play had a role that matched his demographic. But he wasn't a shoo-in.
"We auditioned quite a few actors," Chang said. "I knew Kapil as a very sweet, suburban California boy, but the character is urban, with a traumatic event in his past, a hip-hop guy with an attitude. Suresh [the character] also needed to show vulnerability."
She said Talwalkar's first audition was just OK, but after some direction, "he put his work in" and excelled in later readings.
"I had a lot of actors who had more experience and more range, but Kapil had a sweetness and a boyish quality that you can't fake."
Chang said that Talwalkar came to the part with "a great amount of charisma and a lot of talent," and over the course of rehearsals, "really stepped up his work ethic and discipline. He really worked hard and was open to being coached by me and the two veteran actors [C.S. Lee and Tess Lina]."
Animals Out of Paper "is a huge feat of acting for all three of them," the director said. "There's both comedy and drama, and the stakes for each character are very serious."
Non-stop schedule
Once Talwalkar got the part, his scheduling marathon began. He was taking calculus in summer school (a coincidence, since the character of Suresh is a calculus whiz), and rehearsals began as he had finals. This fall, he's taking a full load. His last class ends at 5:20 p.m., he showers and changes and makes it to the theater for a 6 p.m. call.
When he returns to his apartment after each emotion-charged performance, he then has production meetings for an independently produced play (Terrence McNally's Bad Habits) he will be directing on campus in late October. Those meetings last until midnight or so, and then he does homework until 3 a.m. His classes begin in the morning at 10.
"I'm a young guy," Talwalkar said with a laugh. "Later on in life I won't be able to do this."
He said the experience is more emotionally grueling than physically taxing.
"It's really hard to go to the same place, emotionally, every night in the play," he said. "I'm so blessed to be with actors with so much experience, and learn what to do when the emotion isn't there or what to do if a joke isn't landing."
Talwalkar credits USC Dramatic Arts for teaching him to be professional ("being on time, not eating or texting during rehearsals, taking notes when the director talks"), and recalls an early teacher, Lora Zane, as being "absolutely inspirational."
Although his high school acting experience got him accepted at New York University's Tisch School of the Arts, Carnegie Mellon and the British Academy of Dramatic Arts as well as USC, "I came in super 'act-y,' without human conviction and contact," he admitted.
Making it look natural
Zane worked to make Talwalkar act more naturally. "She said to risk being boring, which was something massive that I learned."
He said he also appreciates lessons learned from his high school drama teacher, Arcadia Conrad, and director Chang, "who taught me so much about comedy during Fortinbras.
He said his father had misgivings about him majoring in dramatic arts, possibly due to his own experience growing up in a household where Kapil's grandfather was a busy Bollywood actor who appeared in more than 185 films.
"Playing Hamlet in Fortinbras was a turning point for me," said Talwalkar, who has decided to make acting his career. 
His father may be coming around, he said. His dad flew to Los Angeles for opening night of Animals Out of Paper, Talwalkar said, and was so proud of him that he was telling strangers "that's my son up there."