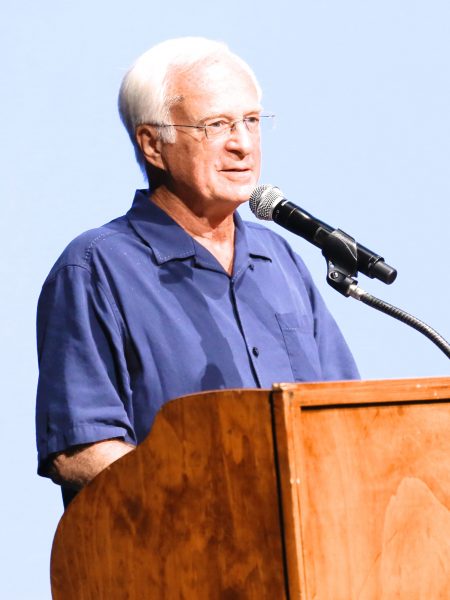 "I think that every person alive has a bit of theatre in them." –Robert R. Scales 1935-2019
The USC School of Dramatic Arts is heartbroken to share the news that Professor Emeritus Robert R. Scales, PhD, beloved former dean of the School, passed away on Friday, May 24, 2019.
An acclaimed designer, technical director, educator, colleague and friend, Dr. Scales was dean of the USC School of Dramatic Arts and a professor from 1993-2003. During his tenure at the School, and throughout his retirement he was deeply supportive of the faculty, staff, alumni and students, and an important member of the SDA family. He will be missed.
"Bob laid the foundation for the current scope and success of the School, and in his warmth, kindness, and unwavering devotion to USC, he modeled qualities of leadership that continue to resonate today," Dean David Bridel shared.
A fellow of USITT (United States Institute for Theatre Technology), Dr. Scales held full-time positions in consulting and/or technical production and lighting design at professional theatre organizations throughout the continent including Theatre Projects Consultants, Seattle Repertory Theatre, Kansas City Repertory Theatre, Stratford Festival Theatre of Canada, and Guthrie Theatre. In addition to his teaching at USC, he taught at Yale University, University of Minnesota, University of Washington, Hardin-Simmons University, Banff School of the Arts, University of Missouri at Kansas City and Pueblo, CO High School. He served on the Boards of the 24th Street Theater, Starlight Theater in San Diego and LA Stage Alliance.
Following his retirement as dean and professor from the School of Dramatic Arts in 2003, Dr. Scales served the university as the Emeriti College Director, volunteer Associate Director for the Emeriti Center, and served as a leader on the Emeriti Center's executive committee. To honor his service at USC following his retirement, he was presented with the Paul E. Hadley Faculty Award for Service to USC in 2015.
The School and the Emeriti Center are hosting a celebration of life for Dean Emeritus Scales on Sept. 28.