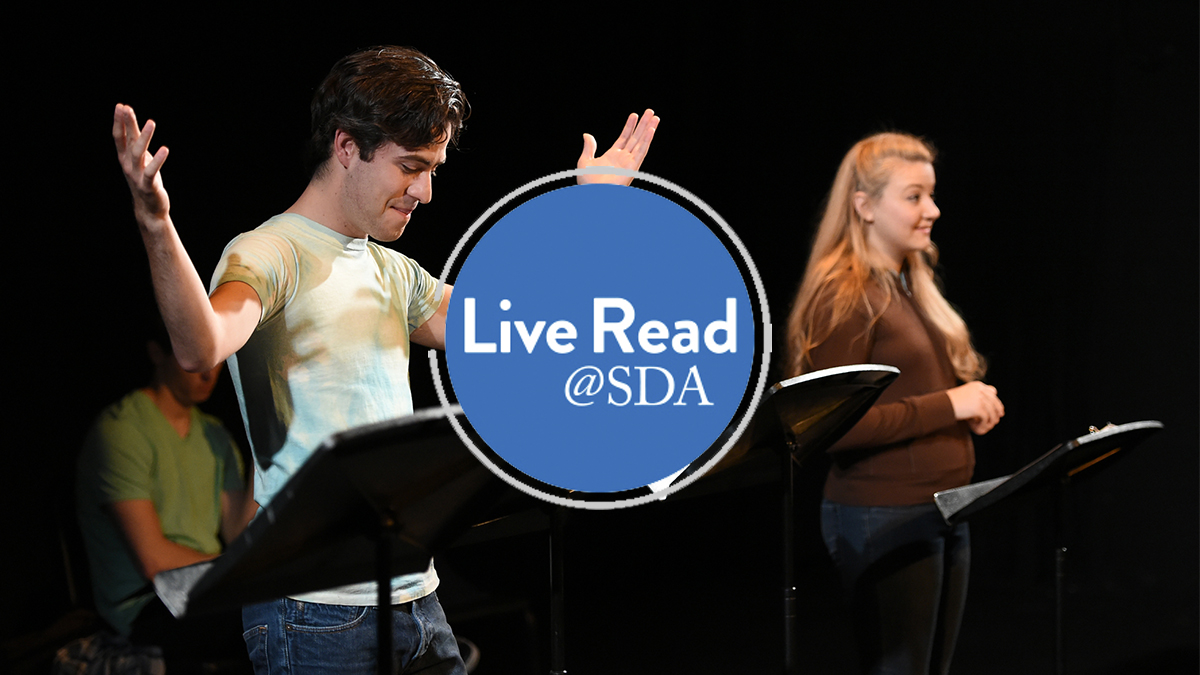 The USC School of Dramatic Arts and its dean, David Bridel, announce LiveRead@SDA, a new program created to cultivate and provide critical support for the creation of innovative and contemporary new musicals for the American theatre.
LiveRead@SDA invites professional artists to weeklong workshop residencies on the USC campus, where they can take bold steps to refining their work with access to a diverse student population. The workshops, which culminate in a reading for industry insiders and the School of Dramatic Arts community, will afford students an invaluable opportunity to work with industry leaders – producers, directors, playwrights, lyricists, composers and choreographers – while gaining insights and practical experience in what it means to intensively workshop new musicals headed toward commercial production.
"LiveRead@SDA epitomizes the School's commitment to new theatre, new opportunities for our students, and new networks for the benefit of all," said Bridel. "I'm very excited to launch this groundbreaking program and attract the brightest and the best theatrical creators to work with us on their commercial projects."
VP Boyle will serve as creative director of the program, which was made possible in part by an anonymous parent donor. In addition to fostering show development, casting and general management of selected shows, Boyle will create show-specific strategic plans to integrate educational opportunities with each creative team for the entire School of Dramatic Arts, including master classes, panel discussions, observerships and more.
For its inaugural year, Bridel and Boyle reviewed a portfolio of industry recommendations, referrals and curated proposals and chose two forward-thinking musical theatre projects that highlight the contemporary voices and global diversity of Los Angeles.
Fall 2016
Emojiland
Book, Music and Lyrics by
Keith Harrison and Laura Harrison
When a smiley face emoji and a skull emoji strike up an unlikely romance inside a smartphone, a jealous ex-boyfriend goes to extremes that threaten to destroy their entire emoji civilization and the cast of colorful characters within it.
Emojiland features an innovative musical score with 17 original songs by composers Keith Harrison and Laura Harrison, whose diverse musical collaborators have included Ariana Grande, Babyface and Heather Headley. Drawing from current pop, hip-hop, r&b, rock, reggaeton, dubstep, ratchet, reggae and more, the show is as deliciously eclectic as it is brilliantly cohesive.
Spring 2017
Hipster Sweatshop
Book, Music and Lyrics by Kyle Puccia, Kurtis Simmons and Darryl Stephens
When a super-stylish heiress inherits a commercial property in downtown Los Angeles, she is expected to evict the current tenants to prep for renovations. However, she reconsiders that plan when she visits the space and is charmed by the staff of millennial tastemakers creating high-end jewelry. A reality show, some delicious vegan donuts, a little class warfare and a few syncopated handclaps all come into play in this delightful pop rock musical.
Hipster Sweatshop features a creative team that includes Kyle Puccia, Kurtis Simmons, Darryl Stephens and Chad Kukahiko whose award-winning creative portfolio spans every entertainment genre including television, film, books, music and theatre.