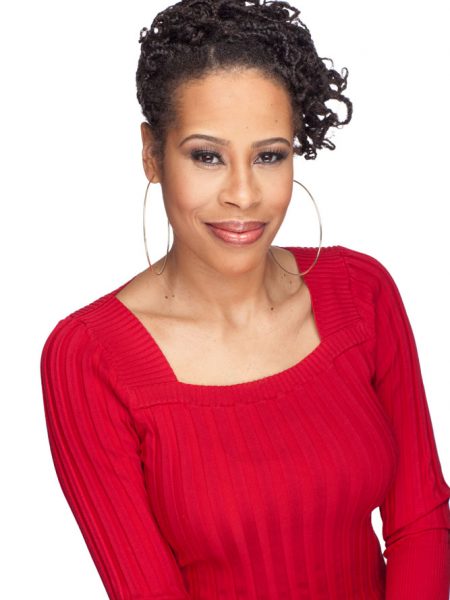 Before Dominique Morisseau became known as an award-winning playwright and producer, the artist remembers the challenges she faced in college and the profound impact it had on her career.
"I saw how significant it is when you tell your story, a story that hasn't been told enough. When people are starving to see themselves and haven't seen themselves enough in representation, I [want] to fill the void, not only my void, but so many other peoples," she shared with first-year MFA actors at a Salon@SDA conversation with Dean David Bridel and David Warshofsky, director of MFA acting.
Co-producer for Showtime's Shameless and book writer for the musical Ain't Too Proud, which opens at the Ahmanson Theatre on Aug. 21, Morisseau is an Edward M. Kennedy Prize winner for her play Detroit '67. Her works also include Skeleton Crew, which won an OBIE Award at Atlantic Theatre Company and performed at the Geffen Playhouse in the summer, and Paradise Blue, which performed off-Broadway at the Signature Theatre in the spring.
Reflecting on her college experience, Morisseau remembers the lack of representation of works by playwrights of color and the limited opportunities for her in casting, which led her to carve her own path.
Reading works by playwrights of color – such as Ntozake Shange, George C. Wolfe and James Baldwin – inspired Morisseau to write. She penned and produced a choreopoem, The Blackness Blues: Time to Change the Tune, A Sister's Story, for herself and the other two black women in the theatre department. She was so dedicated to the production that she invited everyone she met during that school year to come, and worked as the show's producer, director and designer – creating the programs, costumes and lights.
"Good to know what you should never do again," she joked.
Aside from the workload, the process allowed the two-time NAACP Award winner to realize playwriting was something she wanted to pursue. The stories of underrepresented individuals would go on to be the subject matter of her plays, such as mass incarceration and the school-to-prison pipeline. And although her works have included politically charged topics, Morisseau did not approach it that way. "… I wasn't writing it from a politics point of view, but a people point of view. I'm not writing an issue for issue's sake, but an issue for the people's sake."
Off stage, Morisseau has also worked to expand the diversity of her audiences as well. For one of her plays, she recalled working with a marketing director to have people from various backgrounds attend, including a performance that housed 500 students from all over New York City. "When the audience changes, the work changes because, suddenly, we're not removed and looking at specimen. It's alive. It's much more alive," she said.
Although audience diversity would mean more engagement with the work, it proved to be a problem for the theatre's traditional audience and actors, she said. When the theatre argued that "Sometimes we have to put the actors before the mission of the work," Morisseau fired back with "Never put the actors' ego before the mission of the work. To do that is to recognize that there is a mission bigger than even me. … We have to change the culture inside the theatre."
During her USC visit, Morisseau also stressed the importance of portraying her characters realistically and explained that being truthful to the story is a contribution to the journey. "As artists, it is our job to represent ourselves and take other people in, even the ones we don't think we can relate to … When I can hear you speak about yourself in your own words, I have empathy for you because I hear your soul. You speaking from your soul, I relate it to my soul."
She added: "As I become a better human, I become a better writer and vice versa."