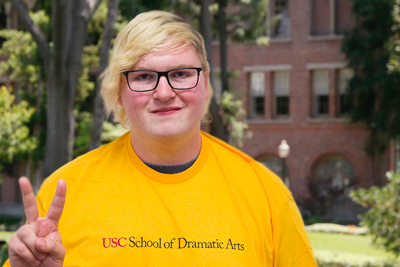 BFA in Design and Computer Programming minor
Works for Trojan Events
Palatine, IL
Class of 2019
What is your favorite thing about USC?
The sheer amount of variety of activities you can get involved in. It's my junior year and, just this semester alone, I've started getting involved in some interactive theatre projects, some MFA games projects at the cinema school, an escape room, live music and event lighting, and of course my shows. There's never an absence of things to do.
When deciding between schools, why did you pick USC?
When I first visited the campus, it was the school I vibed with the most. It just seemed like the place that was right for me. The school itself also put on the most shows out of any university I had applied to, which meant the most opportunity to work on shows, which was important to me. It was also my cheapest option thanks to the scholarship offered to me.
What is your favorite book?
Cat's Cradle by Kurt Vonnegut