In the fourth installment of SDA's transformational Multihyphenate Masterclass series, groundbreaking director, actor, dancer, and choreographer Debbie Allen joined a panel of dynamic young SDA alumni moderated by Professor Kate Burton to discuss the unique challenges of transitioning from acting to directing for the stage and screen.
Allen regaled the audience with stories, lessons, and advice she has gained over the course of her legendary career, from her groundbreaking turn on Fame to her more recent work on Grey's Anatomy, and everything she has accomplished in between. Allen recalled early lessons on directing she had received as an actress, including an episode from her role as Anita in West Side Story.
She told the story of Jerome Robbins asking her to perform the same number—"America"—in radically different and seemingly contradictory ways each week.
"'Anita, be more vulnerable.' 'Anita, kick more ass,'" Allen recalled, laughing. "Then I realized what he was doing. He had put me through so many paces, the number belonged to me."
Burton—who has worked with Allen many times on Grey's Anatomy—was able to share her own observations and lessons she had gleaned from Allen's directing. She mentioned that Allen was one of the only directors she had worked with to pay attention to each one of the extras in a scene, knowing that they are valuable contributors to the final artistic vision of the episode.
"Miss Debbie Allen turned to all the extras and said you are all part of telling the story," Burton recalled. "I had never known a director to include the extras, to include all our incredible human people who are part of our storytelling. It was such a seismic moment for me."
Allen agreed.
"I call my extras background artists because I want them to have a sense of ownership over what happens in a scene," she said.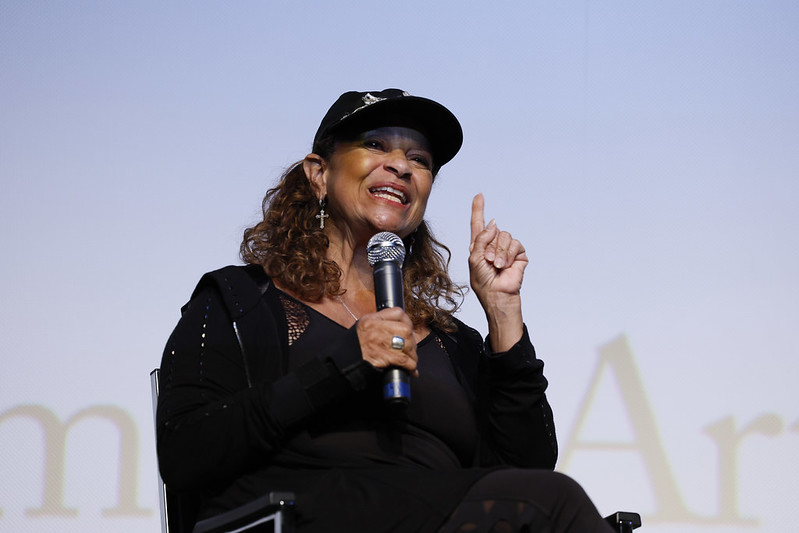 Painting on a large canvas
Allen encouraged students to focus on the story when directing, and let the technical aspects fall into place. Whether working as an actor or a director, Allen emphasized that the most important skill to have is that of a masterful storyteller.
"Being able to break down the narrative is one of the most important things for a director," Allen said. "When I'm mentoring directors, I don't want to hear them talk about shots. I want them to tell me, what is the scene about? How are you going to help the actor in the scene?"
"If you don't know what the scene is about, shots mean nothing," she concluded.
Burton and Allen also spent time talking about working to increase diversity in the field of directing. Fostering diversity in the industry has always been important for Allen, and she emphasized the work she has done on Grey's Anatomy to give opportunities to emerging women directors and directors of color.
"I hire all the directors on Grey's Anatomy, that's one of my biggest jobs," Allen said. "When I took the job, my mandate was to hire 50% female directors, because there were no women. And there was not enough diversity. A Black man had never directed Grey's Anatomy. I hired the first transgender director—this person has gone on to become a big director at Netflix now."
Burton kicked off the masterclass, outlining her own journey growing up in the arts and entertainment industries and going from her training to the big screen, working with directors like Ang Lee, Woody Allen, and Richard Linklater. She discussed how every piece of education and every experience applies to one's craft in the world of acting and directing, a theme that would be brought up again and again throughout the afternoon by nearly all the panelists.
"I talk about this to my students as a large canvas," Burton said. "Every experience you have, every play you're in, every class you take, a movie you might be interested in, a movie you go and see… They're all dots that create this canvas which is your life."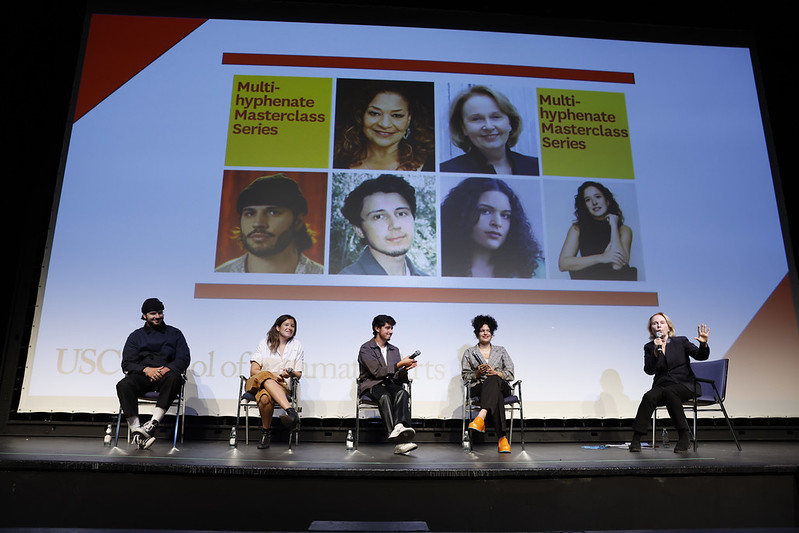 Walk into the space and do it
Burton then welcomed a panel of young Trojans, all with extensive experience and success in both acting and directing, to talk about the specific challenges associated with the transition. The panel consisted of Gabriela Ortega (BFA '17), Neal Mulani (Cinema '19), SDA faculty member and alumna Tessa Hope Slovis (MFA '19), and Scott Felix (BA '16). Each of these young alumni have found immense success combining acting and directing in their early careers, and over the course of the next hour they told their stories of what led them to become actor-directors and gave tips and practical advice for students looking to follow similar paths.
Felix, who played the linebacker position on the football team during his time at USC, talked about bringing the skills and lessons he learned as a scholar-athlete to the art of acting and filmmaking.
"When you're trying to jump into the creative space, it takes a lot of discipline. You have to find out what's authentic and unique to yourself. 'Well, I know how to wake up at 5:00 a.m. every day. I can do that,'" Felix said, drawing laughter from the crowd. "If you want to be a professional artist, you have to act like it's your job, where you're waking up and applying yourself every day. From there you start to see results."
Ortega, whose short film Huella was an official selection at the 2022 Sundance Film Festival and is currently being turned into a feature film, spoke of the safe environment in college that allowed her to experiment with transitioning from acting to directing. She recalled seeking out different pockets of the school where she could flex her creative muscles—writing her own narrative material and reading slam poetry at Ground Zero—which eventually led, with the support of Professor Phil Allen, to her writing and directing her own play, one which she went on to perform at the 2016 Hollywood Fringe Festival.
"It was amazing. It was my own story, I was starring in it, I learned how to produce it, to market it," Ortega recalled. "At that moment I remember feeling so connected with the material that I thought I never want to have an acting experience that is not this."
Cinema alum Neal Mulani discussed how the scrappiness of early student directing projects gave him the confidence to jump in with both feet.
"The first production class you have freshman year is 285, and it's a different prompt every week. They don't give you any formal equipment. Do you have a Go-Pro? Use that. Do you have an iPhone or Android? Shoot on that," he said. "Because it's so scrappy and you're doing whatever you can each week, I thought, I'll do them. I'll be the one to make them."
Tessa Hope Slovis similarly recalled how encouragement from a professor led her to create her own first film, a project expressing her anger and desire for social change in light of the unfolding events of the MeToo movement and the Larry Nassar trials.
"It synthesized for me third year when I had a professor that said, 'Do this. Do this professionally. Have the confidence. Walk into the space and do it,'" Slovis said.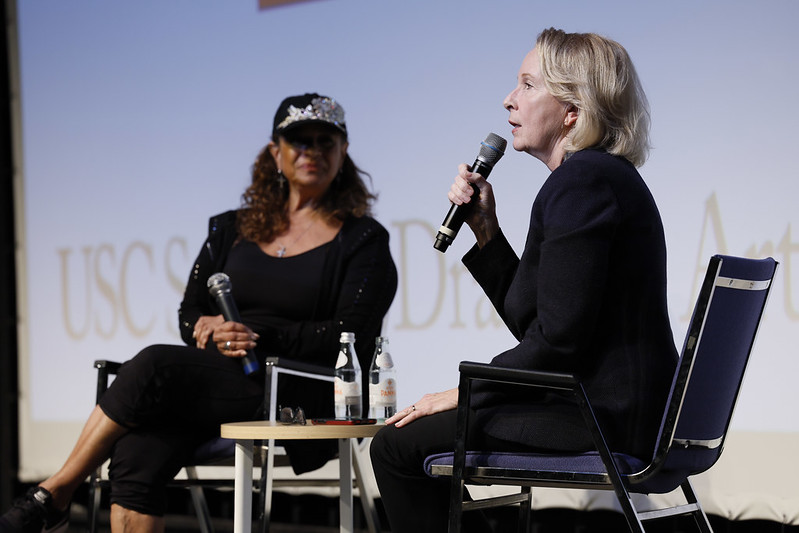 The story is the answer to all of it
Allen spent time taking questions from students in the audience, giving them guidance and advice from her years as an actor-director. One piece of advice she came back to again and again was to let the storytelling guide the directorial process.
"That you're familiar with what story you're telling is the answer to all of it," she said. "All I can say is, be prepared. Meaning that you study. I teach that when you get a script, you break down that script from top to bottom. You can't do it based on the shooting schedule; you have to do the whole thing so you know how it flows."
Allen encouraged students to view their roles as actors and directors as stemming from the same starting place: everything in service of the story.
"You have to know the story," she emphasized, to applause and cheers from the students and alumni in the audience.