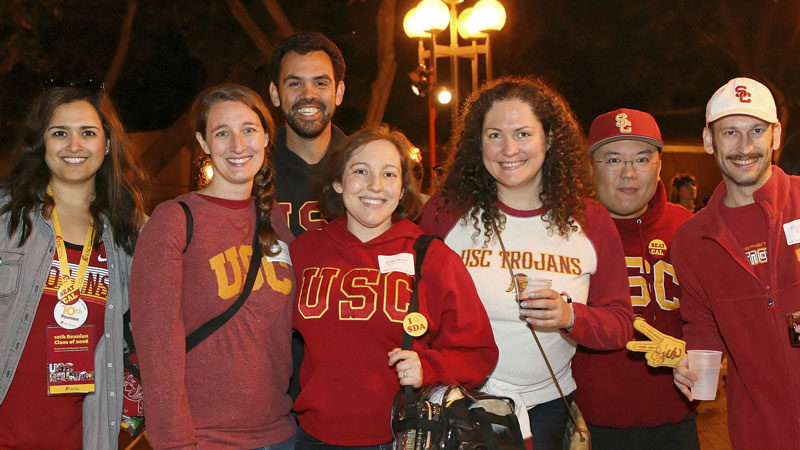 Transitioning into the real world after graduating college can be a frightening and unknown time for many. Fortunately, the Alumni Leadership Council (ALC) is one key component to calming those fears for School of Dramatic Arts graduates.
"We are constantly evaluating how to better connect alumni of all ages and interests," says Tomm Polos BFA '10, ALC co-chair. "Whether an alum is interested in career development, community organizing or just being social — we can direct those who want to become more involved to the right committee, community or party."
View this story in the digital version of the 2020-21 Callboard magazine.
Established in 2016, the ALC serves as a connection between the School and its alumni by providing counsel on communication, engagement and fundraising efforts. With a mission of connectivity and storytelling, the ALC is charged with being a "siren of good news" and being there for all alumni who are interested in getting involved, Polos says.
The ALC has been instrumental in bringing guest artists, talent and alumni volunteers to the School for conversations, workshops and events for the community, as well as widening services for the alumni population. And despite this unprecedented time of COVID-19, the council has helped to deliver stellar programming and engaging experiences.
"We've hosted professional development webinars (for actors, designers and voice artists), had impressive virtual visiting artists, and invited industry guest speakers to chat with current students about a changing industry and navigating the current pandemic," shares Devin Kelley BFA '08, ALC co-chair.
The ALC also plays a role in the School's Inclusion and Equity Committee, providing representation and counsel on behalf of the alumni population to ensure a "safe, compassionate space where artists of all backgrounds can come together to learn, grow, catalyze and create," says committee member Kelley. "At the end of the day, we are all a part of the Trojan family and everyone — of every race, religion, gender, discipline and degree — should feel at home here."
Career Mentoring Program
In 2018, the ALC established the School's Career Mentoring Program, which allows alumni to engage one on one with current students who will soon be transitioning into the industry. Alumni, as mentors, are tasked with helping students navigate post-college life — as well as help usher their mentees into the vast alumni network: the Trojan Family.
As a mentor, ALC board member Adrienne Visnic BFA '14 sees volunteering in this capacity as the greatest way to donate her time. She serves as a sounding board to her mentees' professional interests and goals. "Once I have the pleasure of getting to know them, I can share my own professional experiences in the industry that relate and then further connect them to fellow SDA Trojans," she says.
The Career Mentoring Program hones in on the unique benefit of being a Trojan. "Our alumni are an important resource for SDA, and are an essential part of the School's advancement," says Director of Alumni and Annual Giving Alfred Magallanes. "They represent the success that students can achieve from a particular degree or program offered by our School."
This story originally appeared in the 2020-21 issue of Callboard magazine, the USC School of Dramatic Arts annual publication for its alumni, parents, students and friends.