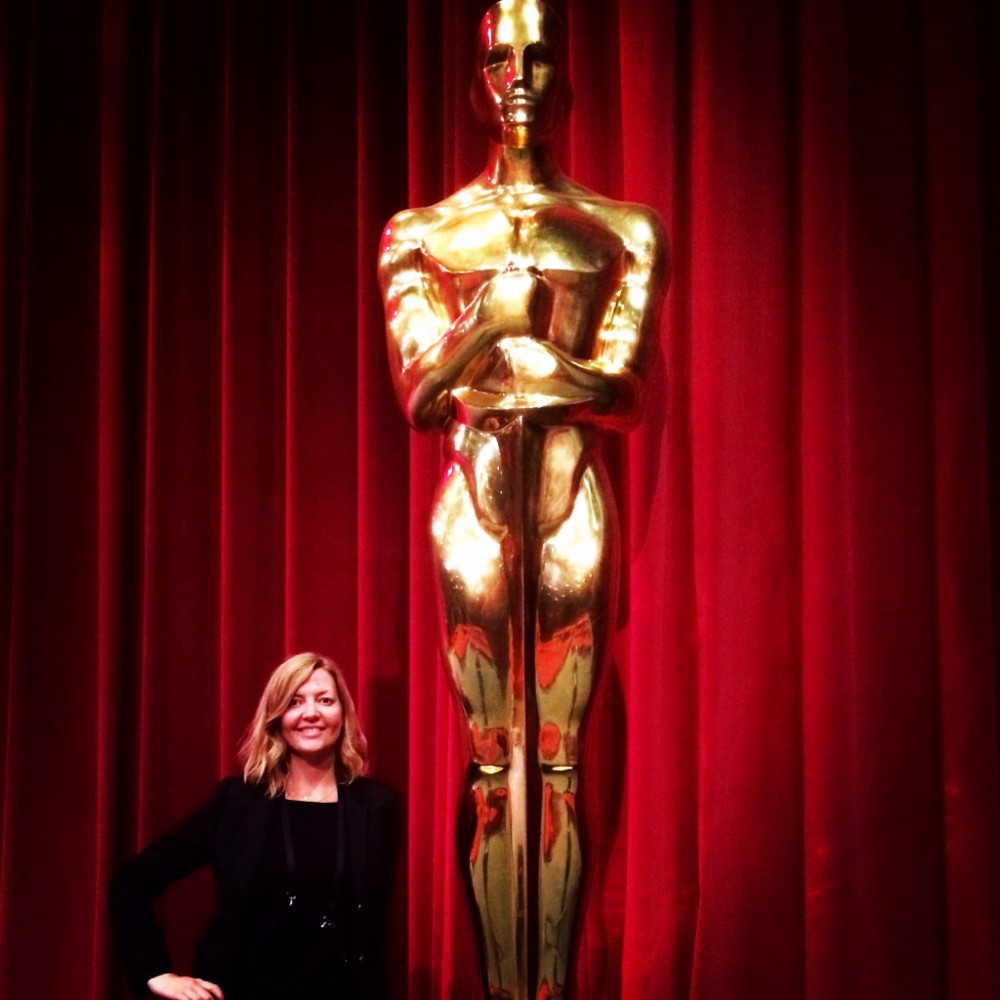 Counting down to the 88th Academy Awards, anticipation is building for the words "…and the Oscar goes to." But before the red carpet is unrolled and acclaimed artists gather for their big moment, months of planning go into the details of the show.
USC alumna Vanessa J. Noon (BFA '96) has worked on 16 Academy Awards shows, serving as an AFTRA coordinator, engineering department coordinator, production coordinator and production manager. Although she has managed so many shows, the thrill of live theatre keeps her coming back.
"It's essentially the same thing [as live theatre], but it's broadcast to millions of people instead of one audience, which makes it more exciting," she says. And being one of the production managers means she has to be on her toes the entire show.
"I love that it's a live show, you have no idea what's going to happen. We have one of the largest worldwide audiences. As soon as we go live, anything can happen — and a lot of fun things have happened that were completely unscripted, like the selfie from a couple years ago. That wasn't planned!"
Just like the unplanned selfie, so was her initial involvement with the Oscars. Noon was at USC around the time of the Emmys and saw an advertisement in the school paper to be a seat filler at the show. Instead of calling to seat fill, she asked for a job as a production assistant. Although they weren't hiring, she got a number to call for the next year and was hired on as a PA for the Oscars, which was produced through the same company.
While she can't disclose details about the show, she says the most challenging aspect of putting it all together is getting all of the pieces to move seamlessly. "There are a lot of people, and a lot of moving parts on the show," she says. "And managing all of the aspects of it and keeping track of all of it; it's essentially a moving puzzle."
Her passion for stage management began in high school, after seeing a production of Les Misérables and seeing the technical challenges of live theatre. She started stage managing as an extracurricular activity, but after learning that the USC School of Dramatic Arts offered a major in stage management, she realized it would be the best place to pursue her career. She says the training she received at SDA was what truly prepared her for stage managing after graduation.
"When I stage managed in high school, it wasn't nearly what we know stage managing to be," she says. "And when I came to USC, right away, they put me on shows. I did A Raisin in the Sun on the Bing Theatre stage my freshman year. And I did shows every single semester. Having that real-world, practical experience was everything."
These professional experiences helped her land jobs with the L.A. Stage Alliance Ovation Awards, Disney Parks, Universal Studios and the 2012 London Olympics. After graduation, Noon shifted her focus away from the theatre, and towards live television shows and specials. She says with the introduction of theatre specials, like The Sound of Music and The Wiz Live! on NBC, there's a good mix of both live theatre and television that will get the next group of stage managers something to look forward to. And for that next group of stage managers, she says the most important thing is to stay connected.
"I would definitely say: never burn a bridge and never turn down an opportunity. No matter how much people may frustrate you, you have no idea what jobs they could lead you to. Some of the jobs I've gotten are directly related to people I met in college or internships. It's all about word of mouth in this business."
For Noon, it's about keeping those relationships and continuing them for Academy Awards to come. But for now, for this weekend's Oscars, it's back to preparing for the show on February 28 at the Dolby Theatre in Los Angeles.