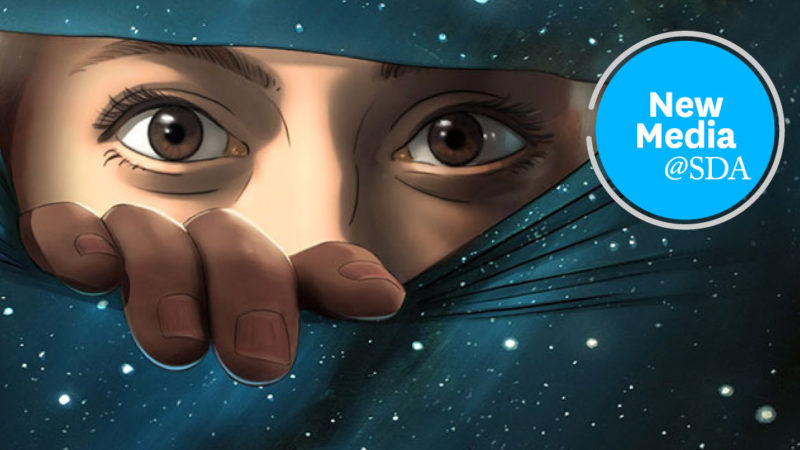 Actress Constance Marie has a strict policy when it comes to accepting projects. "I'm a horrible actor if I don't believe in a project," she explained, "so I don't take those."
However, with the Amazon Original series UNDONE, Marie has a lot to appreciate. At a NewMedia@SDA event last week, Marie and co-creator/showrunner Kate Purdy spoke to students about bringing UNDONE to fruition and how it expands the ever-evolving new media landscape.
"It feels like a beautiful miracle of dedication and delayed gratification," Marie said. She is known for her roles on Switched at Birth, George Lopez and the film Selena. Marie appreciates that the show features a multicultural cast; she never really thought about ethnicity, she says, until she became an actor and was put in a box.
What sets UNDONE apart for her is that it "isn't commentary, just life."
UNDONE follows protagonist Alma directly after she survives a near-fatal car accident. Subsequently, Alma discovers she has the power to bend time and uses it to find out more about her father's untimely death. Purdy calls it a "live-action animated dramedy." UNDONE uses rotoscoping technology to animate the live actors, capturing their movement and emotion simultaneously. Despite major triumphs, this new technology presented a learning curve for the actors and the creative team alike. For example, Purdy shared that they could not attach actors' mics on their chests, because the equipment added shadows. She also expressed the confusion she first felt when she found out she couldn't use feathers in the show.
"Wait–we can animate an entire world, but can't have feathers?" she asked. Later, she would find out that feathers created too much movement for the technology.
From an opposing perspective, Marie expressed that the only limitation was having to imagine a lot. She described a scene that involved her and two child actors traveling up a staircase made out of apple boxes and duct tape. She also found that it was a challenge for actors to visualize things that would be animated in later.
"Daveed Diggs has to step out of a painting and into a hospital room, but as an actor that's fascinating, because I know [that while filming], he had to step over nothing," she says.
Marie feels that her previous work has prepared her for acting challenges such as these. As Camila Diaz, Alma's mother, she found that her role required active work in reconciling her character's backstory. In UNDONE, she honed skills she had learned on shows such as Santa Barbara.
You "have to be able to constantly justify new information that you're given and fold it into the layers you already have," she said. "It was like a soap opera, because you start with who you think you are and then they keep writing it. And it's like, 'Oh I have a brother!'"
Simultaneously, Purdy learned how to navigate her role as showrunner for the first time. When asked to describe the experience, she said it was "difficult, but wonderful."
"I'm blown away by the artistry and the animation of the whole thing," shared Purdy. Looking at art, she says, invites your mind to play, and animation does the same thing. Marie expressed similar sentiments.
"The fact that the emotional content of the story makes you forget that you're watching animation; that's fascinating."
After being in the industry for over 30 years, she knows that "finding quality work is not easy. So when it comes, trying your hardest to make it work" is necessary.
Marie ended only with grateful praise for this groundbreaking show and rare opportunity.
"I can do this deep, crazy thoughtful thing and still make a living? Sign me up," she said.