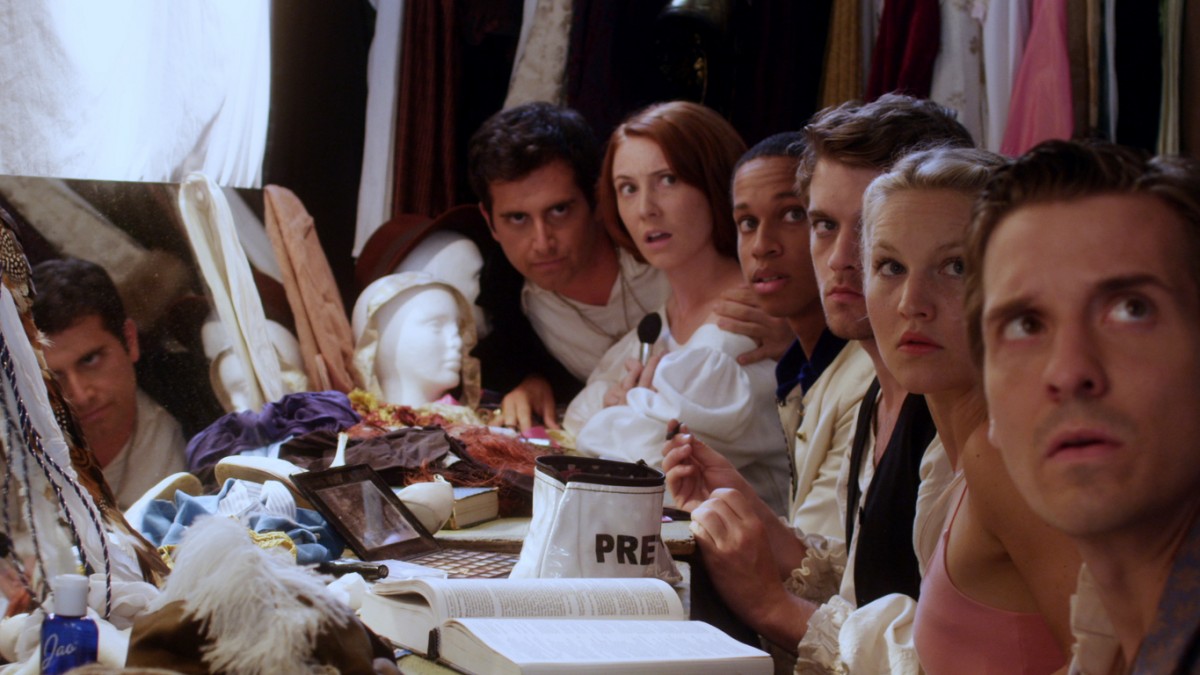 Joe Sofranko (BFA '09), Lili Fuller (BA '09) and Adam North (BA '09) may have created their web series Complete Works after the three former classmates at the School of Dramatic Arts had left the Halls of Troy for that ominous beast known as "the Real World."
But without the help of the School, its faculty and several alumni, there would be no Complete Works. The five-part series premiered on Hulu in the spring to coincide with William Shakespeare's 450th birthday. From a Trojan perspective, the real celebration took place in mid-September when the co-creators hosted a screening of the full series on campus and acknowledged a roomful of SDA supporters who helped make the two and a half year, $45,000 endeavor possible.
The bulk of the cast and crew members were classmates, faculty or alumni. Composers and editors were students in different departments at USC. Day players, grips, set decorators, interns and volunteers all lent a hand, many working free of charge or at a fraction of what they might have earned on a larger budget project. When the outdoor amphitheater that served as a principal location in the series was being constructed, former SDA Dean Robert R. Scales was one of the builders.
Perhaps even greater than all the physical, emotional and financial assistance provided by their classmates and colleagues was the belief — fostered at USC — that these kinds of ambitious endeavors were worth attempting.
"When we were at USC, there was so much great student theatre, so much excitement and energy and we were putting stuff up all the time," says Fuller, who started the Boom Kat Theater while on campus. We learned you can do that. You don't have to wait for something to happen. Go put up a show. Go make a movie. I think that mentally helped us after graduation."
Sofranko agrees, harkening back to the advice of fellow classmate (and 2014 SDA commencement speaker) Troian Bellisario. Bellisario's wisdom came after Complete Works was complete, but it very much applied to the creation of the series.
"She talked a lot about creating your own work and how that is the best thing you can do when you're out of school, especially when you don't know what to do next," says Sofranko. "…We felt like, you know, let's dig our teeth into something."
Complete Works follows the comedic and occasionally cutthroat exploits of six young men and women who are vying to win a collegiate Shakespeare competition. Sofranko (the series co-writer and co-director with North) stars as Hal, a naïve Midwesterner whose ambitions grow the deeper into the competition he gets. Fuller (executive producer) plays Pauline, another contestant and Hal's sometimes conscience.
In 2004, as a high school junior, Sofranko won the National Shakespeare Competition (NSC) that served as the inspiration for the Complete Works contest. He met Fuller the following year when the two were both in the YoungArts festival in Miami. Shortly thereafter, they met North at USC. Between their work in department and student-initiated projects, all three were hugely active during their four years at SDA — mounting up to seven shows per semester with all the attendant rehearsals and prep time.
"It was the life," says Fuller, who still choreographs regularly for the School. "But then after graduation, we were creatively frustrated. Theatre in L.A. is not as supported as film and television. People don't go to plays as much as we would love them to. Theatre takes a lot of work and there's not a lot financial gain."
There is a certain…er…dramatic irony that the producers chose a stage-themed project to turn into a feature length film. Harkening back to Sofranko's experience at the NSC, the Complete Works team set out to explore — in a comic way ­— whether art can flourish in a competitive environment. What started out as an idea for a quick hit short film developed and the script expanded. The creators launched an Indiegogo campaign and shot the project over 20 days in the summer of 2012.
Several networks passed on the project before Complete Works landed at what had been their desired destination all along: Hulu. This meant that the episodes had to be recut into five 25 minute segments. The creators hope it has a life with high school and college theatre programs.
Regardless, the project stays on the web in perpetuity, a monument to their achievement.
"All three of them are extremely focused, and the fact they got this together on their own put their noses into it and kept it there is amazing to me," says an admiring Michael Keenan, an SDA faculty member who taught all three and played one of the competition judges. "It was marvelous to see them branch out."