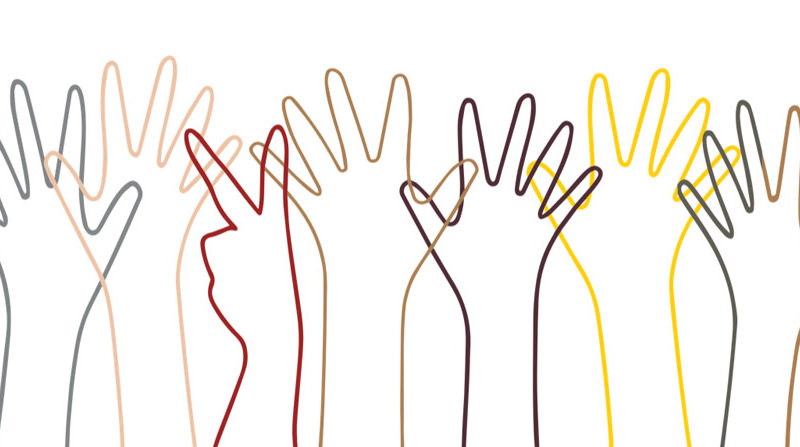 On a late Friday afternoon, one would have encountered an unusual scene — School of Dramatic Arts students, faculty, staff and alumni seen letting loose and dancing to an upbeat rendition of the song "Somewhere Over the Rainbow" over Zoom. Led by members of the independent student production company Dorothy & Friends Theater Company, this was a perfect ending to a long and eventful day of fostering and celebrating community for the School's third annual CommUNITY Day.
The dance party was a fitting wrap up to a full day of activities and the start of the event's last workshop, Celebrating Pride: LGBQT+ Workshop, which offered resources and tools to create a more welcoming campus climate for LGBT+ and allies.
CommUNITY Day, held on Sept. 11 via Zoom, focused on the theme of "embodying empathy" and was an opportunity for participants to come together in the endeavor of furthering equity, diversity and inclusion at the School. Throughout the day, familiar and new faces participated in workshops led by USC faculty, students and alumni — from mindful meditation to creating images of empathy through Theatre of the Oppressed exercises.
With so much unrest in the world, positive experiences like this day was necessary and refreshing for the community, allowing everyone to learn and work together as they join together to spread positivity and make lasting change.
In an anti-racism, allyship and advocacy workshop led by the co-creators of Justice in June, USC alumnae Autumn Gupta and Bryanna Wallace, participants learned that allyship is a lifelong process and how to best be supportive.
"The journey of allyship should always be ongoing. … You should always be learning and unlearning," Wallace said.
Sharing ways in which the SDA community could be allies to the Native American community, Karras Wilson, director of Native American Students at USC, emphasized the importance of strength in numbers and working together.
"Be open to being educated by others," he said.
During an informative talk led by Assistant Professor of Theatre Practice Rena Heinrich, called Global Fellows: Interculturalism and Performance, she explained that art was the product of globalism and intercultural exchange. In particular, the Africanist culture aesthetic that undergirds American culture is what separates it from European culture — such as the polyrhythmic percussions developed by slaves that still influence today's popular dances and culture.
Meanwhile, alumni Sabina Zuniga Varela MFA '11, Roland Buck III BA '14, Briana Henry BFA '14, JP Karliak BA '03 and Nisha Balsara BA '14 shared with participants how to use their identity as a strength in forwarding their careers.
For Henry, who is a series regular on General Hospital, she learned that collaborating with the writer's room to write realistic depictions of black women is a must.
"Sometimes when you find yourself in a space in the industry where it feels like you don't belong or shouldn't be there, being as loud as you can be and saying I can show you what I have to offer in this space [is key]," she said.
To keep the spirit of the event going beyond the day, the School pledged to participate in a 30-day Anti-Racism & Advocacy Challenge, which began Sept. 14.