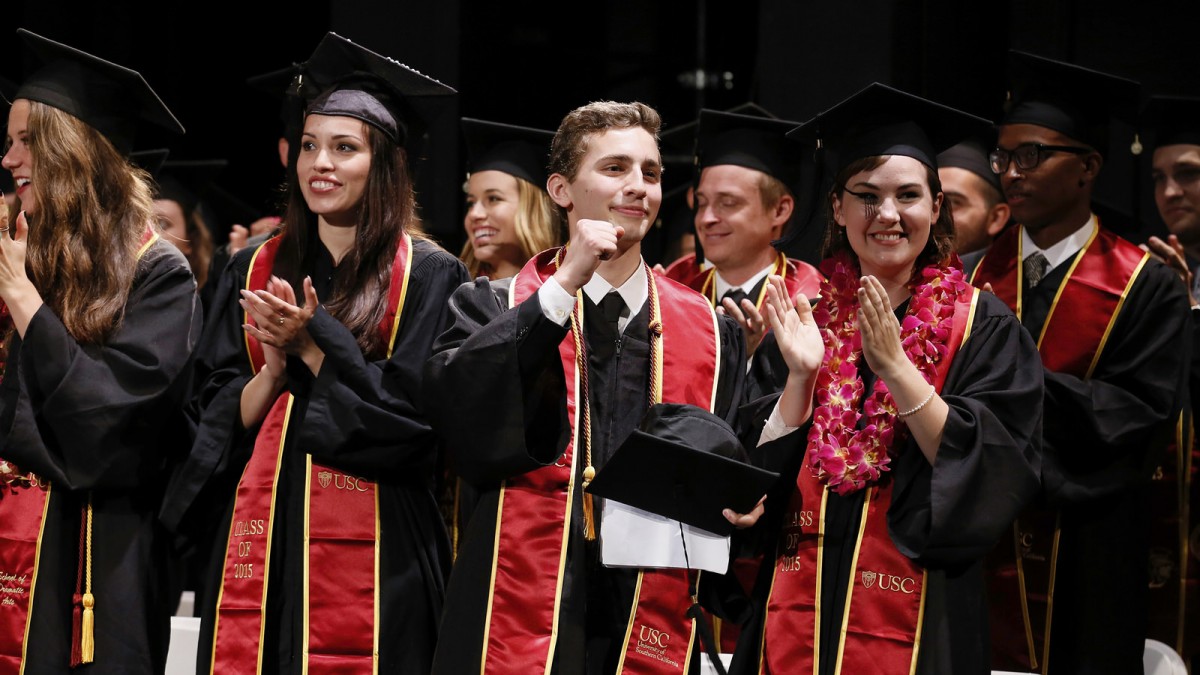 Although the morning brought wet weather, the rain didn't put a damper on this year's commencement for the hundreds of graduates, families and friends participating in the joyous event.
The USC School of Dramatic Arts proudly graduated 128 students in the Bing Theatre as part of USC's 132nd Annual Commencement on May 15. The Class of 2015 included graduates from the School's Bachelor of Arts, Bachelor of Fine Arts and Master of Fine Arts programs — ranging from acting, stage management, design to visual and performing arts studies.
Dean Madeline Puzo opened the ceremony with congratulations to the graduates and their families, before introducing the three student speakers who addressed their fellow graduates as representatives of the Class.
"We've come a long way," BFA Acting graduate Vance Lovett proclaimed during his speech, also telling his peers to "go out and conquer."
"[Commencement] is a celebration not of accomplishment, but of community," BA Theatre graduate Daniel Rashid said, stressing that graduation is about the stories, not the grades.
Reminding the Class about the deep family roots they established at USC, MFA Acting graduate Danielle Larson encouraged: "No matter what happens in our lives or where we go, remember the sacred space we have created here."
Following the student speeches, keynote speaker Associate Artistic Director Seema Sueko of The Pasadena Playhouse took the podium to impart wisdom on the graduates. Sueko was named by American Theatre magazine as an exceptional artist who will have a significant impact on theatre nationally for her work in building community involvement and audience diversity.
Emphasizing the importance of transforming frustration into creation and reshaping opportunities when they weren't designed for them, she explained: "You need to know that you don't need us. If you have an idea and you know it is good, run with it. Do it yourself, be successful and make us need you."
She added: "When you go out there, I urge you to challenge the traditional notions of what or who is worthy of being in the room (when those notions run counter to your gut) and offer a step to others."
The ceremony concluded with a handing out of diplomas and last well wishes from the dean: "You now are the USC School of Dramatic Arts to the world. Wherever you go, you will represent us. I have no doubt you will make us proud. Break a leg."
[RoyalSlider Error] There was a problem with request. Please check Flickr settings and try again.
See the photo album on Flickr