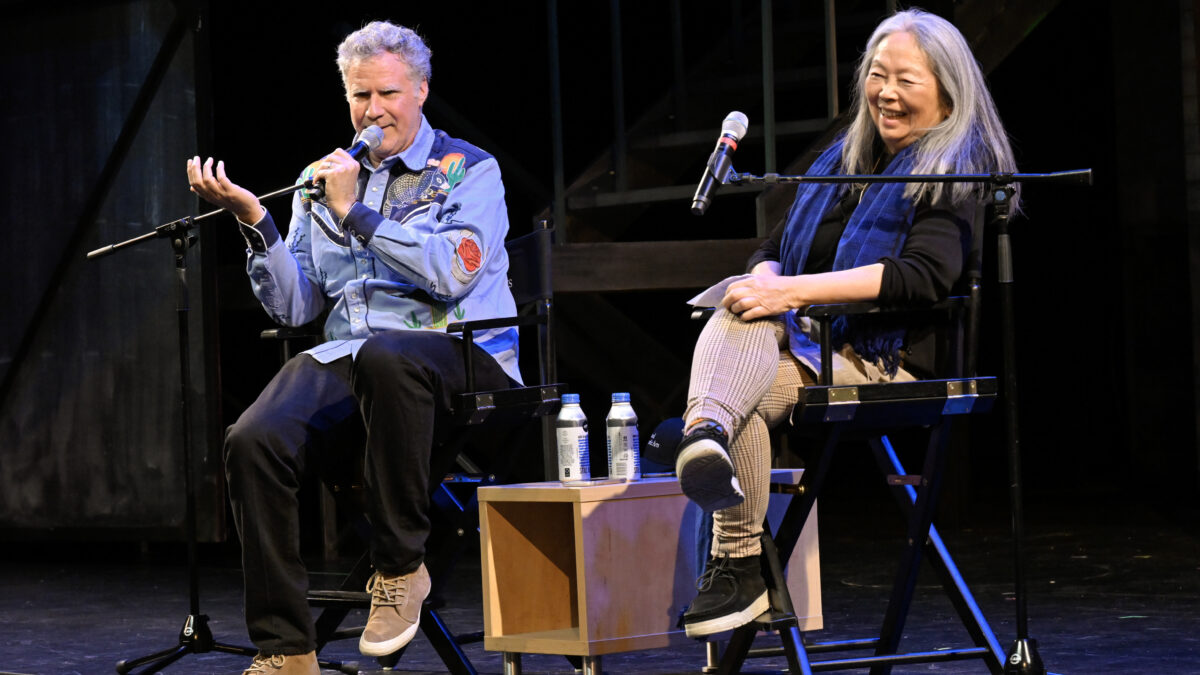 In late March, legendary comedy multihyphenate Will Ferrell spoke to a packed crowd of USC School of Dramatic Arts students at the Bing Theatre. In his conversation with SDA Professor Natsuko Ohama, Ferrell shared about a wide range of topics, from his days at USC to his big break on SNL. Ohama and Ferrell's relationship goes back more than a decade, as she served as Ferrell's coach in preparation for his Broadway debut in 2009's Tony nominated play, You're Welcome, America.
Ferrell spoke to a rapt audience about his journey to comedy and acting, which started at USC. A famously enthusiastic member of the Trojan family, Ferrell regaled the audience with memories from his time on the University Park Campus.
"I never really allowed myself the chance to think about doing anything in entertainment, only because my father's a musician," Ferrell said. "I set upon this road of going to these journalism classes. But I just loved making my friends laugh."
Ferrell talked about rolling around campus sitting on top of a mobile overhead projector, or dressing as a custodian and interrupting a professor's class in character. The professor liked Ferrell's antics so much, he invited him to come back for regular comedic interruptions.
"I'd have my friends be shills, saying 'Look at that idiot!' I'd incite mini-riots," Ferrell said. "The itch was there."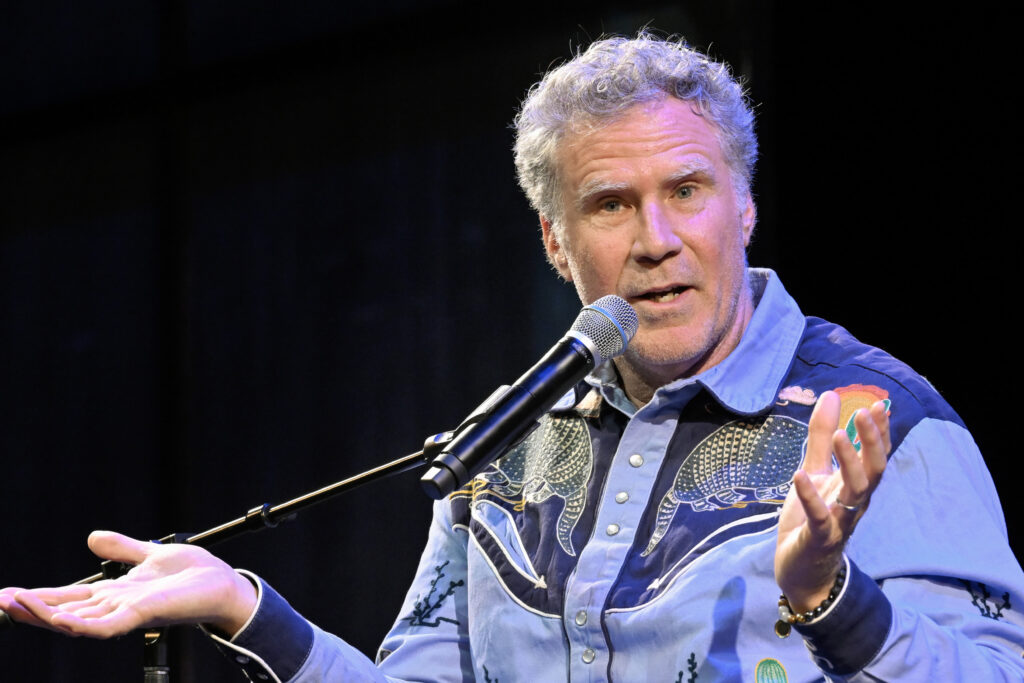 "Oh wait—that's what I want to do."
While Ferrell studied Sports Information at USC with plans to become a sports broadcaster, he also took several classes at the School of Dramatic Arts, including classes in improv comedy. Ferrell revealed that, after graduation, he sometimes lamented not having majored in acting or performance at USC.
"I thought to myself, why didn't I study acting in college?" Ferrell said. "Which is what you all are doing. You're so much further along than I was at your age."
After graduating, Ferrell began taking summer acting courses and pursuing his passion for performance in other ways. His desire to become a comedian crystalized when he attended a performance at the Groundlings Theatre on Melrose.
"I saw one of their shows for the first time, and I thought—oh, wait. That's what I want to do," Ferrell said.
Joining the Groundlings proved to be monumental for Ferrell's career. Saturday Night Live was retooling their cast at that time, and a representative stopped by Groundlings to look for talent. Ferrell was invited to audition, along with Chris Kattan, Cheri Oteri and Jennifer Coolidge.
Ferrell went on to talk about his current projects, which include performing, writing and producing in a variety of mediums. A true Trojan multihyphenate, Ferrell continues to act and write, runs his own podcast network promoting the work of up-and-coming comedians, and, along with film producer and USC School of Cinematic Arts alumna Jessica Elbaum, runs Gloria Sanchez Productions, a female-focused production company.
Ferrell touched on a few recurring themes during his talk. One was the importance of courage and commitment, which came up in several different iterations. Ferrell talked about the time he tried out as a walk on for the USC Football Team ("They let me kick about eight times and they said, thank you, we've seen enough. That was it.") and the time he entered an open audition for Cirque du Soleil ("I remember driving back, saying 'I think I nailed it.' I didn't get a call back."). Ferrell also preached resiliency as an actor, revealing to the audience that he messed up his first-ever line on Saturday Night Live.
"They're starting to count down from 5 minutes, and it starts to dawn on me that I'm on Saturday Night Live," Ferrell recalled. "I look out at the crowd, and there's my mom sitting there, and she's waving at me. She's brought her friend, Roberta, who's waving even harder. Then Lorne Michaels comes by, and he says, 'No pressure, but the whole show's riding on you.'"
"And I totally flubbed my first line ever on the show. I'm off to my next quick change, and I thought, 'I've blown it.' Lorne comes back and says, 'Are you okay? I didn't mean to throw you,'" Ferrell laughed. "But from that moment on I was fine."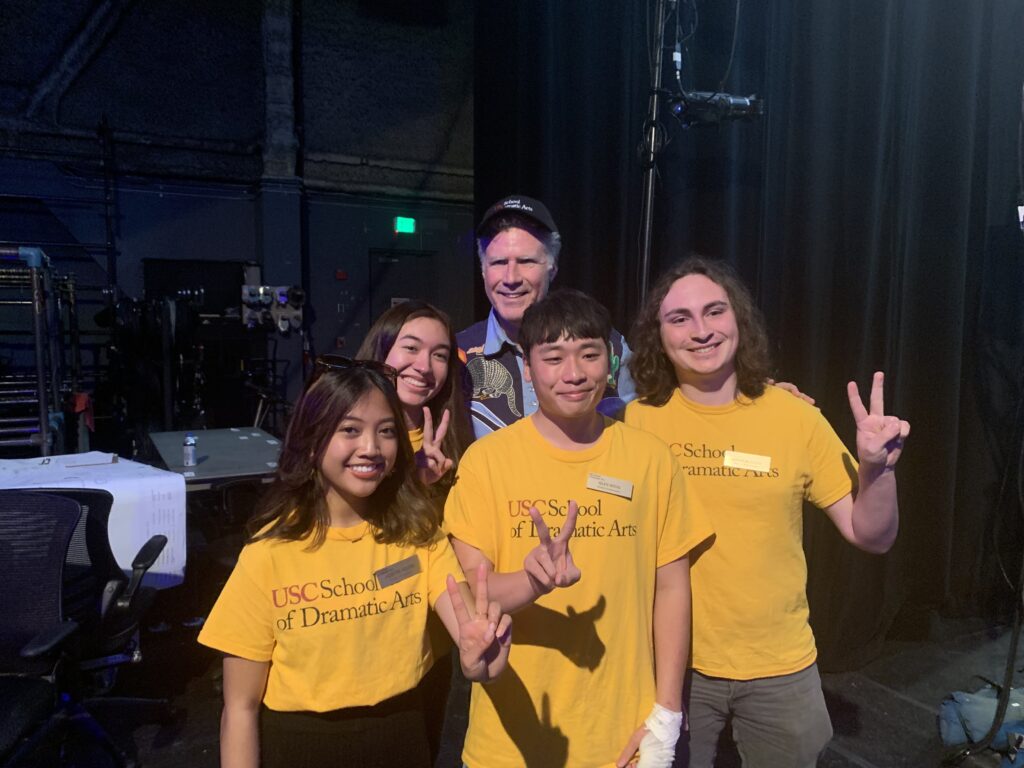 If you have enough perseverance
The SDA students in attendance were thrilled by Ferrell's frank and encouraging talk. Many commented on Ferrell's willingness to talk about his own indirect path to comedy, about his foibles and mistakes, and about his advice on committing to characters.
"One of the biggest things that I gathered from the talk is Will Ferrell's fearlessness," said SDA Student Alcides B. Costa Jr. (MFA 2nd Year). "What makes his work actually work is the commitment that he puts into it without judgment."
Briana James (MFA 1st Year) agreed.
"I loved that he made the whole world his stage," James said. "He didn't wait to be hired or for anyone's permission. He made the campus his theatre space by performing in classrooms and creating that running character bit."
Akwasi Degraft (MFA 1st Year) found encouragement in a star of Ferrell's stature making mistakes and finding the resiliency to bounce back.
"What I remember from the talk was him recounting his experience about his SNL blunder," Degraft said. "It puts in perspective that no matter how bad something may seem, if you have enough perseverance, you can get through whatever it is."
SDA Director of Comedy Zachary Steel introduced Ferrell and Ohama at the beginning of the discussion and encouraged students who want to follow a similar path to consider USC SDA's comedy (performance) minor, which provides training and experience through a range of comedy classes.
"I really enjoyed hearing Will Ferrell's conversation," said comedy (performance) minor Izzy Ster (BFA Writing for Screen and Television '24). "It was incredible to see a comedic legend on USC's campus and hear insight about his collegiate years and career."