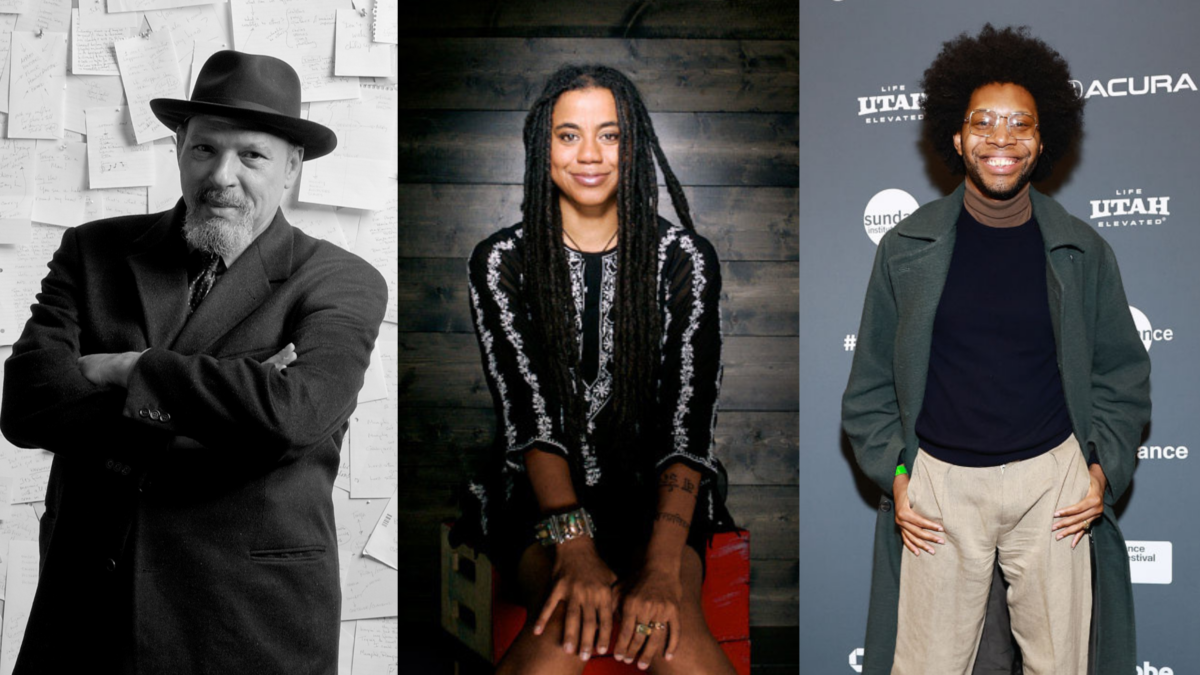 Throughout American history, Black creatives have been at the center of artistic exploration and expression, their work serving as an act of protest and healing and providing inspiration for all Americans. In February 1969, Black educators and students at Kent State University proposed Black History Month. It was independently adopted across the country for six years within black institutions before being nationally recognized by President Gerald Ford in 1976. In recognition of this celebration, we worked with SDA's Office of Equity, Diversity and Inclusion to highlight six Black playwrights and multhyphenates for their groundbreaking work within American Theatre, with works ranging from traditional plays to musical theatre. These revolutionary playwrights have gone on to break barriers for the Black community and played a pivotal role in paving the way for modern contemporaries.
Katori Hall
Katori Hall is a multihyphenated actress, playwright, screenwriter, producer and director from Memphis, Tennessee. A lifelong academic, Hall was the first Black valedictorian in her high school's history, receiving degrees in African-American Studies, a Master of Fine Arts in Acting, and a Graduate degree from Julliard for playwriting. Her breakthrough Broadway debut, The Mountaintop, was workshopped while she was completing her graduate program.
Hall has gone on to create genre-defying works, including co-writing the book for the musical Tina: The Tina Turner Musical, as well as developing her play Pussy Valley into the Starz television drama series, P-Valley. She has gone on to receive numerous accolades, including the Lorraine Hansberry Playwriting Award, two Lecomte du Noüy Prizes from Lincoln Center, and a 2021 Pulitzer Prize for Drama for her play The Hot Wing King. She currently serves as a member of the Fellowship of Southern Writers.
Lorraine Hansberry
Born in Chicago, Illinois, Lorraine Hansberry grew up in an influential household in the inner city, her parents were active members in the NAACP and local politics and were in social circles with prominent Black figures, including Langston Hughes, Duke Ellington, and W.E.B Du Bois. Her enriched upbringing was coupled with a passion for uplifting black collective culture, ultimately leading to her desire to portray such experiences in her writings as a playwright and writer.
Hansberry is known as the first African American female author to have a play performed on Broadway, with her best-known work, A Raisin in the Sun, considered by many, as one of the best plays ever written.
By the age of 29, the young playwright had garnered a New York Drama Critics Circle Award and, in doing so, became the first African American dramatist and the youngest playwright to receive this accolade. Posthumously, Hansberry's life and legacy inspired the adaptation of To Be Young, Gifted and Black: Lorraine Hansberry in Her Own Words in 1969, which celebrated her life based on her own writings. 
Jeremy O. Harris
Jeremy O. Harris is a playwright, actor and philanthropist whose groundbreaking work Slave Play made history at the 74th Tony Awards with 12 nominations for a non-musical play. Known for creating work that tests boundaries, Harris wrote Slave Play as a master's student at Yale. In addition to his playwriting, Harris' work as an actor can be seen on Emily in Paris, and he is also a successful screenwriter, serving as the co-author for the screenplay for the 2021 film Zola. He has a multi-project deal with HBO, and served as a co-producer for season 2 of Euphoria. Harris's work addresses sexuality and racial trauma in America, mental health, and encourages self-exploration.
Suzan-Lori Parks
Suzan-Lori Parks is an award-winning American playwright, musician, screenwriter, and novelist. Parks was the first female African American to receive the Pulitzer Prize for Drama in 2002 for her play Topdog/Underdog. The darkly comic fable of brotherly love and family identity, which is currently being performed on Broadway,  garnered Outer Critics Circle Award, Obie Awards, and two Tony Award nominations for its initial run.
Parks grew up in Fort Knox, Kentucky, and, as a child, wrote poems and songs and penned a newspaper in partnership with her brother. Her upbringing as an army child gave her a unique perspective on her self-perception that would inspire her works in the future. Her first screenplay was for the 1996 Spike Lee film Girl 6. Parks wrote two more screenplays, and numerous stage plays including The Sinners Place (1984), In The Blood (1999), and the 2019 Obie Award-winning Off-Broadway play White Noise. Additionally, she is the recipient of the 2018 Steinberg Distinguished Playwright Award and the renowned MacArthur Foundation "Genius" Grant. 
Ntozake Shange
Ntozake Shange was an award-winning American playwright and poet, often revered for her passion as a Black feminist. Her works depicted race, power structures, and mental health within communities of color. Raised in St. Louis, Missouri, Shange grew up in a richly cultured household that encouraged artistic expression, often around house guests such as musicians Miles Davis and Chuck Berry. Experiencing severe racism within her non-segregated "gifted" school, Shange would go on to channel these injustices within her art. A scholar, Shange graduated cum laude in American Studies from Barnard College, eventually receiving her master's degree in the same field from the University of Southern California. 

Her first work, and most-well known play, for colored girls who have considered suicide / when the rainbow is enuf, followed the lives of women of color in America, documented in a 20-part choreopoem – combing poetry, dance, and music to depict the characters' life experiences. In her life, she served as an associate of the Women's Institute for Freedom of the Press, and her works garnered numerous awards, including the Paul Robeson Achievement Award, the Guggenheim fellowship (1981), as well as Tony, Emmy, and Grammy nominations for for colored girls…. Her legacy has continued to inspire generations of black female playwrights, with her works breaking boundaries on the exploration of black life and femininity.
August Wilson
August Wilson was an American playwright best known for his series ten-play cycle which explored the experiences of Black America from 1904 to 1997. Sometimes refered to as the Century Cycle or The Pittsburgh Cycle, the series of plays touched on issues of mental health and the collective consciousness.

Born in Pittsburgh, Pennsylvania, Wilson grew up in a neighborhood inhabited by predominantly Black, Jewish and Irish immigrants. Upon moving to a white community as a child, Wilson's family faced hostility that caused them to move to multiple homes. These experiences inspired the settings for Wilson's future works, with The Hill District becoming the background for many of his plays. The Pulitzer Prize and Tony Award-winning Fences, Ma Rainey's Black Bottom, and Pulitzer Prize and New York Drama Critics' Circle Award-winning The Piano Lesson, were all part of this cycle of plays that has served as inspiration for creatives in the decades following, as they beautifully capture the nuance, vulnerability and struggles of many African Americans.