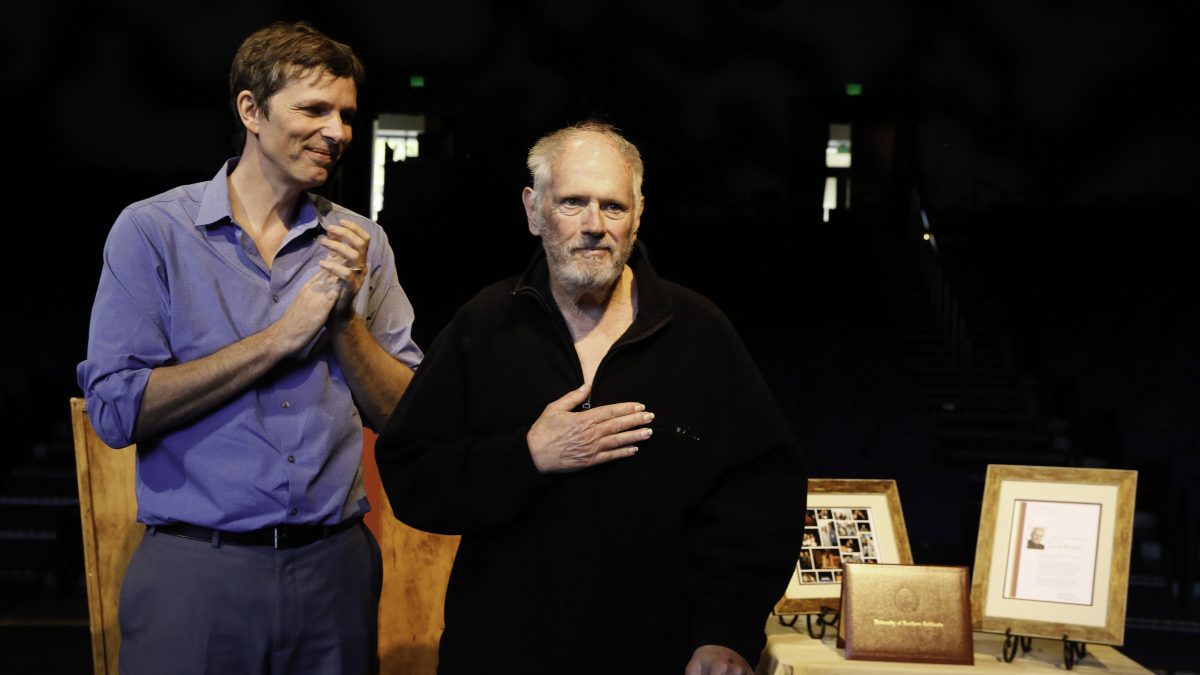 On January 21st, alumni, staff, faculty, friends and students of the USC School of Dramatic Arts gathered at the Bing Theatre to honor the career of a truly beloved theatre artist, director, teacher, and mentor – Jack Rowe. Thank you to everyone able to attend and celebrate the outstanding achievements and lasting impact Rowe has had on the School of Dramatic Arts.
(Photos by Ryan Miller/Capture Imaging)
Jack, as an instructor, artistic director, and director of the School's BFA in Acting, you've led legions of students towards the eminent practicalities and the great mysteries that lie at the heart of the craft of acting. You've mentored almost everyone you've ever encountered, whether consciously, in office hours filled with sage advice, and endless empathy, or unconsciously, by your example, demonstrating your single-minded devotedness to the theatre in every action. You were a father to generations of misfits and miscreants who didn't know they were missing one until they met you. And still you inspire us, as the most unpretentiously passionate educator ever to grace these classrooms and stages. You're the love child of young William Shakespeare, Sam Shepard, and Steely Dan. You're going to live on in these corridors and on these stages forever, not just because of the scholarship we are building in your name – and a heartfelt thanks to all contributors to the Jack Rowe scholarship fund – but also because the blood sweat and tears you left on these planks can never, will never, be scrubbed away. So… we're here for you today because you have always been here for us.

Dean David Bridel
from his remarks
In recognition of his enduring legacy at the USC School of Dramatic Arts, the School has established an endowed scholarship in his name. Should you wish to make a donation to the Jack Rowe Student Endowed Scholarship Fund, please click here or contact Kimberly Muhlbach at 213-821-4045.