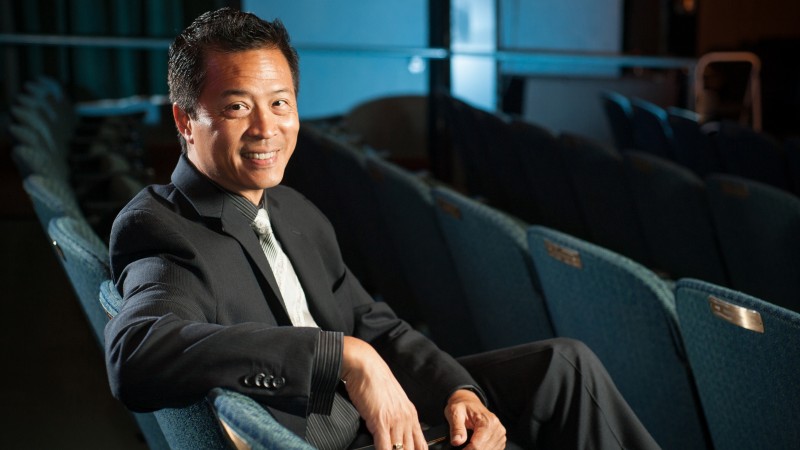 By Lynne Heffley
East West Players, the nation's leading professional Asian American theatre company, turns 49 this year. At its helm, Producing Artistic Director Tim Dang (BFA '80), who led the company's growth from a small black box space on Santa Monica Boulevard to an operation encompassing an actors conservatory, educational and community outreach programs, a prominent, nationally recognized writers institute and a fully equipped, 240-seat Equity theatre in downtown Los Angeles' Little Tokyo district.
"When I look back upon it, it's like, wow, I can't believe that we were actually able to move up," Dang said. "We've been at this level now since 1998. It's been an incredible journey."
And an unexpected one. As a teenager attending physics and calculus classes at the University of Hawaii while still in high school, Dang had his future pretty much mapped out. But there was that acting thing….
"I had been in a couple of plays in high school at the time," Dang said, "one of them being The Bald Soprano by Ionesco. I really enjoyed performing." After some soul-searching, Dang changed course. "I had heard that USC had a really strong theatre program," he said. A "very strong financial package" cinched the deal. He couldn't have made a better choice, Dang said.
"I had the time of my life there. The theatre department was this wonderful place and the faculty members were totally supportive. In fact, my senior advisor at USC, Jack Rowe, was the one who told me to pursue East West Players." A few months after graduation, Dang joined East West, then headed by esteemed film and stage actor Mako.
"And lo and behold, I've been there ever since," Dang said.
Founded in 1965, East West Players was created to afford Asian American actors, writers and others opportunities beyond the stereotypes common in mainstream theatre, film and commercial media. Dang had faced no stigma playing lead roles in the freely diverse atmosphere of the USC School of Dramatic Arts, but as an Asian American actor then, he was aware that such opportunities "in the real world, were very slim."
The mentoring that Dang had received at USC continued under Mako. "He said it would be a lot of hard work, and that the average actor is rejected a lot, but an actor of Asian heritage is going to face even more of that," Dang said. "He wanted to make sure that I had a thick skin."
Acting in plays and musicals, developing his directorial and producing chops, Dang took the reins at East West in 1993, following founding artistic director Mako and his successor, film veteran Nobu McCarthy. Guidance from both – Mako for his artistry and Nobu, in part, for her business acumen – was invaluable, Dang said. "I learned an incredible amount from both of them."
Applying those lessons helped Dang guide East West's transition to an Actors Equity union contract in its new mainstage: the David Henry Hwang Theater, named for the Tony Award-winning M. Butterfly playwright, one of many notable East West Players alums.
Among the shows Dang has directed at East West are the world premiere of Imelda: A New Musical, the Los Angeles premiere of Passion and the Ovation Award-winning Pacific Overtures and Sweeney Todd. Dang wrote the book and lyrics for Beijing Spring, and was co-writer for The Nisei Widows Club and The Nisei Widows Club: Holiday on Ice.
Dang was instrumental in bringing 200 Asian Pacific American arts leaders and educators from across North America to East West in 2006 for The Next Big Bang: The Explosion Of Asian American Theatre conference. That first-time gathering led to the creation of the Consortium of Asian American Theaters and Artists (CAATA), whose fourth "theatre conference-slash-festival" will be held in Philadelphia in October of this year. "We expect people from Great Britain, China, India and Singapore," Dang said.
"Back in the day," he added, "because we were so small, we didn't have a lot of opportunities to connect with each other, and now we do. We're really proud of that."
In 2009, Dang received the prestigious $125,000 James Irvine Foundation Leadership Award for "increasing understanding of and appreciation for California's diversity and creating new opportunities for Asian American artists."
East West's ongoing challenge, Dang said, is to meet a rapidly changing demographic. "As an ethnic specific organization, East West Players was created to provide opportunities to Asian Americans," but as the company heads toward its 50th anniversary, he said, "the stories are changing, because the playwrights are living in a different world than back in the '60s. And yes, we are looking at Korean stories, Laotian stories, Cambodian stories, Vietnamese stories – all of them are so rich in storytelling."
East West has a commitment to tell more interracial stories, too, Dang said, pointing to the growing numbers of Asians in mixed marriages, whose offspring identity as "Hapa" Asian Americans. The company's current season included A Nice Indian Boy (Feb. 20-March 23), a new play exploring issues of Hindu tradition and interracial gay marriage, written by Madhuri Shekar, "who just graduated from the USC MFA playwriting program," Dang noted. With East West's production of USC alumnus Shane Sakhrani's A Widow of No Importance in 2011, "we have world premiered two plays by USC graduates right out of the program.
"There's a great pipeline that USC is providing not only to theatre, but to the entire entertainment industry," Dang said. "We're proud to be part of that process and success."