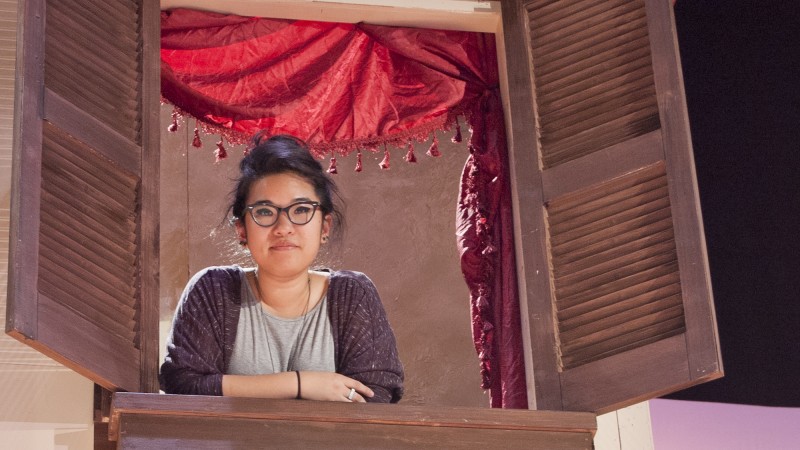 While some may recycle cans and others may harvest rainwater, she makes her difference one production set design at a time.
Student Victoria Tam doesn't just practice sustainability in her everyday life; she sees it as a necessity as a scenic designer, too. The green-minded B.F.A. uses what is already available to her and pares down whenever possible. But when a production does call for something to be bought or created, she is mindful of the item's recyclability as a stock piece or whether it can be repurposed later.
"I've always been environmentally aware and conscious of not being wasteful," she said. "I think it means much more by using a material and reusing that same material to create something totally different."
Specifically in her design for the School's fall production of 12 Ophelias, Tam cleverly recycled wood planks from other shows like Vieux Carré and Wedding Band, and used stock plastic foliage to create the play's deconstructed Appalachian setting. In doing so, about 50 percent of Tam's set was made of reused materials.
Subsequently, wood from that show was used for the independent student production (ISP) of Treehouses and then for an ISP that Tam set designed, Peter Pan. For that production, she resourcefully incorporated into her design a wall of shipping pallets that were later resold to the company from which she purchased them.
"I like to reuse whatever resources we have already and add on to it as part of my design," she said. "I think it helps me as a designer to consolidate materials and also for them to have multi-functions."
Most recently, Tam was the set designer for the spring SDA production of William Shakespeare's The Taming of the Shrew, a classic battle-of-the-sexes comedy. The student has also designed the School's recent productions of Smash and Midsummer Saturday Night's Fever Dream.
In her studies at USC, Tam has been involved with several ISPs, which she feels has also helped mold her as a designer. Since ISPs are entirely directed, produced and run by students, the amount of money or resources can be limited.
"When you don't really have anything, you get creative," Tam said. "Because I have been doing smaller productions like ISPs, using what resources you have has been a big part of my design. I think, in that manner, it does make me a better designer because I am able to see the possibilities of what I can do for a single item."
From her days as a passionate Girl Scout to her sustainable efforts as a designer today, Tam has been environmentally aware as long as she can remember. Especially as a former youth leader in high school and incollege for Tree Musketeers – a green community service nonprofit that was founded, and is still run, by youth – she has since felt empowered by the organization's mission of building young leaders of environmental and social change.
And now a soon-to-be graduate, Tam has no doubts that she will continue to be green well into her professional career.