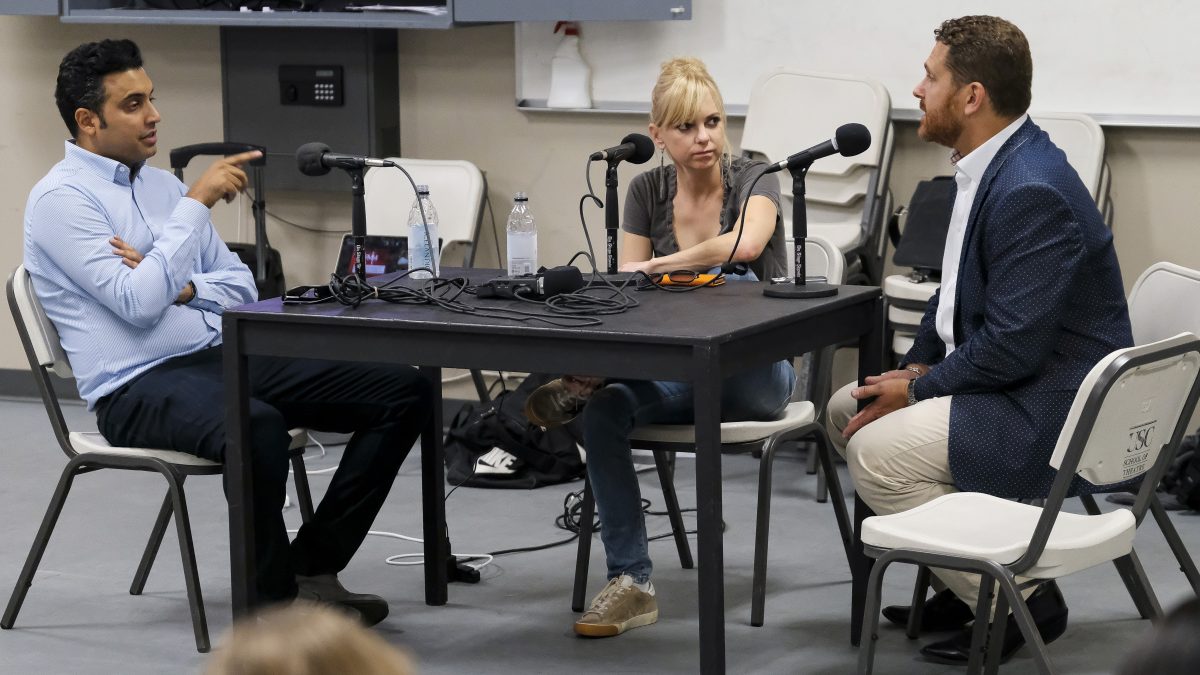 It's a Tuesday night and actress Anna Faris is sitting at a table, leaning close to the microphone in front of her. Dressed in jeans and sneakers, she pulls a leg up on the chair as she talks.
You might think she's at her Los Angeles home, where she records her podcast Anna Faris is Unqualified. But she's actually in a room full of students at USC, teaching a new fall course, "Creating the Hit Podcast." She teaches it with her Unqualified co-founder Sim Sarna, a Trojan and former film producer.
The mic? It's recording the class discussion, maybe for a future episode.
Even though people know Faris as an actress from films like the 2008 comedy House Bunny, nowadays people also know her as the host of Anna Faris is Unqualified, a show that's part celebrity interview and part relationship advice and features guests such as RuPaul, Rosie O'Donnell and Aubrey Plaza.
The show was started as a fun project between two friends. They waved off advertisers for a year and a half, Sarna said. But now the show gets up to a million downloads an episode, according to Sarna. It's sparked a book of the same name, out by Faris this month, and a podcast network, Unqualified Media. They plan to have five podcasts — including an audio drama — on their roster next year.
"It's really fun to be able to take our learning curve and say 'here's what we learned' to a bunch of really excited students," Faris said. "It's pretty remarkable."
Faris, who grew up in a family of academics, joked on a recent episode about hoping the students call her professor. It hasn't happened yet, she said. But students certainly hang on to every word she and Sarna have to say.
That day, the students were presenting their midterm projects: a podcast concept complete with a trailer and branding — some even had a marketing strategy. The students are broken up into teams so there are a half-dozen or so concepts.
There was a fun religious podcast called Get on Your Kneez, where students Haley Finerman and Daniela Silva, a Jew and an atheist, dive into the New Testament. There was 10/8, an audio drama about a family cursed by one of the worst wildfires in U.S. history. There's He Shoots, She Scores, where two friends — the woman being the sports-obsessed one — explore all things athletic.
"Everyone is just blowing me away," she said after a group presented. "I wish I brought my tap shoes, I'd do a little number."
Faris, Sarna and their guest that day, Public Media Marketing CEO David Raphael, peppered in questions about things like logistics or show dynamics.
"I think with a 45-minute-long podcast, you might need another element besides your banter. Does that make sense?" she offered the students proposing He Shoots, She Scores. "Think about adding potentially another ingredient, if you're comfortable with that."
When the group of 10/8 said it plans to recruit voice actors, she urged: "Think about at least trying it with your own voice. Experiment with it a bit."
Attracted by the curriculum
While many students were lured by a star's name in the syllabus, they were just as much smitten with the curriculum.
Junior Maya Kashlan, a public relations major and business minor, hopes to work on the business side for an organization like NPR. She's co-producing a business podcast for millennials.
"I want to learn how to market a podcast and what it takes to make one because it's good to get a perspective on everything," she said, noting industry guest speakers have been helpful. "Something I didn't realize is how difficult it is to make a podcast well-known."
Silva, a journalism student, said they've made her more confident about aspects of podcasting, like voiceover.
"Don't shy away from sounding like an actual person who stutters or changes her mind," she said the two taught her. "Also, passion. Passion is the thing that makes a podcast. If you're not passionate, no one is going to listen."
Sarna and Faris want the class to be practical. Each week, a different guest is brought in to talk about a different aspect of the business. That day was Raphael, whose company handles sponsorship for their show along with others such as Serial and This American Life. Past weeks included visits from actor Paul Scheer and YouTube star Shane Dawson, both of whom have podcasts.
"We really want to show how the industry works," Sarna said. "Every class is a different side of podcasting."
Sarna bases the class off his favorite classes from his time at USC, which were often taught by adjuncts who worked in their fields.
"You could see them, get their business cards, maybe get an internship from them," he said, noting a guest from a class is how he got an internship in the industry, working for James Cameron.
By the end of the semester, all the students will have at least an episode done. Some, like Get on Your Kneez, have episodes already on iTunes.
There's a big incentive to put in the hard work. Sarna and Faris will showcase two of the top concepts on their show when the class is over — playing an episode in its entirety as a special episode, along with promoting it on their channels. The two podcasts will be voted on by the class, Faris, Sarna and industry professionals.
"They could actually have a career almost overnight," Sarna said.
Home in Dramatic Arts
The class is open to all majors but is housed in the USC School of Dramatic Arts, exemplifying Dean David Bridel's mission to make "new media" just as important to the school as the stage and screen. Another class that taps into this is Going Viral, a class on producing YouTube-type content. A common tip from visiting professionals, such as comic Maria Bamford, is to get out there and create your own content.
Podcasting is a great way to get out there because it's not hard to start, Faris said.
"You just order a couple of microphones on Amazon," she said. "Essentially anyone can do it about any interest they have."
As to whether the class will come back, they can't say.
"If Dean Bridel invites us back, I'm sure Anna and I will be back next fall," Sarna said. "We're having too much fun."
One thing is for sure, though.
"She's officially a Trojan," Sarna said about Faris, who went to the University of Washington. "I know deep down she's more a Trojan than a Husky."