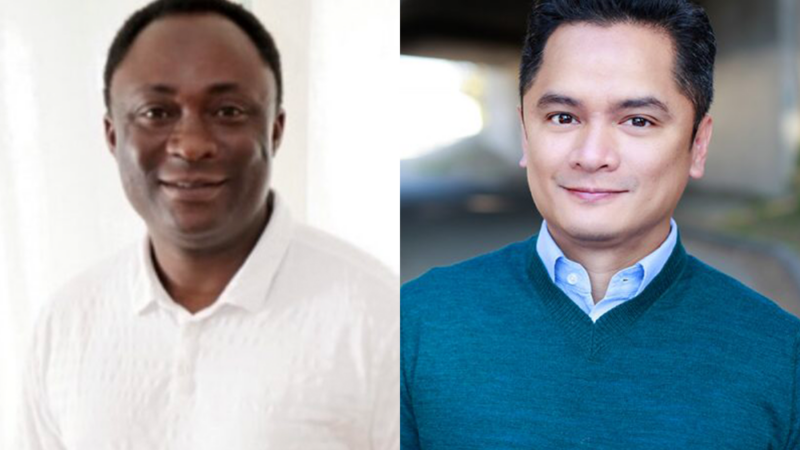 Actor/creators Bayo Akinfemi and Rodney To have joined the full-time faculty of the USC School of Dramatic Arts. Both Akinfemi and To — who previously taught as adjunct lecturers — bring decades of multi-platform professional experience into their classrooms, guiding students to the skills they will need to be adaptable in the rapidly changing landscape of entertainment. To will continue to teach at the undergraduate and graduate levels, and Akinfemi will teach primarily at the undergraduate level.
"I am ecstatic to continue to serve USC and the School of Dramatic Arts as assistant professor," To said. "I'm humbled to teach alongside an esteemed cohort of full-time faculty, many who have mentored me along the way. Most of all, I'm eager to serve the students of SDA. I've said it before — for the type of artist, actor and human being I would like to set forth in the world, in my opinion, SDA is the best training program around. I'm incredibly proud to be a part of it."
Akinfemi, who holds a joint appointment with the USC School of Cinematic Arts, shared: "I am truly excited for this opportunity to engage more deeply with the students and faculty of the schools of Dramatic Arts and Cinematic Arts. With the privilege of this joint appointment, I look forward to facilitating new means of bringing our two incredibly talented student populations together for more creative collaborative ventures."
A two-time Best Actor Gemini nominee for Human Cargo and The Border, Akinfemi is currently a series regular on Bob Hearts Abishola, a Chuck Lorre sitcom in its third season on CBS. His other acting credits include Marvel's Agents of S.H.I.E.L.D., Criminal Minds, NCIS: Los Angeles and Survivor's Remorse. He is also a director with credits that include the short film Rump, and Nollywood feature films Busted Life and Paparazzi: Eye in the Dark. Akinfemi is confirmed for a directing spot on Bob Hearts Abishola this upcoming season. He's also the dialect coach and culture consultant for the show. Born and raised in Ilesa, Nigeria, Akinfemi obtained a BA in performing arts from the University of Ilorin before moving to Toronto, where he studied film and television production and worked for several years as an actor and a director before moving to California. He holds a master's degree in cinema and media studies from USC. Akinfemi is also an avid theatre director with extensive credits. He is the founder and artistic director of African Theatre Artistes Society (ATARS), a not-for-profit organization dedicated to providing a platform of artistic expression to artists of African descent in Los Angeles. Akinfemi recently produced and directed Zulu Sofola's Wedlock of the Gods for the company.
As an actor, Chicago-native To is most notable as Typhoon from NBC's Parks and Recreation. Coming soon, he'll be seen in the Amblin/Universal feature film Easter Sunday, as well as Apple TV+'s The Shrink Next Door — starring Will Ferrell and Paul Rudd. He recurred on NBC's Good Girls, HBO's Barry, Comedy Central's Corporate, FOX's Rosewood, and all four seasons of Wilfred on FX. Other selected TV credits include Magnum P.I., You're the Worst, Modern Family, New Girl, The Goldbergs, The Whole Truth, NCIS, Vice Principals, Nocturne and Ironside. He has worked with theatres across the country — including Victory Gardens, Steppenwolf, La Jolla Playhouse, Northlight, Mark Taper, South Coast Rep, Hartford Stage, Milwaukee Repertory Theater, IAMA Theatre Company, Pasadena Playhouse, Echo Theater Company, Artists at Play, East West Players and Ma-Yi, among others. Acting awards include an LA Ovation Award nomination for Edith Can Shoot Things and Hit Them; LA Stage Raw nomination for One of the Nice Ones; Chicago's Jeff Award nomination for The Romance of Magno Rubio; and winner of the NY International Fringe Festival for the show he co-penned, Sides: the Fear is Real. He served as a lead producer of Apologies in Advance with Andrea Russett — the breakout talk show for Fullscreen Media, the digital SVoD platform for AT&T and YouTube. He has served as director and executive producer of Pun Plip Pridays, the first all-Asian, televised sketch comedy show on Kababayan Today, the Filipino talk show for LA18. As a director, To's short film Two Weeks won numerous awards at various festivals across the country — including Festival Film Flix and the Asians on Film Festival where he was runner-up for the competition's Best Director. He has directed for the NBC Scene Showcase in 2015 and has directed the web series Penelope, PCSA — starring Dave Foley. He directed the world premiere of Fixed by Boni B. Alvarez at the Echo Theater Company. Currently, To serves as the associate artistic director of the award-winning IAMA Theatre Company in Los Angeles.