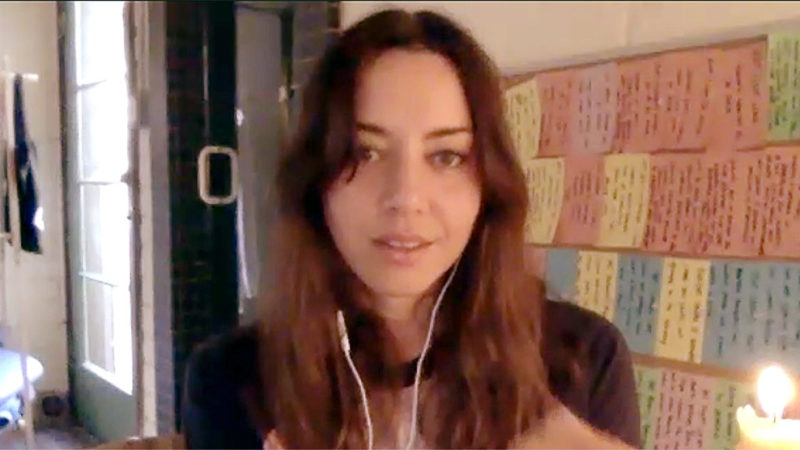 Ask award-winning actor Aubrey Plaza whether or not she was expecting to have a successful career as an artist after her stroke at 20 years old and she will tell you she wouldn't have thought it was possible.
But surviving a life-changing experience like that has formed her as a person and artist — and, subsequently, it has led to quite a few achievements thus far in her career.
"It's something — I think on a more meta-existential level — [that] has really shaped my mentality … in a second, you could have a stroke and die," Plaza said.
Sharing her life and professional experiences — from performing in community theatre as a budding youth to her outlook as a seasoned actor, comedian, producer and writer, Plaza spoke in the summer to the School of Dramatic Arts community over Zoom. Her virtual visit was for the School's Spotlight@SDA series, which invites guest artists in a conversational setting to talk about their careers and experiences.
Although the pandemic-prompted isolation has brought along its own set of challenges, it has allowed Plaza time to pause from her regularly hectic schedule.
"I'm into tie dying now. It's very good for my mental health," Plaza said, leaning toward the camera to show off the tie-dyed shirt she was wearing.
Social distancing has also provided her time to take on a few new hobbies, and also a chance to work on creative projects off camera — including writing a script, producing two animated shows and recently selling a children's book.
"I'm always scheming," she said.
Plaza attributes much of her accomplishments to being authentic to herself. "I had a lot of success because I didn't want it that bad. I wasn't trying to be someone else – they responded to just me," she said. "In the years after, I lost that a little bit. I became so aware of being in the game and in the system. Then, I was getting rejected all the time."
Also citing collaboration as another important aspect to her career, she encouraged the audience to do the same. "I'm always about collaboration," Plaza said, sharing that it has provided her valuable feedback and accountability when it comes to her projects. "If you find people that know you that have the same humor, hang on to those people and really try to cultivate those types of relationships. I find that it's a give and take."
Early in her career, Plaza booked three major projects in Los Angeles at around the same time, which compelled her to move to the Golden State from N.Y.
The first was Judd Apatow's Funny People. Donald Glover — who she worked with on a film he wrote, called Mystery Team — shot her audition tape, she shared. Once it was time to meet the creative team, Plaza recalled being so new to the industry that she paid for her own flight and rented a car from Rent-A-Wreck Car Rental since she was under 25 years old.
"I never planned on moving here. I never intended to move away from New York, but that just happened really kind of crazily," the artist said.
During her meeting with the Funny People team, the film's casting director, Allison Jones, asked Plaza to audition for roles in Scott Pilgrim vs. the World and Parks and Recreation. Both of which she landed.
"It was really mind-blowing to me to be a co-star with Amy Poehler, who was my hero," Plaza said, citing that working in an ensemble for Emmy Award-winning show felt like a continuation of her experience at the Upright Citizens Brigade (UCB) Theatre, where she focused on her interest in scripted comedy.
"It was very natural," Plaza said. "I realized very quickly that there was an unspoken language that we were all speaking comedy-wise."
In the show's early days, the cast would do improvised takes, or "fun runs," after shooting what was scripted. It was through these improvisations that the cast members found their characters and their dynamics with each others' characters.
In her early days, Plaza admits she was a shy child growing up in Delaware, but theatre helped her from being concerned with what other people thought and out of her shell. "I guess there was this thrill of exposing myself in that way," she said.
She became "obsessed with theatre" at a young age — getting involved in the Wilmington Drama League, directing one-act plays, performing improv and the like.
In particular, her interest in comedy sprouted from her role in a community play of the Cinderella story. Although she was originally vying for the titular role, she was cast as one of the stepsisters and realized that getting the laughs was more enjoyable.
Once she graduated high school, Plaza went on to study directing at New York University's Tisch School of the Arts and completed the program early in three years.
It didn't take long for her career to jumpstart shortly after, and Plaza has been kept busy ever since with a variety of projects.
Recently, she wrapped on Lina Roessler's Best Sellers, opposite Michael Caine; and Clea DuVall and Mary Holland's Happiest Season.
Her accomplished works include starring in and producing Ingrid Goes West, which she won an Independent Spirit Award for Best First Feature and was nominated for Best First Screenplay; and Black Bear, which is slated for release this fall after premiering at the 2020 Sundance Film Festival. She also starred in FX's Legion — for which she earned nominations for MTV Movie and TV awards and an Imagen Award. Also on film, she started in the Safety Not Guaranteed in which her performance earned her a 2012 ALMA Award for favorite movie actress in a comedy or musical.